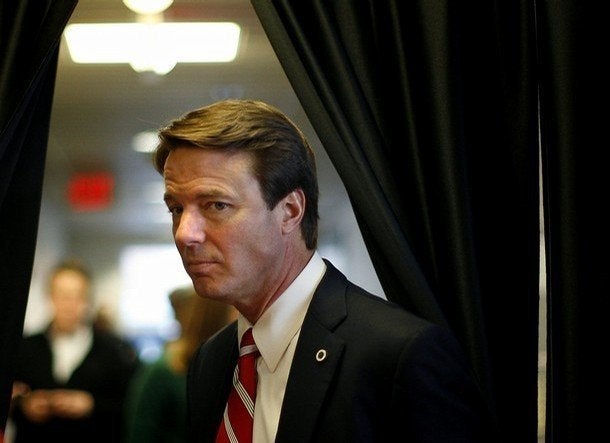 John Edwards is considering a plea deal that would allow him to avert a looming indictment in a more than two year investigation into alleged campaign finance violations, North Carolina station WRAL reports.
The AP relays background on the case:
Edwards' mistress Rielle Hunter has sued former campaign aide Andrew Young to have a sex tape and other items returned to her. Young has said he helped cover up Edwards' affair during the 2008 presidential campaign and worked for months to keep Hunter in hiding.

Edwards has admitted to the affair and fathering Hunter's child. She worked as a videographer in 2006 for Edwards' political action committee.
Edwards' lawyer, Gregory Craig, issued a statement on Wednesday denying his client broke the law. "The government's theory is wrong on the facts and wrong on the law. It is novel and untested. There is no civil or criminal precedent for such a prosecution," he said.
Ben Smith at Politico reported on Thursday:
Two other sources in the Edwards camp also said that his own legal team is in deep discussions with their client -- himself an almost legendary star of the North Carolina trial bar -- over whether he should accept the risk and expense of a criminal trial or sacrifice his law license and possibly his freedom with a guilty plea that might nonetheless represent a real chance for reinventing his tattered public image.
ABC's James Hill reported on Thursday night:
Multiple sources at the estate of Rachel "Bunny" Mellon confirm to ABC News that the former North Carolina senator met Mellon today for lunch at her sprawling compound in Northern Virginia.
The AP elaborates on the significance of Bunny's role in relation to the probe into Edwards' conduct:
According to the network, the reason for the meeting remains unknown. Young has said that Edwards agreed in 2007 to solicit money directly from Rachel "Bunny" Mellon, the 100-year-old widow of banking heir Paul Mellon. Young has said he received hundreds of thousands of dollars in checks from Mellon for his use and Hunter's, with some of the checks hidden in boxes of chocolate.

Mellon's attorney has said she didn't know where the money was going but intended it as a personal gift.
Below, a video report via WRAL on the latest developments unfolding in the Edwards investigation:
Popular in the Community