In an 11-page letter to the board, Engler said he would step down as of Jan. 23.
"In compliance with your request that I resign and in order to ensure an orderly transition to my interim successor, I hereby resign the office of President of Michigan State University effective 9am, Wednesday, January 23," Engler wrote. "It has been an honor to serve my beloved university."
"I sought to move with urgency and determination to initiate cultural change at MSU on issues of safety, accountability and respect through organizational changes and focuses engagement on priority issues," he wrote, adding, "I will be forever grateful to all of those who have supported me this past year."
(Scroll down to read Engler's full letter.)
Trustees on Thursday approved Satish Udpa as interim president. He had been the university's executive vice president for administration and previously was dean of the College of Engineering.
"A wrong has been righted today," trustee Kelly Tebay said during Thursday's meeting. "The first thing I have to say is I'm sorry it took so long, to the survivors and their families."
Engler's resignation comes roughly a year after he took the MSU helm in the wake of a massive sexual assault case involving the school's disgraced sports team doctor.
Nassar, the former MSU and USA Gymnastics team doctor, is accused of sexually abusing nearly 500 young athletes under the guise of medical treatment. He is now serving sentences of 60 years, 40 to 125 years and 40 to 175 years in prison for child sexual abuse and child pornography.
MSU, along with USA Gymnastics and the U.S. Olympic Committee, has come under fire from survivors and advocates against sexual abuse for failing to prevent the abuse and in some cases knowingly allowing it to continue.
Engler used roughly nine of the 11 pages of his resignation letter to detail his accomplishments as MSU's interim president, from increasing mental health services on campus to reorganizing the school's Office of Audit, Risk and Compliance.
He also appeared to accuse the board of bias in its request for his resignation.
"The election of two new Democratic members and the appointment of a Democrat to replace Trustee George Perles has created a new majority on the Board," Engler wrote in the opening paragraph of his letter.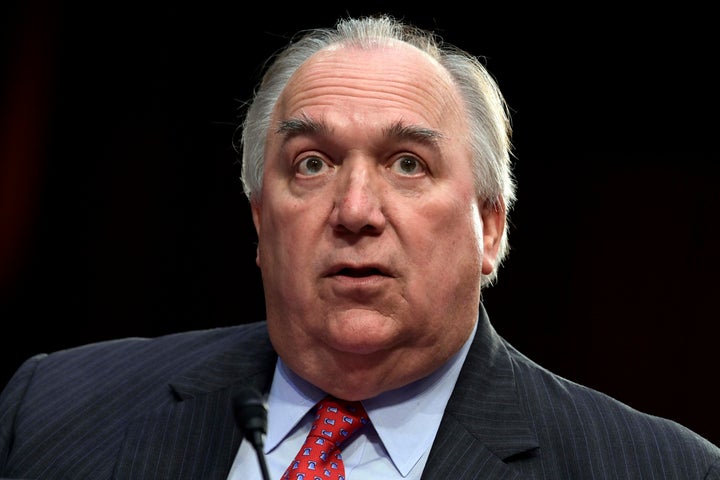 A former Republican governor of Michigan, Engler failed to gain survivors' trust almost from the start of his tenure at MSU.
He came under fire in June over a leaked email in which he claimed Rachael Denhollander had received a "kickback" for being the first woman to publicly speak out against Nassar.
In the wake of the leaked email, 120 self-proclaimed "sister survivors" sent a letter to the MSU board of trustees calling for Engler's dismissal.
"This is not leadership," the survivors wrote. "President Engler's statements and behavior are subtle threats against anyone who dares to speak up against their abuser and the environment that enabled their predatory conduct, lest they be ridiculed, lied about, and shamelessly mocked by a person of immense power."
A subsequent motion from the board to fire Engler failed on a 6-2 vote.
In December, Engler closed a $10 million healing fund that had been set aside for counseling and other services for Nassar's victims. The school redirected that money into an existing $500 million settlement divided among the 332 women who sued the school over Nassar's abuses. The move could have left dozens of other accusers who were not part of the lawsuit unable to receive financial support for mental health services.
MSU's board of trustees voted last week to establish another fund for Nassar's victims, but Engler said it might not be available to all of them.
On Wednesday, sources close to Engler told the Detroit Free Press that the MSU board asked the interim president to resign. The board scheduled a meeting for Thursday morning to debate Engler's future at MSU.
MSU board member Brian Mosallam, who has long pushed for the interim president's removal, said earlier Wednesday that Engler would no longer call the shots.
"John Engler's reign of terror is over," Mosallam told the outlet. "Michigan State University will be returned to its people."
Alanna Vagianos contributed reporting.
This article has been updated with Engler's resignation and the vote to approve Satish Udpa as interim president.
Popular in the Community