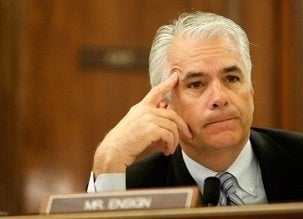 As lawmakers rollout their campaign fundraising totals for the first quarter of 2010, Sen. John Ensign (R-Nev.) has little to boast about: the embattled senator's re-election campaign took in just $50 in contributions -- all of which came from a single donor.
Ensign's meager cash haul comes amidst mounting pressure from Republicans to resign over concern that his personal indiscretions will hurt that party at the polls in November.
Richard Scotti and Swadeep Nigam, two former Clark County GOP officials, recently wrote in Nevada News & Views: "There is no uprising by Republicans to fight the barrage of anti-Ensign media. Nobody is coming to his rescue. Only a small handful of Republican candidates have even sought his endorsement."
Scotti and Nigam explain that Ensign was never the strongest fundraiser, even before his dirty laundry was made public:
Even during the good times - pre-Obama, Senator Ensign did not raise any money for the party. He was mediocre at best as the Chair of the Republican Senatorial Committee as he was distracted by his wife's best friend. At the national level we lost several Senate seats in November 2008 in part due to Ensign's personal problems that distracted him from fundraising.
So who was Ensign's sole campaign contributor for the first quarter of 2010? Talking Points Memo identifies the backer as Robert Doland, a retiree from the senator's home state of Nevada:
Disclosure reports examined by TPMmuckraker show that Robert Donald, a Las Vegas retiree, was the sole contributor to the "Ensign for Senate" committee between January and March. Donald gave two separate $25 contributions.
Donald told TPM that he thinks Ensign is "a really good guy." His reasoning? Donald explained to the website, "He's back with his family, so I don't see any problems... [Besides] all men are dogs."
Calling all HuffPost superfans!
Sign up for membership to become a founding member and help shape HuffPost's next chapter