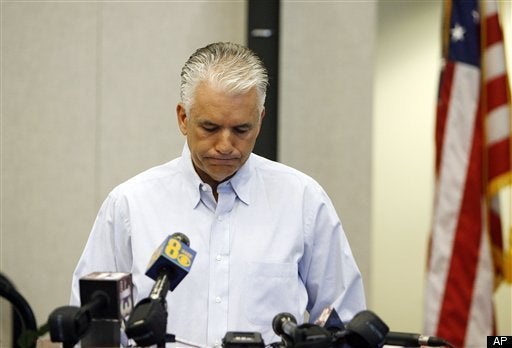 For a long while, the inspiring tale of Mark Sanford's Latin American jaunt on or near "the sex line" had gripped America with its romantic melodrama. You can read more about it in the forthcoming Tropic Of Capricorn 2: Buenos Aires Nights, by Henry Miller. But as much as the heart wants more from the Mark Sanford story, like "positions explored" and "quantity of white zinfandel consumed," it's now time for the body to get really interested in this whole John Ensign affair story.
So, the dilly: John Ensign, Nevada Senator, copped to having an affair with Cynthia Hampton, who was for a time on his campaign staff. The television media got all worked up about it, saying things like, "This is bad news for Ensign, one of the GOP's presidential contenders." And people like me replied, "Wait! John Ensign is a presidential contender?" later adding, "Seriously, you can't possibly think this guy was ever going to be a presidential contender." And Ensign was thought to be working out all his difficulties with some group called the "C Street Foundation," which describes itself as a "Bible study group" but is actually some sort of detox facility for Congresspersons who are way into sexcapades.
That's when the even shinier Mark Sanford story hit the news, along with Sarah Palin's "Oration On The Verbal Frappe Currently Coursing Out Of My Mouth In Alaska, Because I Have No Political Advisers Who Are Worth A Good God Damn." And Marion Barry straight up stalked a lady, in DC, because he is crazypants. But now: Ensign!
Driving Ensign back into the news are escalating exchanges between Hampton's husband and Ensign's allies over who got paid how much and for what, why, and when. It's all crazy confusing, the sex-scandal equivalent of the Purple Ticket Inauguration fiasco, but I think we have a handle on it:
-- Yesterday, Hampton's husband said that Hampton was paid $25,000 in severance when she left Ensign's campaign.
-- Ensign's camp disclosed that Ensign's parents had actually paid out $96,000 to the Hamptons. But not because anyone wanted this affair kept a secret! No, no! Ensign's parents "decided to make the gifts out of concern for the well-being of long-time family friends during a difficult time," and these monies were "consistent with a pattern of generosity by the Ensign family to the Hamptons and others." So, TOTALLY NOT some kind of end-run around ethics requirements at all! What grown up senator wouldn't want his mom and dad giving large sums of monies to random friends, anyway?
-- Doug Hampton continued to make claims that he and Ensign were negotiating further payments, in the "millions of dollars." Ensign's camp, all the while, has insisted that Doug Hampton was making "exorbitant demands for cash and other financial benefits." Doug Hampton also released letter between Ensign and Cindy Hampton, and granted TV interviews that further stirred the pot.
-- Then, Doug Hampton said that Oklahoma Senator Tom Coburn was present, with Doug Hampton, at some sort of "meeting"/intervention to cure Ensign of his sexlexia and give the Hamptons all manner of scrilla for their trouble. In an interview, Hampton said, "These men were the ones that said, 'What we need to do is get Doug Hampton's home paid for, and we need to get Doug Hampton some money. We need to get his family to Colorado.'" Colorado being on the other side of the "sex line."
"John Ensign hasn't put me in a tough position at all," said Coburn, a housemate of Ensign's at a Capitol Hill home owned by a Christian fellowship. "The person that's deceiving now is Doug. And you all need to go do the investigation now on that side of it and quit asking us and ask what's the motivation here."
-- And Coburn, naturally blamed the media for all of this: "You've got two families that are back together and you guys are going to help tear them apart. What do you think their kids are thinking about what you're writing right now? You're helping tear apart two families that are back together -- you need to quit."
Republican Sen. John Cornyn of Texas said of Ensign's situation: "It's not good." Cornyn took over for Ensign after the 2008 elections as head of the National Republican Senatorial Committee, which is charged with getting Republicans elected. Cornyn said he has heard no talk of Ensign stepping down.
And, on top of that, there are "raw feelings cited" among Ensign supporters, which underscores the point: LUBE IS IMPORTANT. There: not afraid to be servicey!
Also today, a Washington ethics group today called for a Department of Justice criminal investigation into whether Ensign gave his mistress considerably more than $25,000 in severance pay that may have gone unreported.

Citizens for Responsibility and Ethics in Washington (CREW) said it has called on Attorney General Eric Holder to order a criminal investigation after Doug Hampton disclosed the severance payment in an interview Wednesday.

"As despicable as Sen. Ensign's conduct has been, it now appears it also may have been criminal," said Melanie Sloan, executive director of CREW. "The Department of Justice has a responsibility to ensure that all Americans - even high level political officials - are held accountable for their actions."
So there you have it! Seems like only weeks ago that Mark Sanford had eclipsed Ensign's scandal as the more interesting one. Now, Sanford's coming off looking better, because of the increasing perception that his was something of a heartfelt, romantic struggle. There's poetry and love letters and flowery exhortations and garment-rending. Meanwhile, all the parties in the Ensign case, mucking about over money, are driving the story in a tawdrier and less-relatable direction. That said, as a citizen roaming the streets tonight, the only one you should really worry about encountering is Marion Barry.
Calling all HuffPost superfans!
Sign up for membership to become a founding member and help shape HuffPost's next chapter