Paradigm Shifters is a series of interviews with a select group of women and men from eclectic walks of life. It will highlight unspoken, real-life insights on how they have been able to turn weakness into strength. A naked soul point of view of how their breakdowns were really a preparation for breakthroughs. They are your quintessential paradigm shifters; internal shifts converted into genuine change.
Everything I have ever done has been focused on this underlying theme of shifting the paradigm because, "What we think determines what we feel and what we feel determines what we do." Hence, why Empowered by You takes lingerie, which has traditionally been seen merely as a tool of seduction and redirected that energy as a tool of empowerment.
I hope from these stories you will look at your own situations, struggles and accomplishments through a different lens. At the very least you will be more equipped with real life tools to change your own paradigm. At the end of the day, we are our own Alchemist turning the silver we were born with into the gold we are destined to become.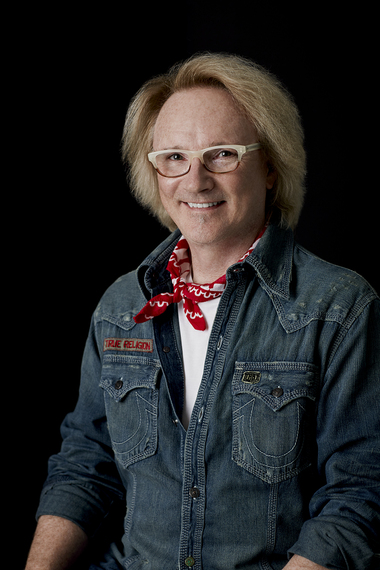 Tell me what you feel True Religion stands for.
We endeavor to create works of art. I know that sounds quite lofty, but it is our north star in terms of creating products that are a catalyst for distinction. We usually start with a blank canvas then hone in on fit, fabric and detail. Our attempt, would be to conceive products consumers would not have imagined themselves. If we have done our job properly, we act as a stimulant...a reason to covet. True Religion is an iconic, premium jeans brand having established our own design ethos and aesthetic; that aesthetic being the stitch. The stitch is what we continue to accentuate and what allows us to flourish with our consumer.
London is a very different culture...tell me a little bit about this venture to go into London? Why London? What challenges? What was the vision?
The brand enjoys recognition. Opening our Carnaby location pays homage to the London marketplace and to the location itself whose history is deep in music and fashion. The brand enjoys a mix of successful consumer touch points from department stores to our newly launched EU.TrueReligion.com ecommerce site. This combination allows the consumer to access our brand whenever and wherever. We believe it resembles the best mix of consumer touch points we have anywhere in the globe. We will endeavor to point to this market as an example of where all can coexist and provide great convenience for our consumer.
Tell me about your seamless customer service experience?
What facilitates this personal experience is a tool called BlackBook. BlackBook is our consumer database on an individualized basis. We house information such as preferred styles, past purchases, size, color preference and the like. Given information collected, we can reach out to consumers as their product preferences flow to the store saving them time and energy. Soon, we'll be able to send text messages accompanied with visuals as a means to advise.
Doing anything fun and innovative extending that?
We have leveraged the Apple watch to introduce Band in Carnaby as well. What the Apple watch allows us to do is scroll styles from the watch to a display screen, allowing the consumer to see all the variations in that particular style they love. Whether we have it physically in the store or in another location, we can retrieve and what we call "charge send" to our consumer. We want to be able to show the customer all five hundred customer choices we may have at one time, regardless if they're physically in the store or not.
In terms of collaboration and product extensions, we enjoy a great working relationship with Russell Westbrook. He is our creative consultant, and twice a year we drop a specific product capsule which we conceive with Russell along with our design team. The next one will be in September.
How do you feel about those collaborations? It's nice to have two forces coming together to create an impact.
The greatest thing about Russell Westbrook is his genuine love for the brand. He and his family have loved the brand for many, many years. He was born and raised in Los Angeles, so his commitment to True Religion is cherished. He doesn't love the brand just because he is being paid to do so. Growing up, he witnessed his dad wearing the brand, now he wears the brand, and it has become a family affair.
Vision for the company? Redirection?
This is not a redirection. I believe it is confirmation. We were owner/founder led from 2002-2012. This lent itself to consistent brand presence because we had one vision and one leader. However, in 2012 when we were acquired, we lost our center of gravity. In order to rediscover our brand, we unfortunately had to spend time being someone else. Coming back to center has proven to be a difficult task. It's been a challenging 12 months. Regardless, I am grateful we have come to our senses and returned to the core DNA of the True Religion brand.
How much do you see in the future of your brand relying on online?
We believe there will continue to be a role for both on and offline. That said, the runway in support of our online presence is substantive. As suggested earlier, we believe finding the right mix of consumer touch points in anyone market is key. We want to use our physical stores wisely, mapping them in the right cities and providing options for our consumers to enjoy.
Breakaway to breakthrough?
I moved to Asia in 2002. There were a lot of things transpiring on a personal and business level for me at the time. Moving to Asia became big breakthrough for me. It opened my eyes to completely alternative cultures. I was able to experience four different companies; four different brands. I got the opportunity to work with an array of talented individuals. If I hadn't left Levi Strauss & Company, after 26 years at the time, I would probably still be there. I encourage any professional if you get the chance to work in another part of the world, in a business model quite foreign than accustomed, with a diverse group of thinkers and provocateurs...take it!
As a leader, it is important you're honest at all times. When I say honest, I mean honest in good and challenging times. It's easy to go covert when things aren't going well, or if something is not working. The leader of the future will not be able to sit above the work. Command and control styles of the past are obsolete; even today's organization structures are antiquated. There will be a lot more collaboration and a lot less hierarchy, and that's a good thing. In thinking about what I leave behind...in every single situation I've been in, I think about leaving the Brand better than I found it. I've learned this from working in only owner/founder environments. You have a responsibility as the steward of the Brand to ensure its sustainable, so those who follow can enjoy it as much as I have.
REAL LIFE. REAL NEWS. REAL VOICES.
Help us tell more of the stories that matter from voices that too often remain unheard.