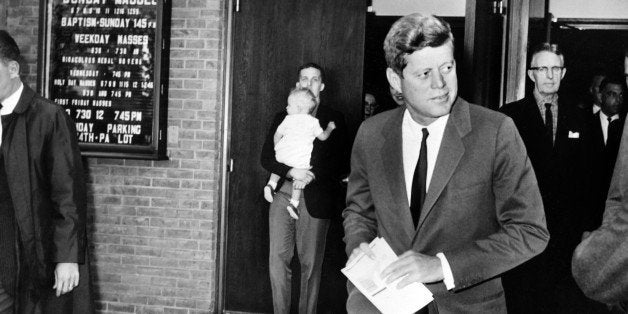 Up for auction this month: one of President John F. Kennedy's personal rosary beads and crucifix.
New Hampshire-based RR Auctions plans to put the former president's religious possessions up for sale on Oct. 24 at the Omni Parker House hotel in Boston.
The starting bid is $10,000, though the rosary could fetch up to $1 million, according to the auction house's president, Bobby Livingston.
Kennedy, a Catholic, was the only non-Protestant president. During campaigns and while in office, he often attended Mass with his special assistant, David F. Powers, to whom he gifted the rosary and crucifix before they were given to the unnamed individual selling them off through RR Auctions.
A letter of provenance, written by Powers' son, David J. Powers, comes with the items to explains their origins:
My father was David F. Powers, the Special Assistant to President John F. Kennedy and Curator at the Kennedy Library and Museum in Boston. Many consider my father to have been President Kennedy's best friend and confidant. They campaigned together from 1946 to 1963, and travelled the world together on presidential visits. During their travels, they frequently attended Mass and would always make 3 wishes at each new church per Roman Catholic tradition. Kennedy would often relate that his wishes pertained to winning key states in the next election. The rosary beads and silver cross engraved 'John F. Kennedy' were gifted to my father by JFK and my father cherished them. My father was in the fateful motorcade in Dallas, right behind President Kennedy's vehicle. I can imagine that reflecting with these rosary beads gave my father comfort in the years after the President's death.
The rosary is includes a sterling silver cross that's engraved on its reverse side with the name "John F. Kennedy" and has black onyx beads. It also comes with four photos of Kennedy and Powers at St. Edwards Catholic Church in Palm Beach County, Fla. (Dec. 8, 1961) and Washington's Cathedral of St. Matthew the Apostle (Aug. 15, 1961; Nov. 1, 1961 and May 31, 1962).
A statement from RR Auction explains the background of the rosary and crucifix's style and how Kennedy used the religious item.
Prior to the 1960s, the corpus on the crucifix was much more realistic; as tastes changed, they became more stylized, as this piece is, indicating that it was designed at the start of the '60s. The same is true of the anchor piece bearing the dove. While rosaries were made with myriad different materials, it was common for Catholics of high status to have them made of finer materials, such as the sterling silver and black onyx (one of the more common choices for men, due to its masculine appearance). Though one would not get his or her own rosary engraved, it was common for upper-class Catholics to do so when giving it as a gift; with Jackie's known penchant for personalizing meaningful pieces that she gave her husband, and with her undeniable eye for the finest modern styles, it is likely that this was a gift to Kennedy from his wife.

During Kennedy's time, the rosary was a major part of Catholic practice. It was used in family life, highly encouraged by the Kennedys' close friend Archbishop Richard Cushing, who recited it over the radio so that families could gather at home and join in prayer; in personal life, with the rosary carried at all times as a reminder to pray; and in community life, as most Catholics would silently pray the rosary during Latin mass, when they could not follow the priests' words.

Part of the proceeds from the auction will be given to the David Powers Foundation, a nonprofit that helps the The Boys and Girls Club and military families.

The rosary is not the only Kennedy item being auctioned. The auction house is selling a golden ring given to Kennedy by his wife, Jacqueline Kennedy, that was found on his desk after his assassination. It's also auctioning the white 1963 Lincoln Continental used to drive the Kennedys to their flight to Dallas, where the president was assassinated.
In addition, the auction will include a pair of emblem-adorned rotary phones from the presidential suite at the Hotel Texas that Kennedy used in his final call, as well as a 1960s GE video broadcast camera that was originally owned by KTVT Channel 11 in Fort Worth, Texas. The station recorded Jack Ruby shooting Kennedy assassin Lee Harvey Oswald in the Dallas Police Station on November 24, 1963.
Calling all HuffPost superfans!
Sign up for membership to become a founding member and help shape HuffPost's next chapter
BEFORE YOU GO
PHOTO GALLERY
Mother Teresa Quotes