KINGSTON, N.Y. — The residents of New York's 19th Congressional District have some questions about the health care bill that House Republicans passed last week. Unfortunately for them, Rep. John Faso, the local Republican who voted for the legislation, isn't around to answer them right now.
Congress is on recess this week, but most House Republicans aren't holding open town hall meetings in their districts. Seeing an opportunity to make hay over the unpopular bill, Rep. Sean Patrick Maloney, a Democrat from New York's neighboring 18th District, paid a visit to Faso's home territory Monday evening for an event organized by Maloney's re-election campaign and local progressive groups.
"Hey, listen. I have a question for you. I'm Representative Sean Patrick Maloney. Where the heck is your congressman?" he said. "As of tonight, I have now done more open, no-holds-barred public town hall meetings in New York 19 than John Faso has."
Billed as a town hall, Monday's gathering was more akin to a rally. Maloney stoked the friendly audience into applause, whoops and hollers as he took questions and speechified over the course of more than 90 minutes.
The crowd seemed happy to hear Maloney's criticism of the American Health Care Act ― and his jabs at Faso, who the Democrat said was attending a fundraiser in Albany that night. "You may have noticed we have two stools here," Maloney said at one point. "One is for me. This one is for John Faso, in case he shows up."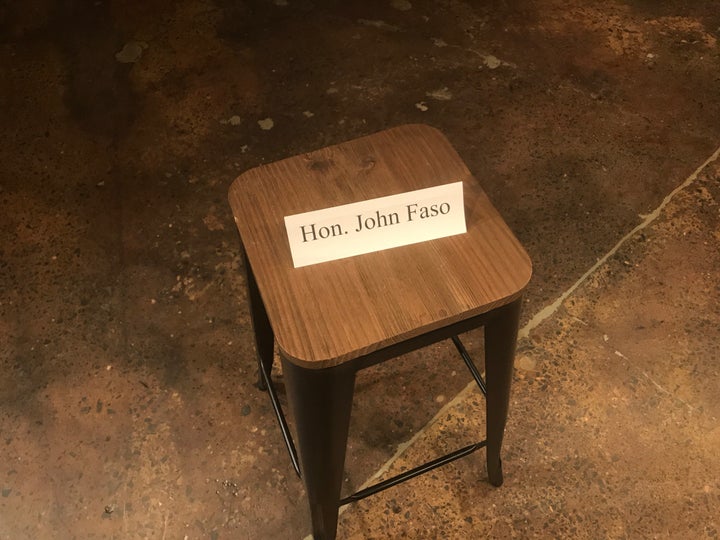 "I'm here tonight because I'm pissed off that John Faso won't have a town hall," Catherine Joyner, a resident of Faso's district, told HuffPost before the event. "I think he's not here because he's a big, old, fat coward, that's why. He's refusing to talk to the general public. It's ridiculous."
Just 17 of 238 House Republicans have town hall meetings scheduled during the lower chamber's two-week break from Washington, according to a list compiled by the Town Hall Project.
It's not hard to see why: President Donald Trump and House Speaker Paul Ryan (R-Wis.) hurried the health care bill through the House, making significant changes to the legislation just before the vote, and asking GOP lawmakers to go along without an analysis from the Congressional Budget Office and amid widespread criticism of the plan.
Earlier on Monday, Faso appeared at a meeting of the New York Statewide Senior Action Council elsewhere in his district. According to Ulster County Executive Mike Hein (D), who spoke at Maloney's event, questions for Faso at that meeting were pre-screened.
At the evening event in Kingston, Faso took a beating in absentia ― the audience chanted "No-show Faso!" ― but he did avoid the attacks other House Republicans have endured over health care, like Rep. Elise Stefanik (R-N.Y.) and Rep. Rod Blum (R-Iowa), who had a rough day Monday.
"I've been out canvassing in New Paltz, New York, twice now," said Joyner, who's volunteering with a local chapter of the grassroots movement known as Indivisible. "I have not had anyone tell us they they were a Faso fan."
"Everybody's very, very concerned about the way John Faso voted for health care, and everybody seems to be as scared as I am," she went on.
Renee Woodward, who also lives in Faso's district, agreed.
"I haven't been politically active, like, really since college. But things have gotten so out of whack, and I was feeling very angry and depressed," she said. "I was very upset when the bill passed the House, and I also think it's going to be a disaster for millions of Americans."
One of those people could be Andrea Mitchell, a woman who made news in February when she spoke to Faso during a rally outside his home in Kinderhook, New York. Mitchell told Faso she had a brain tumor and other serious medical issues, and that she'd lost her insurance due to her health before the Affordable Care Act made that illegal.
Faso hugged Mitchell that day and promised to protect her health care. He would ultimately vote for the American Health Care Act.
At Maloney's event Monday, Mitchell rose to tell her story again.
"The burden of the bill to keep someone that you love alive is not something that any family in America ― or anywhere in the world, but especially in America ― should ever have to deal with," she said.
"John Faso," she said, pausing for a moment, "was less than sincere in that promise."
Maloney urged the audience members to get active, and to think about running for office. "The good news is, there are a lot of people who can be in Congress, ladies and gentlemen," he said. "Next year, we're going to have an opportunity to change the whole course of this thing."
Maloney said Faso would pay a "big price" for his health care vote, and Democrats have their eyes on this seat in 2018, but it will almost certainly be a challenge. Faso defeated progressive Democrat Zephyr Teachout last year by more than 9 percentage points, and Trump beat Democratic presidential nominee Hillary Clinton by nearly 7 percentage points in this district.
Outside the meeting hall after Monday's event, Gareth Rhodes, a Kingston native and former aide to New York Gov. Andrew Cuomo (D), told HuffPost he planned to take a run at Faso's seat anyway. Rhodes said he'd filed the necessary paperwork earlier that day.
"Last Thursday was the last straw for me," he said, referring to the House passing the GOP bill. "I'm going to stand up. I'm going to fight back."
Gemma Sapwell contributed reporting.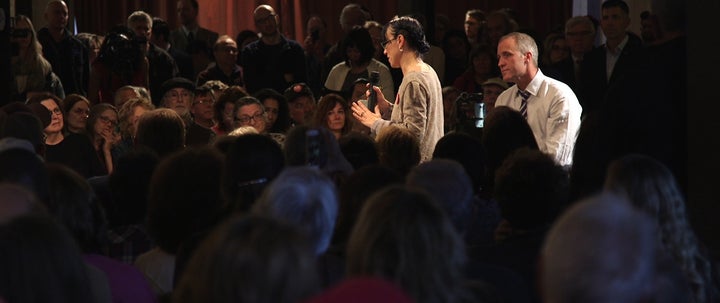 REAL LIFE. REAL NEWS. REAL VOICES.
Help us tell more of the stories that matter from voices that too often remain unheard.
BEFORE YOU GO
PHOTO GALLERY
19 Of Fox News' Most Unforgettable Moments