Sen. John Fetterman (D-Pa.) said Thursday that he would "absolutely" put forward a resolution to expel Sen. Bob Menendez (D-N.J.) from the Senate if there was a chance it would work.
"I would absolutely support that and pursue it," Fetterman told reporters.
"Whatever kind of procedure that could bring about getting rid of him, I'm all for it," he said. "You know, honor clearly isn't going to be the option to appeal to at this point."
Fetterman didn't give any specifics about whether he is planning to introduce a Senate resolution to expel Menendez.
The Pennsylvania senator was standing outside the room where Menendez had just defended himself to Democratic colleagues after he was indicted last Friday on corruption charges. None of the senators trickling out of the lunch meeting would say what Menendez said in there, beyond him reiterating that he's not resigning.
Fetterman, who was the first senator to call on Menendez to resign and has been his most vocal critic, didn't attend the meeting. He said he didn't see the point in hearing from Menendez unless he was planning to resign, and that the allegations against Menendez are too egregious to ignore.
"I'm not interested in some kind of explanation on why he has gold bars in his mattress," Fetterman said, referring to the New Jersey Democrat being charged with accepting bribes ― including $100,000 in gold bars and nearly half a million dollars in cash ― in return for using his influence as chairman of the Senate foreign relations committee to do favors for the Egyptian government.
The "level of arrogance is just astonishing," Fetterman said.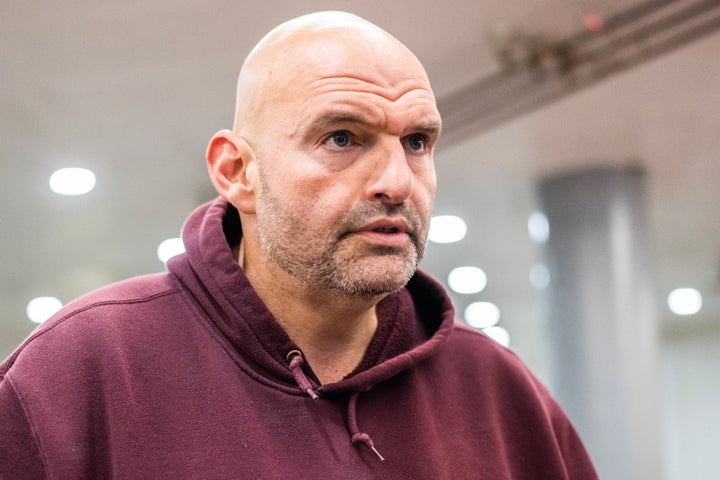 More than half of the Senate Democratic caucus has called on Menendez to go, including Democratic Whip Dick Durbin (Ill.). But Majority Leader Chuck Schumer (N.Y.) has kept mum. After Thursday's lunch, Schumer marched out of the room, briskly walked through a mob of reporters and headed straight to the Senate floor without saying a word.
Fetterman said he hopes Schumer tells Menendez he needs to resign. He also said he would support a Democrat challenging Menendez for his Senate seat. Basically, he seems ready to do anything to force Menendez out. He appears to see Menendez as a liability for the party, especially for Democrats who are up for reelection in 2024 in seats that could flip Republican.
"You have our colleagues in tough races right now, in my state, or Montana, or Ohio, and the kind of baggage that [Menendez] brings to this already makes it kind of difficult," Fetterman said. "Now he puts New Jersey in play too."
"It's remarkable to even have this conversation," he added. "I can't imagine him marching in here, standing in front of people and saying, 'Hey, yes, let me explain the gold in the mattress and the cash' ... It's bizarre."
Support HuffPost
The Stakes Have Never Been Higher
Popular in the Community