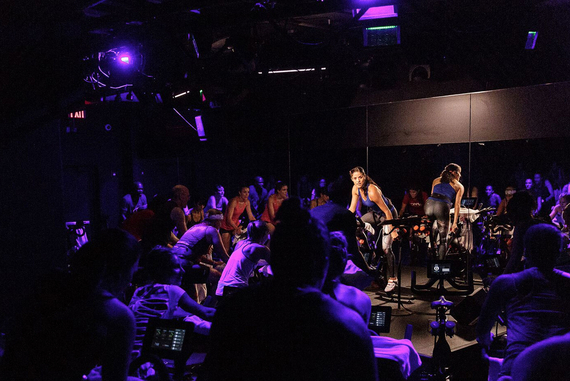 We're living in a world that greatly values experiences. Research shows that experiences bring significant happiness, and many smart brands are recognizing the benefits of shifting their strategies to integrate experiential trends in order to connect emotionally with consumers.
As many of you know, my agency is in the business of empowering experiential brands. I'm interested in just how many ways we can define an experience, and the many possibilities available to innovate everyday interactions in to full experiential pursuits.
I sat down with one such innovator, John Foley, CEO & co-founder of Peloton, to learn one way in which a brand has embraced the experiential mind frame. Peloton fuses tech with thoughtfully designed fitness equipment to provide a cutting-edge fitness experience that makes working out at home a viable option. Combined with integrated social capacities, Peloton strives to make home workouts a convenient and exciting lifestyle experience. Here's our conversation.
Damian Bazadona (DB): If you're at your family picnic, and your seventy-year-old Grandma Bettie asks: "John, aren't you a fitness instructor?" You would probably say "No, no, Grandma Bettie, you have it all wrong. This is what I do." How would you answer that question, as though you were explaining what you do to your seventy-year-old grandma?
John Foley (JF): I would remind her of the group fitness classes of the eighties - the Richard Simmons and Jane Fonda style, instructor-led group fitness classes, right? She might remember that. These classes are a very fun and effective way of getting a workout. You have somebody coaching you and encouraging you, and there are other people around you doing the same workout. There's a lot of motivation and energy and excitement.
Peloton has built a bike and a technology platform that allows you to virtually take one of those classes from the convenience of your own home. There are live classes that are streamed twelve times a day, as well as thousands of classes that exist on-demand.
Grandma, it's a little like Netflix, if you're familiar with Netflix, where you get to decide what movie you want to watch on the internet. At Peloton, you get to decide what class you want to take, whether it's a ten minute class or an hour long class, what style of music, what style of instructor, all with the press of a button.
DB: Can you explain the difference between the live classes and the on-demand classes? If you're in the live class, is there any actual interaction between the instructor and the participants as they're riding?
JF: Yes, absolutely. You hear the instructor giving the class. You hear the music. You see the other people in the class who are [physically] in the studio and the other people in the class who are at home on the leader board - you see the hundreds of other people that are sharing this experience with you.
It's very community driven and interactive. When you're in the live class, the participants will actually see your name on the board with your stats - e.g. Damian in New Jersey is on pace to do his personal best, or this is his tenth day in a row. The instructor will look into the camera, break the fourth wall, and say "Damian, nice job on your ten days in a row," or "Everyone stand up and three, two, one, let's go Damian!" That style of engagement brings you into the class experience. It's very immersive. You are actually a part of the production.
It's kind of the difference between listening to a CD and going to see live music. There's something special about hearing it live - there's more energy. That said, people also like the convenience of not having to wake up right at 6:00am. They can have a cup of coffee, go downstairs, get on the bike at 6:17am, and click a button that taped yesterday's class from their favorite instructor. We re-create as if it were live. The leaderboard feels live, and you might get so immersed in the class, that you might lose track of the fact that it's not live. It feels very similar. To your point, it's not that much of a difference.
DB: Who do you see as your competitors and how are you working to beat the competitive headwinds?
JF: We see studios [e.g. SoulCycle] as complementary rather than competitors. And right now, there isn't competition, but we fully accept there will be. We're being more aggressive. We're trying to create a network effect in our software. There's all kinds of interconnectivity. We can pull from Facebook, so that you can see what your friends are liking and riding. You can interact with them by video chatting with them on the bike. If your friend in Los Angeles is doing the live class with you, you can click a button and talk to them. It's very immersive in that sense. There's nothing like it.
DB: It seems like you own the entire consumer journey, inclusive of the hardware, the software, the content, and the distribution. And you're able to use all of this data in immersive ways to connect with the consumer. So tell me, imagine a year or two down the road - what's possible with this technology?
JF: Well, we could have screens that pivot. With a twenty-two inch touch tablet in your home gym, we can serve you all different styles of content. You can imagine us making a treadmill that would allow you to take a very boot camp style class with upper body training and running, and have it led by an instructor. You could imagine a company like Peloton bringing that to market.
Something that has surprised us is how we've created so much social engagement that people are meeting and wanting to connect offline. Last weekend, 160 people from around the world descended on New York City in a kind of a pilgrimage. There were people getting together to take classes, go for drinks, and share this health and wellness movement that they're committed to and addicted to. The engagement off the bike has been impressive, because this community that we're building is very passionate, and they're zealous about what they're doing. It's something that we didn't imagine two years ago, but it's become a really big part of the experience of Peloton - gathering around a shared passion.
DB: Very cool. How do you guys classify yourself as a company? Tech company, content company, life-style company, health company?
JF: At our core, we're a technology and innovation company, and we want to make sure that the world knows us as a technology and innovation company. Fast Company recently announced us as one of the world's ten most innovative companies in fitness. However, we don't want to be known as innovating in fitness, because we think the bar is so low for fitness innovation. We want to be one of the most innovative companies of any category in the world, and that's what I think you'll see in the coming years from us.
DB: How about partner integration and insight sharing? Is that a significant part of the business yet, or are you in the stage of building the framework to then monetize in some way down the road?
JF: We are doing smart, strategic partnerships. We recently launched a partnership with Strava [a mobile app that pulls in data from your workouts]. Now, you can do your forty-five minute ride on a Peloton bike and then, aside from posting it to Facebook at the end, you can now also post to Strava. If you're a hardcore outdoor cyclist, and you have all your outdoor rides, now you have all your indoor rides, combined in one Strava profile.
But for the most part, we're building; we're not buying or partnering. We have a great team of software engineers and can-do entrepreneurs. We have a list of three hundred things we want to get done that are all insanely ambitious and insanely innovative, and we're going to have fun getting there.
DB: Last question: what's the best piece of feedback you've received from a customer?

JF: That's a good one! Here's something I recently heard from a customer:

Today marks one year that we've had our Peloton bike! This morning, I re-did my first ride. In my first ride, I was out of shape, overweight, and sluggish. My output was 194. Now I'm consistently in the 400s and have joined the #500Club a few times (with more to come!). I have completed 300+ rides in the past year, when I thought maybe I'd ride two to four times a week and that would be insane (oh how quickly the Peloton addiction took hold).

Now, I'm not afraid of hard work and I'm willing to put in the effort. Now, I know that prioritizing my health can have a positive impact on my entire family. Now, I can say I've lost X pounds and Y clothing sizes, but the truth is the numbers so don't matter. I simply feel fantastic. I eat better, work out regularly and consistently, and I feel better. Now, I can take a live ride with family in different states, a new shared experience that has brought us closer. Now, I have a whole virtual (and some no longer virtual) extended family. And I'm excited about what's to come over the NEXT year!
DB: Wow, maybe I should hop on a bike!
Popular in the Community