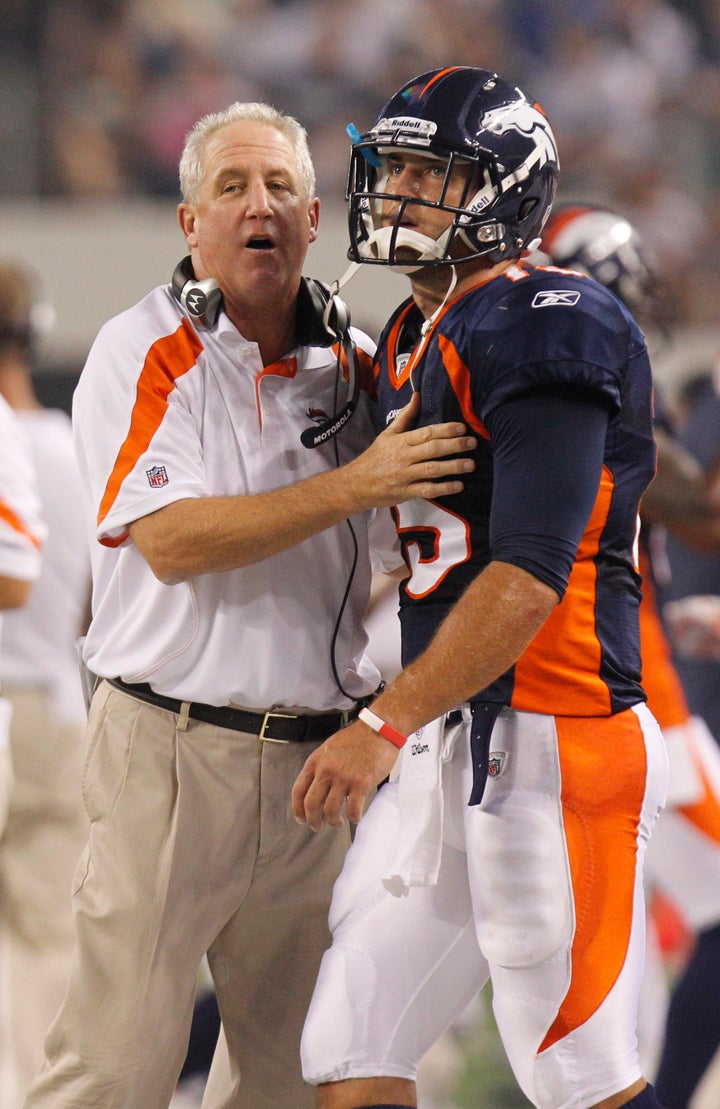 The Denver Broncos fortunes have changed ever since head coach John Fox replaced starting quarterback Kyle Orton with Tim Tebow during the second half of the team's Week 5 game against the San Diego Chargers. Although the Broncos ultimately lost that game to the Chargers, dropping their record to 1-4, the team has managed to win three of the ensuing four games with Tebow starting under center. While his hand appeared to be forced by the vociferous pro-Tebow faction of fans, the move has the team alive in the AFC West race.
Granted, these surging Broncos won't be confused with the undefeated Green Bay Packers any time soon. With run-first, throw-later Tebow at quarterback, the Broncos have employed an unorthodox game plan during their recent games. Even starting to run the option, they're currently ranked second in the league in rushing yards per game. This past Sunday against the Chiefs at Arrowhead, the Broncos ran the ball 55 times and Tebow completed just two passes (out of eight), but one of them happened to be a 57-yard touchdown to Eric Decker as Denver went on to win 17-10. In the team's previous win at Oakland, Tebow nearly ran for as many yards (118) as he recorded in the passing game (124).
If the wins keeping coming more frequently than the defeats, it seems unlikely that Fox, Tebow or the fans at Mile High will care that Tebow's bludgeoning pinball runs through the minefield of defensive lineman are not as aesthetically pleasing Aaron Rodgers' surgical airstrikes. After all, the NFL is no beauty contest. Winning ugly counts the same as the results generated by any pocket passing Picasso.
But what if, for the sake of arugment, the Broncos wanted to install a passing offense more in line with the rest of the league? What if they needed to generate quick points through the air because their defense suddenly wasn't playing so well? Judging from his comments on Tuesday, Fox isn't very confident that his quarterback could excel in such a situation.
"I mean, what the hell? You don't get points for style in this league. Let me tell you something: My man is really good in this offense. You know what I mean?" Fox said trying to explain their win over the Chiefs. "If we were trying to run a regular offense, he'd be screwed."
As if anyone hadn't yet discerned it, Fox also conceded that the staff had to "tweak" the offense when the switch to Tebow was made. On Thursday, Denver's tweaked offense will go to battle against the near-desperate New York Jets. With running back Knowshon Moreno out for the season and backup Willis McGahee possibly missing the game with a hamstring injury, Fox might have to change up the scheme again. Or, perhaps, Tebow can literally carry the load on his own.
Related
Popular in the Community