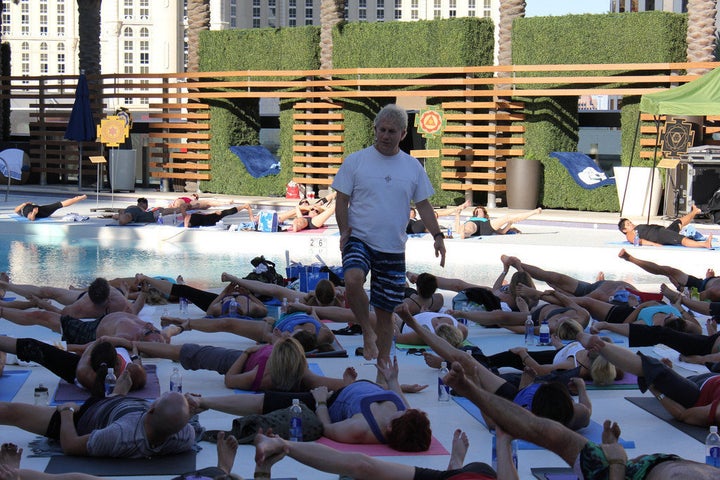 2002. Inner Harmony Retreat, Southern Utah. Forty of us in the room. Amongst us were Desiree Rumbaugh, Deb Neubauer, Noah Maze, Christina Sell, Darren Rhodes, Ross Rayburn, Sianna Sherman, Mitchel Bleier, Todd and Ann Norian, Michelle Synnestvedt, Amy Ippoliti, Sue Elkind, Naime Jezzeny, Anthony Benenati. It was an unforgettable time; John Friend was at his finest, delivering the most crystalline teachings both physically and philosophically. Krishna Das played for our shavasanas, Benjy and Heather Wertheimer played during our classes. We were having consistent, deep experiences of our hearts and felt strong both individually and as a community on that mountaintop. Profoundly inspired, we brought those hours and pages of learnings home to our local communities and, without knowing it at the time, were shifting the landscape of yoga forever. We loved what we were learning, we cared deeply about our work as local teachers, and we respected and loved John.
Since then, John Friend created for himself an interestingly powerful seat, and amidst his stellar teaching, made some unfortunately destructive choices over the years. After his disgruntled I.T. guy recently posted his salacious electronic interactions for all the world to see, everything in the Anusara community began to crumble. Within the context of that disintegration, it's become apparent that within the community of teachers, there were two discernible camps. As you'll see, one of the "camps" knew less and were definitely more "in the dark" about the "real" John than others of us. Together, we were a dedicated group of assiduously studious teachers who chose to be there and truly did make an impact in the world of yoga. We received an incredibly rich and precise education, and in the language of the heart, we all found our voices and made real careers out of our work, and that felt so true for a long time.
The Two "Camps" Within Anusara
There were the ones in John's closer circle who "knew" of his penchant for women, partying and fun; I'm from that camp. None of us were shocked to see that evidence, although admittedly it was disturbingly graphic and veered from embarrassing to awful to deeply sad. I'll offer some thoughts from that perspective in just a moment.
Then there were the ones who had absolutely no idea about any of it. Those folks are devastated at John's breach of ethics and morals. To them, this whole situation feels like the earth-shattering discovery of the end of the sky on the Truman show. They're talking about the failed power grab, the just-plain-icky "sex therapy" that looks eerily like sexual abuse within the context of the student-teacher paradigm, except that the "victim" seems to have been a willing participant. They're understandably disappointed to hear that he cheated on his girlfriends repeatedly, lied to so many about his dealings and whereabouts as certain relationships ended and others began. For them, this is irreparably difficult, extremely sad, and truly the breakdown of a deeply-set paradigm in their lives both personally and professionally, with potentially far-reaching financial implications.
Even for us, the ones who knew some (but none of us really knew all of it), it felt terrible to see, from both sides: How could he? But then we realized, how could we? We were oftentimes complicit -- some of us enabled the liar to lie by lying for him ourselves. There were these strangely uncomfortable, spooky moments in the past few years, to be sure; I was asked to help cover up one big personal lie for John, which ultimately needed to be cleaned up on my end. There was some fairly erratic teaching and seemingly incongruous commentaries as well. Shortly after the time that John unveiled his new philosophical model of "Shiva-Shakti Tantra," there was also a shift in the business model, it seemed: We were notified that we'd all be obliged to give him first creative say in any products we made going forward and then 10 percent of any revenue we generate from said products. It felt strange; this wasn't how it was when it began. It felt desperate and wrong.
When we explored the legality of it all, it was clearly flawed and didn't stand up. And, with all due respect, I never felt connected to the Shiva-Shakti Tantra at all. It felt manufactured to me. I stayed because of the history, the quality of my education, and most of all, my fear about losing my standing in the yoga world. The night I called John to resign, back in October 2011, my first apology was for letting that fear rule my world, for staying for the wrong reasons, when true integrity would have had me leave long before.
John seemed threatened, sad, unsure and at times, unsteady. Several of us tried to talk to him about it, only to be met with denial and even sometimes anger, which in many cases drove us, in our own personal ways, into old patterns of wanting to please our "parents": backtracking, questioning ourselves, adding to the mounting pile of lies, assuaging him so we could stay in his good graces, feel safe, and keep our lives in order. That part might be the saddest part, and the part about which I'm personally most sorry, this repeating of family patterns in this professional context.
I love the methodology of Anusara yoga. I've spent over a decade learning this graceful technology of the body and articulating the voice of my heart; both understandings are gifts for which I will always be grateful. Even though I resigned my certification those months ago as a means of separating from the aspects for which I don't stand, now I stand for forgiveness, and the possibility that John can deliver, one by one, the necessary well-wrought apologies. That he can true up his past and truly heal -- in honor of his family, his school, his teachers, and his students. May he become an example of burgeoning integrity for all the world to see.
Whether we left for fiduciary reasons, political reasons, or this misconduct; whether we felt constrained by the requirements of class sequence and content requirements or simply didn't connect authentically to the new philosophy, all of which were true in part for me, the bottom line is that many of the finest teachers in the land have had a hand in this ever-evolving dialogue. There is so much possibility now; all of these well-trained teachers are fully empowered and amongst the best in their craft. We should all be proud of the education we've received, and commit to sharing it, collaborating and cultivating more spacious conversation.
A couple of final notes, thank you for reading this far:
YogaDork, with all due respect: That salacious, desperately sensationalized voice with which you wrote the article "breaking" the story about John was not amongst your relevant contributions to the yoga world thus far. It was painful to watch you make light of a man's life like that, in the name of "news." I will not be contributing any more to your page until you release a true apology -- both to John and to the teachers who've spent years learning from him. He is another human being, albeit with some highly questionable choices, but your heartless articulation did nothing but harm your own credibility.
Finally, while this may seem elementary and too-sweet, the four-eyed dweeb in me really wants to share this. A dear friend compared the teachers John has trained to a handful of glitter. Imagine one big breeze, the glitter goes flying far and wide, thereby spreading all of those distinct, sparkling voices everywhere. Superbly trained teachers, these beautiful, fallible, dedicated humans are sharing potent understandings of alignment and attention all over the globe.
Find one, and take some time to study with them.
For more by Elena Brower, click here.
For more on yoga, click here.
Related