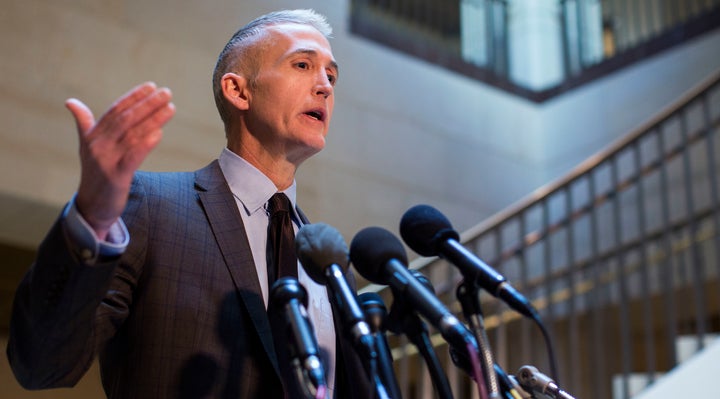 WASHINGTON -- One of the most mysterious figures in the investigation by the House Select Committee on Benghazi has been "John from Iowa," a man who called into Sean Hannity's radio show in May 2013 and said he was a drone operator who saw what happened on the night of the attacks in Libya a year earlier.
The committee, led by Rep. Trey Gowdy (R-S.C.), pressed the Defense Department to find this talk radio caller and make him available to lawmakers. In April, Assistant Secretary of Defense Stephen Hedger insisted they were moving as quickly as possible on that request and others, and criticized Gowdy for "the continuous threats from your staff to subpoena witnesses because we are not able to move quickly enough to accommodate these new requests."
Two months later, the committee was finally able to interview "John from Iowa." In a statement, it questioned whether Hedger was being honest when he said the Pentagon could not locate him, since it would be "hard to imagine just how much incompetence would be required for that to be true."
On Monday, the Democratic members of the Benghazi committee released their own report, saying the GOP statement was skirting around the main issue: In the end, "John from Iowa" didn't really have anything to add. 
"In fact, 'John from Iowa' provided virtually no new substantive information about the attacks and instead explained that he had called into Sean Hannity's radio show only to make sure that Congress had access to the drone video, which he stated was the best evidence of what occurred on the night of the attacks," reads the report. 
From the interview with "John from Iowa," as included in the report: 
Q: And is there anything that you would have been able to see that one can't observe from watching the video?

A: No. 

...

Q: [I]f there is a discrepancy between what you are recalling from that evening in terms of what individuals were where, or whether you saw bad guys, or whether you saw fire between your recollections 3 plus years later and the video, should we rely on your recollection or the video?

A: The video.

…

Q: And so, just to sort of sum up, your personal knowledge of the night is captured by the drone video. Is that accurate?

A: Yes, ma'am.
The Democratic report backs up Hedger, who argued to Gowdy that tracking down "John from Iowa" and the other drone operators was "unnecessary since we have given the Committee access to the relevant RPA [Remotely Piloted Aircraft] video from that night and it remains unclear that additional information could be gained from these interviews."
In other words, Hedger believed the committee was drowning the Pentagon in unnecessary busy work.
Democrats said they issued their report Monday because they believe that after two years and $7 million, it was time to end the committee's work:
Despite our repeated requests over the last several months, Republicans have refused to provide us with a draft of their report -- or even a basic outline -- making it impossible for us to provide input and obvious that we are being shut out of the process until the last possible moment. Our overarching conclusion is that the evidence obtained by the Select Committee confirms the core findings already issued by many previous investigations into the attacks in Benghazi. Although the Select Committee obtained additional details that provide context and granularity, these details do not fundamentally alter the previous conclusions.
In response, Benghazi Press Secretary Matt Wolking criticized Democrats for refusing to participate over the past two years "in the Majority's serious, fact-centered investigation." He also insisted that their investigation was not focused primarily on going after Hillary Clinton and her time as secretary of state. 
"The dishonest Democrats on this committee falsely claimed everything had been 'asked and answered,'" Wolking said. "They said the committee had found 'absolutely nothing new.' If that's changed, they should come clean and admit it. If not, everyone can ignore their rehashed, partisan talking points defending their endorsed candidate for president."
Calling all HuffPost superfans!
Sign up for membership to become a founding member and help shape HuffPost's next chapter
BEFORE YOU GO
PHOTO GALLERY
Here Are Hillary Clinton's Many Facial Expressions During Her Benghazi Committee Testimony