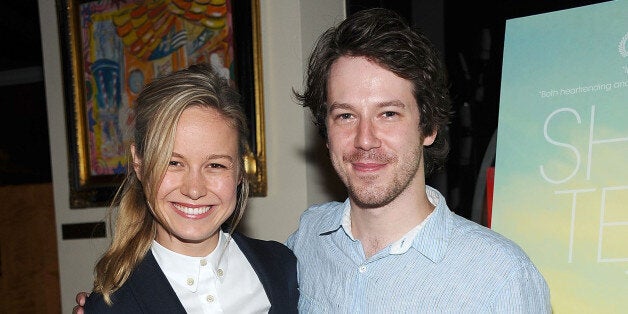 Gallagher -- best known for HBO's polarizing series "The Newsroom," but also comfortable working on stage, screen and with a guitar -- plays Mason in "Short Term 12," a caretaker at the facility of the film's title and the significant other of the feature's central figure, Grace (Larson). The ups and downs of their relationship provide the film with its most charming moments, while also remaining grounded in a very recognizable reality.
HuffPost Entertainment spoke with Gallagher last month about the success of "Short Term 12," and why Cretton's script was one of the best he's ever read -- high praise from an actor who has worked with Aaron Sorkin, Kenneth Lonergan and Woody Allen.
Why do you think this film is connecting with so many different types of audiences? I think there's a lot that makes it resonate on such a universal level. First and foremost, the fact that -- whether or not you've had traumatic things happen to you as a child -- there's something very universal about the idea of family and feeling left and abandoned and struggling. There's something that's easy to tap into. I also think the film is a breath of fresh air; it was for me reading it. To read something that had its heart on its sleeve and was emotional -- unapologetic in that sense -- but didn't manipulate me and didn't teeter over the edge into becoming melodramatic [was great]. Once you do that, you lose the trust of your audience. Rightfully so. People are smarter than that. I think Destin remembers that, and treats it in a way that's just to tell a story that's emotionally true and real and authentic. Then let people fill the rest of it with their feelings and emotions. It has been amazing to see people respond to it so beautifully and positively in that sense.
Were you worried the script wouldn't translate from page to screen? It's always scary, especially when you read something you really love. There's the fear that the best it will ever be is in that moment. But I read the script and was blown away by it. Then I watched the short film Destin made. Once I saw that, I had complete faith and trust that he could do it. If he was able to do the short film four years ago with no money, by himself, and tell the story in under 20 minutes -- that's a whole challenge. Once I saw that in relation to what had changed and grown about the script for the feature, I felt that I was in completely capable hands.
Not in content, but Destin's script reminded me of 1990s-era indie films, with a lot of dialogue. Mason, for instance, has two great monologues that bookend the film. I think a lot of independent film now can be very heavy-handed and the kind of mumblecore, less-is-more movement. Sometimes there will be virtually no dialogue other than a few words, because that's deemed more realistic. The idea is what you hold is more powerful than what you say. So much about this movie, though, is about stories; so many people tell stories to each other in "Short Term 12." When you see a page of dialogue in a screenplay it's very exciting. You feel like you're reading a play almost, in a sense. They had told me to read for the role of Mason. When I opened "Short Term 12" and saw that the whole first page was Mason talking, I thought, "Wow, this is really cool!" I'm so used to opening a screenplay and the first five pages might have one line of dialogue with all descriptive things that are setting the scene. Not that I'm saying one is better than the other; there's a lot of different ways to tell a story on film. I just thought it was very brave and kind of cool to see someone saying, "No, I'm going to open the movie with someone telling you a story for seven minutes."
Are you picky when it comes to choosing roles? More than I used to, but I've always been that way. I think that's one of the best things you can do: make sure you're cultivating something that you feel like, at the end of the day, you can get behind. You never know how it's going to come out. I did a film in 2009 that was a major flop, but the script was great and you take a chance on it and go for it. You want to work with like-minded people and with directors and writers that you feel are special and talented. Most important, is it a story that you want to tell? Is it the kind of thing that I would like? That's the thing that I think of as well. Is this the kind of movie that, if I don't get it, will I still want to see it? "Short Term 12" was quite simply one of the best screenplays I ever read as an actor. So, yeah, I definitely am very careful about what I do. Especially now, doing "The Newsroom," for six months out of my year I know that I won't be able to do anything else as an actor; I'll be there doing that. But it doesn't feel that different from the way I used to operate. The only difference is that I used to do a lot of theater and would sign on for nine-month or one-year contracts. I was used to that taking up my time. I had to be picky then too.
One of the great and talented writer-directors you've worked with is Woody Allen on "Whatever Works." What was that like? My experience was great. He doesn't give a lot of direction. My part is rather small in "Whatever Works," but I remember I couldn't read the script. You can only really read the script if you're a principal character. I only read my scenes. Which I loved, because I didn't know too much. I was really only able to work with what I was given. The economy of that is something I don't mind sometimes; I don't feel stressed and can just focus on what the character knows. There's a scene where I come in to take Evan Rachel Wood out on a date and Larry David is there and he's the protector of her character. The one note Woody Allen kept giving me was to be sweeter. That was the one direction: "Just be sweeter."
That's funny, because it seems like you do come across as really sweet onscreen anyway. Maybe because I hear Woody Allen's voice in my ear to be sweeter!
"Short Term 12" opens in limited release on Aug. 23.
This interview has been edited and condensed.
PHOTO GALLERY
'Short Term 12' Photos
Calling all HuffPost superfans!
Sign up for membership to become a founding member and help shape HuffPost's next chapter
BEFORE YOU GO