America's first glimpse of the seven young men who would lead the nation into space came at a NASA press conference in Washington, D.C., on April 9, 1959. It began with a picture session for the clamoring press photographers on hand -- the "grim little crawling beggar figures" Tom Wolfe describes in The Right Stuff. Among this "swarm of root weevils" was Ralph Morse, a Life magazine veteran who knew history when he saw it -- during World War II, he'd managed to cover Jimmy Doolittle's raid on Tokyo and the German surrender to General Dwight D. Eisenhower. When Morse looked through his camera at the young astronauts gathered at the front of the room, he knew he wanted in on the space race.
"When I got back to New York I sent a note to the managing editor, and I said this is going to be one of the biggest stories in the world," recalls Morse, age 93 and living in Delray, Florida. The magazine came to the same conclusion: With NASA's blessing, Life agreed to pay the astronauts of the Mercury space program $500,000 for the exclusive rights to their personal stories, and Morse was soon photographing both training sessions and the astronauts' families. A Morse shot of Alan Shepard ran on Life's cover in May 1961, when Shepard's suborbital flight made him America's first man in space. The country's second space traveler, Virgil L. "Gus" Grissom, did not get a Life cover when he went up in July (though he had shared a cover with other astronauts earlier). By then the big excitement was building over NASA's next mission, when John Glenn was set to become the first American to orbit the earth. Life wanted a cover shot of Glenn for a story scheduled to appear shortly before his flight. And sometime in late January 1962, Morse took it.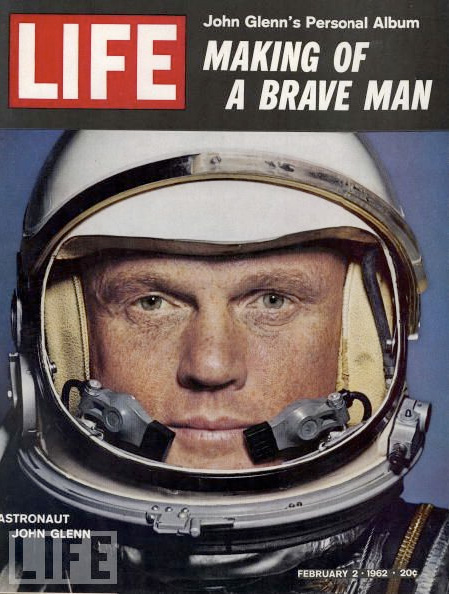 John Glenn on the cover of Life magazine, February 2, 1962
The photo, a portrait of Glenn in his space helmet, appeared on Life's February 2, 1962 issue -- 50 years ago this week. It wasn't until 9:47 am EST on February 20, after a number of delays, that Glenn's "Friendship 7" Mercury space capsule was thrown into space atop a new Atlas rocket. When he returned to Earth four hours, fifty-five minutes, and twenty-three seconds later, Glenn was the greatest American aviation hero since Charles Lindbergh.
Life followed up with a cover showing Glenn after his splashdown. Then came a third cover, with a Morse photo of Glenn riding in his New York City tickertape parade in March. Neither proved to be as sharply memorable as the earlier portrait. Why?
"I have no idea," says the subject of the picture, former astronaut and Ohio senator John Herschel Glenn, Jr., now 90. Glenn recalls neither where nor when the portrait was taken, but he clearly remembers Morse's photographic technique.
"We used to joke with him because he'd go through a 36-exposure roll in about a minute or two," says Glenn. "He'd just snap snap snap. He said he operated on the theory that if you take enough pictures you're bound to get a good one once in a while." Morse's presence was so constant the Glenn once called him "the eighth Mercury astronaut."
According to Morse, the portrait was taken the week before it was published, probably at the Langley Research Center in Hampton, Virginia, where the astronauts trained, and most likely in the hallway outside the astronauts' spacesuit dressing room. "I needed the spacesuit," Morse says -- this was, after all, a story about a real spaceman. He also needed to show Glenn's face on the cover. Using a 5x7-inch large-format camera to capture visual detail, Morse framed a tight close-up.
It was the right picture at the right time. The previous August, cosmonaut Gherman Titov spent a full day in orbit, the latest in a long streak of space triumphs for the Soviet Union. Nervous Americans were looking for a champion to restore their security and honor -- a figure Wolfe later likened to the single-combat warriors of antiquity -- and that is just what they saw on Life's cover: a helmeted gladiator with a freckled American face.
Glenn's flight was, as television newsman Walter Cronkite would write in 2002, "a story Americans desperately wanted to hear." Like Morse, Cronkite made a specialty of the space story. In turn, the space story helped make him famous and television the dominant news medium of the day. Life magazine may have had its exclusive access to the astronauts, but the space race, as Cronkite put it, "was television's story, in the open for all to see."
Life eventually succumbed to television's primacy, folding as a weekly in 1972. Morse's work on the space program came to an end after that, his photographs a part of the history he had covered. Then in 1998 his old magazine, which had reappeared as monthly, asked him to again photograph John Glenn, who was training for a mission aboard the Space Shuttle Discovery. For the occasion, Morse snap snap snaped a picture of Glenn holding up a copy of the 1962 portrait, an emblem of the space age that ended up transcending the television age.
REAL LIFE. REAL NEWS. REAL VOICES.
Help us tell more of the stories that matter from voices that too often remain unheard.