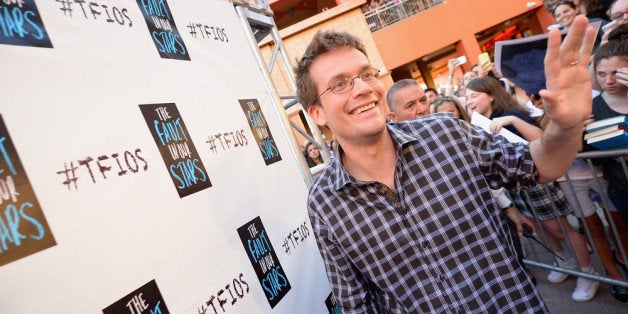 Judging by the countless number of teenagers who scream at the top of their lungs when John Green enters a room, it's safe to say he has become an international sensation.
Green, the author of the best-selling young adult novel "The Fault in Our Stars," is experiencing a whole new level of fame as the film adaptation of his beloved book is set to premiere next month. With a cast consisting of Shailene Woodley, Ansel Elgort, Nat Wolff, Laura Dern, Sam Trammell and Willem Dafoe, the movie is not only positioned as one of the summer's most likely hits, but it also has Green -- and his fans -- on the verge of tears.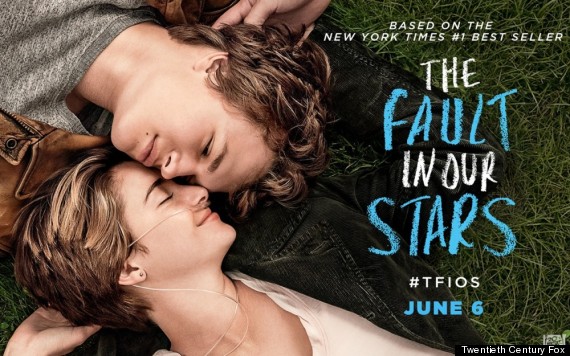 "The Fault in Our Stars" tells the story of 16-year-old cancer patient Hazel Grace Lancaster (Woodley), who is strongly encouraged by her parents to attend a support group to combat signs of depression. There, Hazel subsequently meets and falls in love with 17-year-old cancer survivor Augustus Waters (Elgort), or Gus, an amputee. Through their struggles with illness, the teens embark on a new kind of journey revolving around passion, love and friendship.
HuffPost Entertainment sat down with Green at the Crosby Street Hotel in New York City on May 4 to discuss the phenomenon that is "The Fault in Our Stars."
How has Hollywood been treating you? As you know, there's a lot of talk about this book and the movie.
It's been weird. I mean, it's great! It's wonderful to have so many people responding to the story so generously and I'm so proud of the movie that these guys made. I'm so proud of all the performances and everybody in the crew. Everybody who worked on this movie cared about it and I felt that the whole time I was [on set] in Pittsburgh. I'm just so grateful to them because I think they made a really, really great movie.
What was the first line you ever wrote for "The Fault in Our Stars"?
It's hard to answer that question because, in some ways, I started writing it in 2000, but very little if at all was retained. I mean, I'm not even sure there's one sentence in that stuff that ended up in the final book. But there was one day I was working at Starbucks and I was working on the desert island novel that I was desperately trying to make work, which wasn't working at all, and I just opened up a new window and I wrote, "Late in the winter of my seventeenth year, my mother decided I was depressed." And I just wrote the whole first chapter that day and I was like, "Ah God, finally!"
You got inspired in a Starbucks?
Yep, I wrote all of that in a Starbucks. Usually I only worked from like 8 a.m. to noon, but that day I stayed until like 2 or 3 p.m. I'd been waiting to get a feel for the voice of the narrator and that day, I finally felt I had it.
How did this story come to you? When did you decide you wanted to write a young adult novel about teens with cancer?
I guess I decided in stages. I worked as a student chaplain at a children's hospital in 2000 and after that, I started trying to write about sick kids, write about illness, write about the arbitrariness and injustice of illness. But everything I wrote back then was very nihilistic and angry, and I think that stuff doesn't make for the best fiction. Then I tried to come back to it several times in the next few years and never had any success. Then finally in 2009, I became friends with a young woman named Esther [Earl], who died of cancer when she was 16, and through our friendship I really started wanting to go back to the story. I wanted to write about how short lives can also be rich lives.
That's pretty amazing.
I feel like I got very lucky. People have read this book very generously and they could read it ungenerously if they wanted to. There's plenty not to like about it, but I've been very fortunate with my readers.
During the Q&A, some of the cast was saying how you were similar to Gus ...
Ansel was saying I was similar to Gus, which is very nice of him to say, because Gus is a handsome lad and pretty nice guy!
Did you base him off of yourself though?
No! No! No! I think what Ansel sees between me and Gus is, in the beginning of the story, Gus has a very precocious way of speaking and there's almost something performed about him -- he's a very pretentious guy. And I think, in trying to wrap his head around, "How could you be both pretentious and vulnerable," I think I was maybe helpful to Ansel. I remember Ansel and I were playing foosball once and he scored on me and I said something like, "Life is hard and riddled with disappointment." And he was like, "No one says that when they play foosball, man." So I think what he probably means is, "John Green is pretentious and that helped me understand Gus." [Laughs]
Were you involved in the casting at all?
I was not at the casting tables, but I watched a lot of audition videos for both Hazel and Gus. With Shailene, when she auditioned, I think [director] Josh Boone immediately knew that he wanted her to be Hazel, and they sent me her audition tape, and I mean, yeah, it was no question. It was a gift to us that Shailene even wanted to be involved in the movie. And she's amazing, God, she's just prodigiously talented.
Casting Gus was hard, I think, for a few reasons. Gus has to make this unusual hero's journey --- instead of making the typical hero's journey from weakness to strength, he has to make the journey from strength to weakness. I also think it was hard because Gus has to be an athlete and handsome and comfortable and confident and also capable of being very vulnerable and, eventually, quite frail. And that's a hard journey to chart, particularly for a young actor. But when I saw Ansel and Shailene together, I was almost just like reluctantly resigned to it. I saw Ansel and I was like, "Yeah, it has to be him."
He really is Gus.
Ansel's performance in this movie is an absolute revelation, I think. It shows that he is one of the best, young actors in the world. I think that he just killed it.
I think you have three of the best young actors in the world in this one ...
Yeah, I know! Nat Wolff [who plays Isaac] has an amazing performance too. He's great, he's amazing, he's stunningly talented. He could have played any part in the movie. He could have been [Peter] Van Houten!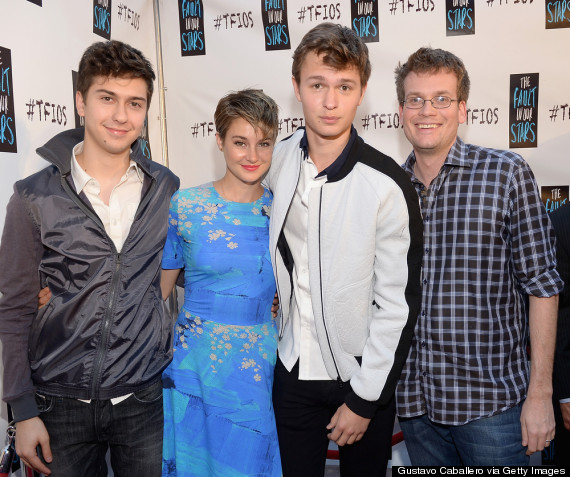 Did Josh Boone come to you and say he wanted to direct the movie or did you talk with producers?
The producers talked to a lot of directors and then when they were pretty sure they wanted to hire Josh, they called me and asked me to talk to him. And Josh and I talked for about an hour and a half and I was very impressed with him. It was very obvious that he read the story closely and thoughtfully and that he had a real passion for it. He really wanted to make this movie.
What was it like to watch your words come to life?
I cried every day! I cried every day during the filming of the movie, it was so special. I expected to feel weird about it or to feel disappointed or to have moments of being like, "Oh, that's not how you say it," or whatever. But it was such a collaborative and open environment that I felt like we were all working together to try to make something that would honor the book. And I didn't really have a role on set, except to be happy. And that was a great job! Like being professionally excited is the best job in the world.
It must have been such a cool experience, because this is your book. It was pretty amazing at the fan screening to see how many people care much more about you and the novel then the hoopla around the movie. You created the characters the fans love.
I don't know ... the actors are pretty great. The actors did something that I did not know how to do, that's for sure.
Were you ever nervous about it becoming a movie?
Oh yeah, I was very nervous! I was nervous it would be terrible. I was nervous that it would be sentimentalized ... I didn't want to sell the rights at first because I felt like Hollywood couldn't make a movie that wasn't sentimental about illness. That they couldn't resist the urge to bring in the sappy, string music at some point. But the producers, Wyck Godfrey and Isaac Klausner, just convinced me that they meant it. They meant it when they said they were going to make a movie with a female heroine that had tubes in her nose the entire time and they meant it when they said they were going to make a movie with the teenage male romantic lead who is an amputee. And they did that.
They did, it was a great movie. I cried the whole time.
Me too! I cried watching people watch the movie [at the fan screening] just because it was so overwhelming.
So, any of your other books making their way to the big screen?
We just sold the rights to "Paper Towns."
Yes, and Nat Wolff is going to be in that!
Yes, Nat Wolff is going to play the lead. It's fun for me because it means I get to hang out with Nat Wolff again. Nat is one of the funniest people I've ever met. He's become a very close friend of mine and the chance to hang out with Nat for a few months is pretty great. It's the same screenwriters [Scott Neustadter and Michael H. Weber], the same producers, the same studio, and that's great. I told everyone who asked that I did not want to make another movie unless it could be like this again. Because this was so magical, so fun and so the opposite of the experience most writers have in Hollywood. And I just felt so grateful.
But the coolest thing about that whole process is the day that it was announced, I got emails from both Ansel and Shailene saying, "I really want to be in 'Paper Towns,' just a small role, like if I could have like one line." And I wrote Ansel back and I was like, "Yeah, I'm sure we can find something for you." And he was like, "No man, I'm not kidding. I want to be in the movie." But I think it speaks to how much everybody involved in "The Fault in Our Stars" genuinely cares about each other. We all really like each other, we're all very close, and I think it shows in the movie. The fact that it was such a wonderful movie set, everybody was very supportive of one another, and I think you see that this was a movie made from a place of love and excitement.
What's your fondest memory from set?
There was this crazy all-nighter filming the –- I don't want to spoil it –- the church scene toward the end of the movie. And I was there with my publisher -- who has edited every book I ever wrote, who's been one of my closest friends for 11 years -- and Shailene, Nat and Ansel, and it took a long time to get all the coverage for everything and we were up until 5 or 6 in the morning. And at 5 o'clock in the morning, Nat and Ansel started playing the piano in the church and they were just sort of improvising together, working off of each other. And Ansel is a beautiful piano player and Nat is a professional musician, and they were just responding to each other and it was such an emotional night. To have this beautiful music filling this church, that's something I'll take with me for a long time.
This story is a lot about friendship and love and it's nice to see that these three young actors are really friends now. All of you, you all seem to have a special bond.
It inspired real friendships, and I think Nat, Ansel and Shailene are going to be friends for a long time. I think they'll be friends for the rest of their lives and I think that's pretty cool.
And what's next for you?
I don't know, I'm working on a show that's hosted by my wife [Sarah Urist Green] with PBS called "The Art Assignment." So I'm very excited about this, it's very fun to work on and really fun to collaborate with Sarah professionally. I'm having a great time doing that and starting to try and think about writing another book.
"The Fault in Our Stars" hits theaters on June 6.
Before You Go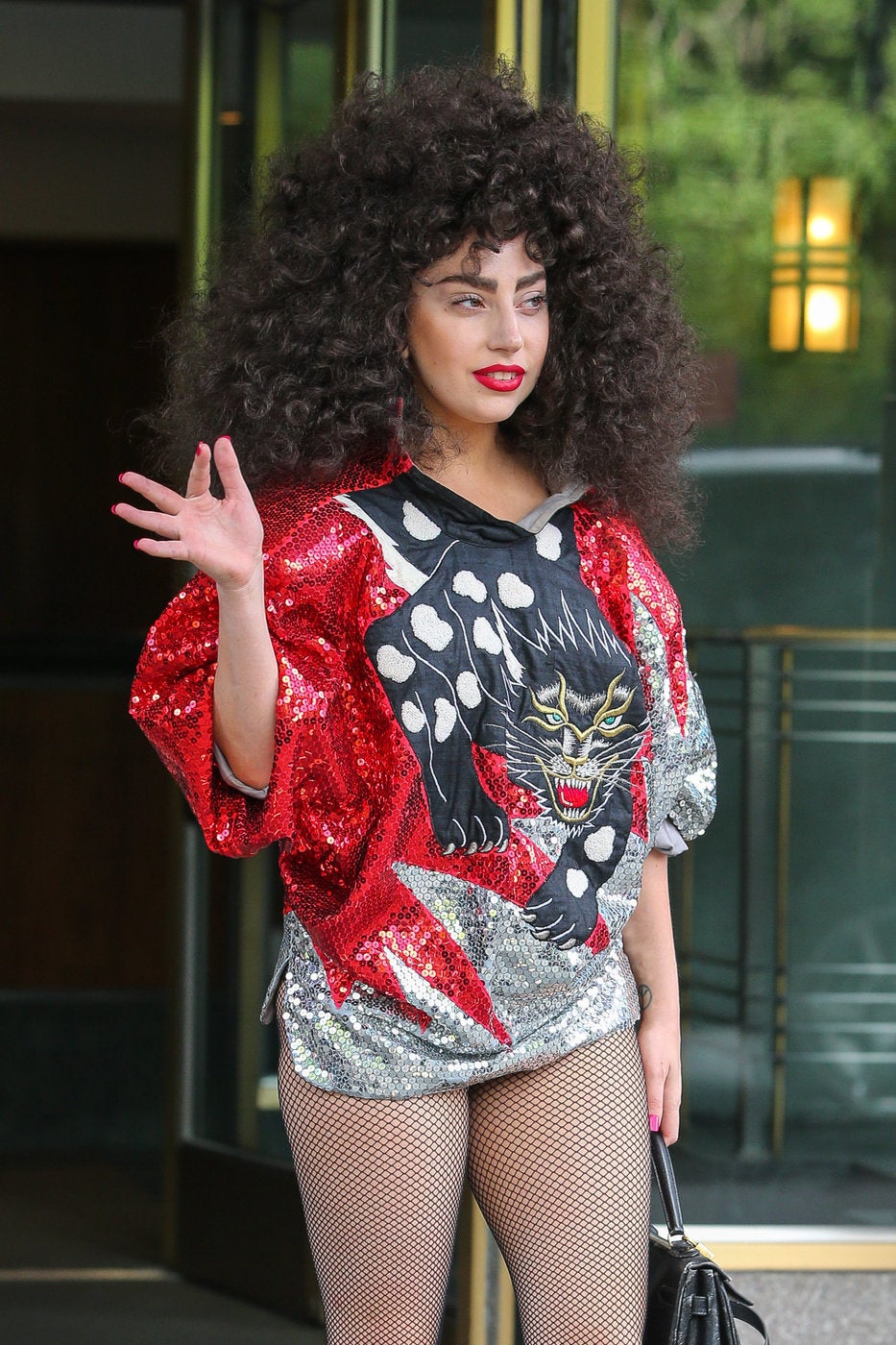 Celebrity News & Photos