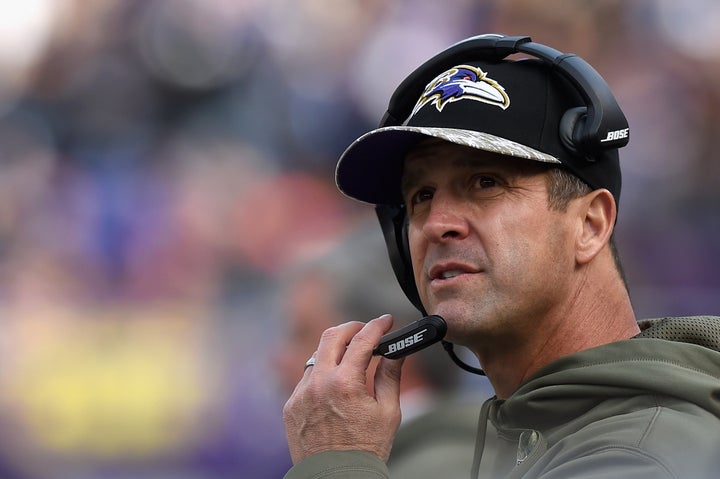 Baltimore Ravens head coach John Harbaugh at least partially supports businessman Donald Trump's proposal to reshape American immigration policy by building a wall on the U.S.-Mexico border.
Harbaugh veered away from football during a post-practice news conference this weekend, turning a point about "rusty" preseason NFL officials into a rant about how members of Congress refuse to work together to solve problems facing the country. That led Harbaugh to declare he was "going Trump" and endorsing The Donald's plan to build a border wall (via Deadspin):
"I'm going Trump here," Harbaugh said. "Build a wall, it's not that hard. You don't have a border, you don't have a country. You're not a country without a border, right? At the same time, you got 12 to 15 million hard-working people here. Give them a shot. Give them a chance, right, to become a citizen so they're paying taxes. All of us know that it's not complicated. But this side doesn't want to solve it and neither does this side. Solve the problem!"
Immigration has been a focal point of Trump's efforts to win the Republican presidential nomination ever since he referred to Mexican immigrants as "rapists" and criminals in the speech that launched his bid.
Though Harbaugh said he was "going Trump," his actual position appears to be more moderate than the real estate mogul's, border wall aside. Harbaugh seemingly supports a pathway to citizenship, a feature of the immigration reform proposal that passed the Senate in 2013. The coach will also be happy to learn that undocumented immigrants already pay taxes.
Trump, meanwhile, would deport millions of undocumented immigrants who are already in the United States, according to a policy proposal his campaign released this weekend.
Calling all HuffPost superfans!
Sign up for membership to become a founding member and help shape HuffPost's next chapter