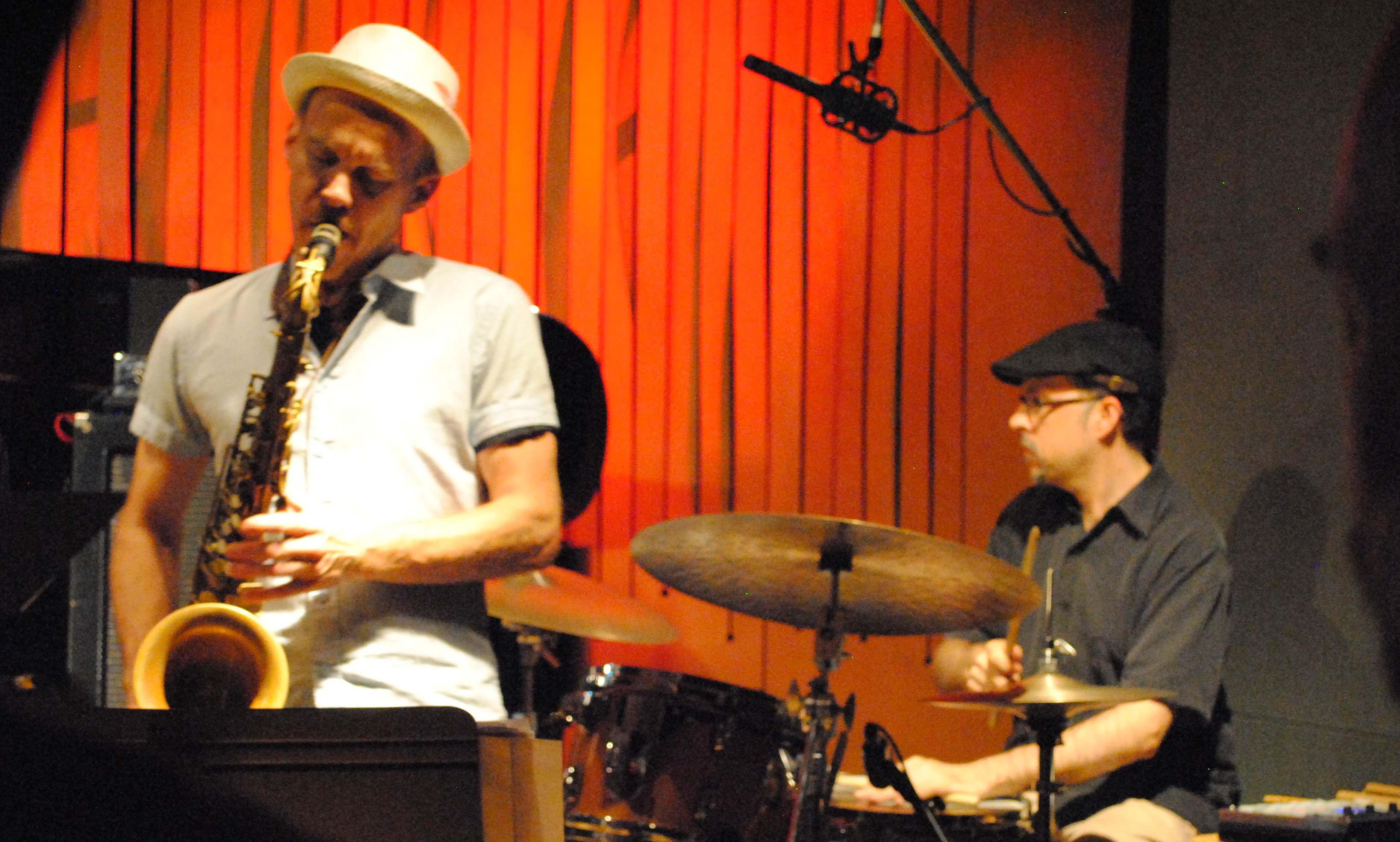 Chris Speed and John Hollenbeck
On this past Friday evening at the Firehouse 12, in New Haven, CT -- easily Connecticut's premier venue for modern jazz -- the modern drummer/composer John Hollenbeck and his Claudia Quintet charmed an astute audience with his unique musical vision. Hollenebeck is a truly gifted drummer with an inquisitive nature, but it is his combined notated and improvised compositions that straddle the boundaries of music and aural art.
As a student of the great Bob Brookmeyer, who he credits as one of the most important influences in his life, he carries on a thirst for composition for and arrangement of multiple instrumentation and the sounds it can produce.
As is his custom, Hollenbeck often uses the month of September as a time to take up an artist residency in remote places. There he uses the quiet time to write and compose new work. His latest album is titled September and it is a compilation of music that John created during his latest residency last September. Each song is titled with a date in September related to their conception and a more informative subtitle.
Drummers have often reached beyond the traditional drum kit to supplement their sound and Hollenbeck is no exception, developing an array of techniques that allow him to produce sounds that expand his aural palette. With the Claudia Quintet he has found like-minded band mates that can take it a step further, adding complimentary timbres, colors, and tones to his own array of percussive techniques and polyrhythmic beats. Of his latest work September Hollenbeck says " I am especially interested in how, through the simple non-violent act of composition, one can help oneself become a better person, deepen one's connection to humanity, and create work that can soothe and heal." As a composer, the sounds of Matt Moran's vibraphone, Red Weirenga's accordion, Chris Speeds reeds and Chris Tordini's bass add pliable voices that serve Hollenbeck's compositional purpose. Despite Mr. Hollenbeck's serious demeanor there is a bit of a tongue in cheek feeling to some of the things he uses to convey his musical message. A humanity that shines through the purposefulness.
The set started out in silence as Mr. Moran and Mr. Speed set the contemplative tone of the first number titled "September 17th" subtitled "The Loop Song." Mr. Moran's hollow, tremelo-filled sounds mesh in chamber music-like fashion with Mr. Speed's darting,woody clarinet evoking a free dance ensemble. Eventually Mr. Weirenga's accordion enters squeezing each chord in perfect harmony as Mr. Hollenbeck scrapes the sides of his cymbals creating eerie accents. Hollenbeck eventually changes the serene mood by introducing a steady rhythm with Mr. Tordini and by interjecting some of his looped vocal overdubs ( this one repeating the word "Hindsight"). Mr. Hollenbeck has a series of pre-recorded loops at the ready, some of them echoing sounds like sirens, most of the phrases stolen from news announcements or historical speeches, all adding to his musical message.
John explains that whenever he reflects on September he almost always harkens back to tragedy of September 11, 2001 and so he wanted to create an album of songs that somehow represented the more uplifting remembrances he has of September. A restorative work.
John took to the microphone explaining the next composition, a dedication to his friend and the pianist Jason Moran, whose email tagline is lemons. The tune is appropriately titled "September 18th- Lemons." John starts out with a driving rhythm that serves as the background for a repeating, serpentine line combining the sounds of Speed on tenor, Weirenga's accordion and Moran's vibes. Hollenbeck eventually changes the beat, slowing it down to a marching-like cadence that has his fellow instrumentalists lending sporadic accents. The sound decays like a dormant space craft losing orbit and descending into the open abyss. The time shifts in this song are quite dramatic, yet Hollenbeck navigates them with consummate skill. He utilizes chains and paper on his drums to create a cacophony of disruptive and unusual sounds. Speed's tenor solos over an eerie dirge that Hollenbeck, Moran, Tordini and Weirenga build to an intense conclusion.
Hollenbeck starts the next composition titled "September 29, 1936- Me Warn You" with pounding mallets over taut toms. Looped segments of FDR's voice from the his Democratic National Convention speech of that year are deftly added to the mix creating a surreal awareness of a message. This piece is more akin to performance art than traditional melody based music. The musicians key off of the repeated spoken lines and the cadence of FDR's words define the melody and the rhythm of the piece. Matt Moran, using violin bows against the sides of his vibraphone's bars, creates his own unique droning sound. With his wild mane of light hair, Moran looks like Christopher Lloyd's mad scientist from the movie "Back to the Future," the vibraphonist can play frenetically at times in a whirling dervish kind of way.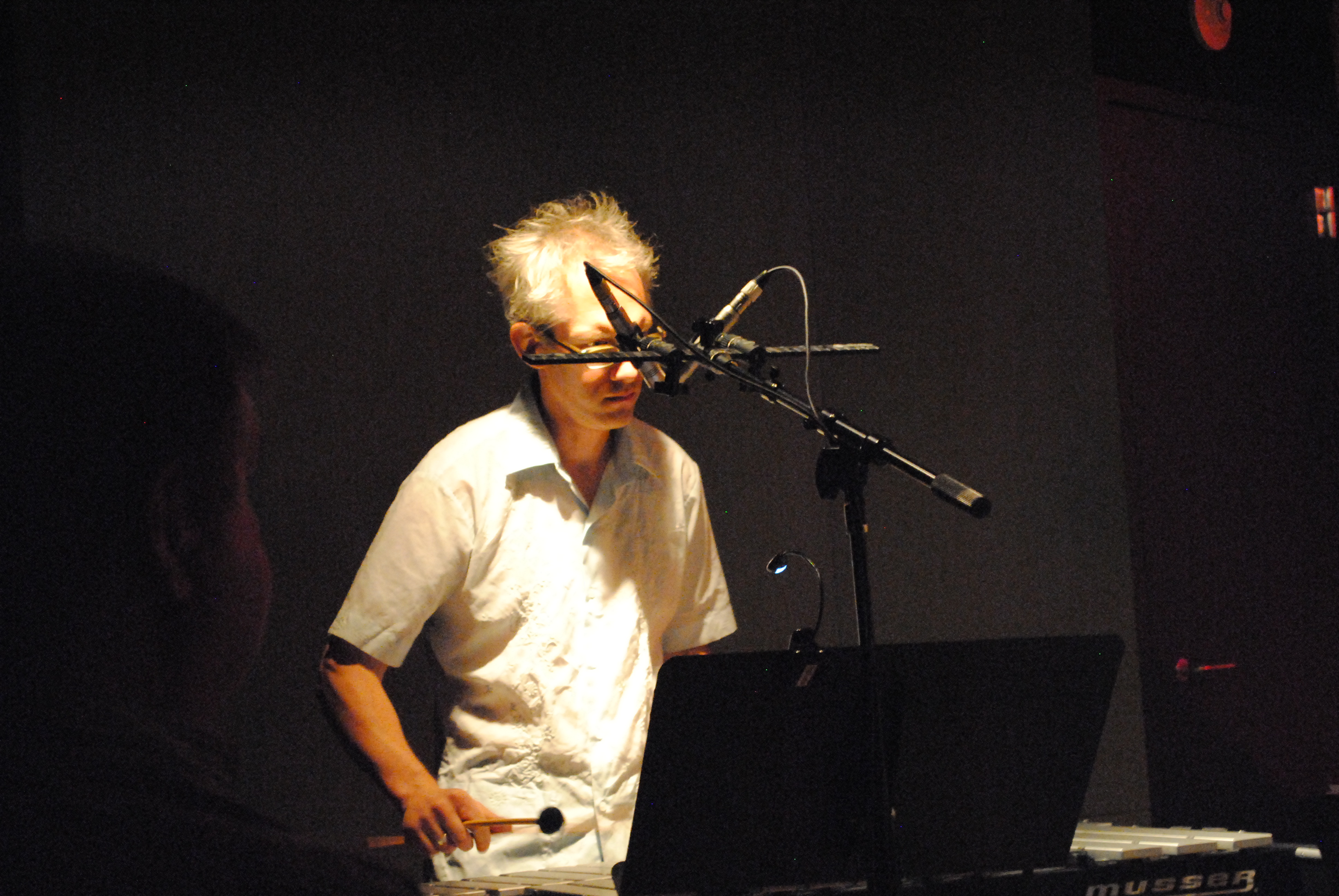 Matt Moran
The most moving piece of this set was the composition titled "September 22- Love is It's Own Eternity " This peaceful ballad had a languishing quality accentuated by Weirenga's droning accordion and Moran's lingering tubular sound. Bassist Tordini provided a penetrating bass solo that hovered over this floating cloud of a song. Hollenbeck played brushes to perfection and Speed's tenor was subtle and subdued lulling the audience with its beauty and sensitivity.
Hollenbeck decided to go back to his earlier repertoire for a song titled "Flock," composed at a time he was doing a residency in Scotland. John took to the piano, pounding out singular notes in a rhythmic pattern that is then picked up by his fellow musicians. Much like the lead goose leads a flock, calling out to his fellow travelers, giving them direction, the band is guided musically by Mr. Hollenbeck's lead sounds. If you closed your eyes you could see the formation of downy birds flying over the horizon.
The final song of the first set was titled "September 9th- Wayne Phase," a song inspired by the saxophonist Wayne Shorter, but clearly not Shorter-esque in sound. Wierenga's droning accordion moans as Moran's vibes track the melody over Hollenbeck's snare rolls. John's poly rhythms create the backdrop for a series of solos. Wierenga solos, first creating a sound that combined with Hollenebeck's frenetic traps present the aura of a runaway calliope. The repeated melody line is broken with a series of sounds that emanate from the players in a controlled but free-like exhibition of coordinated frenzy.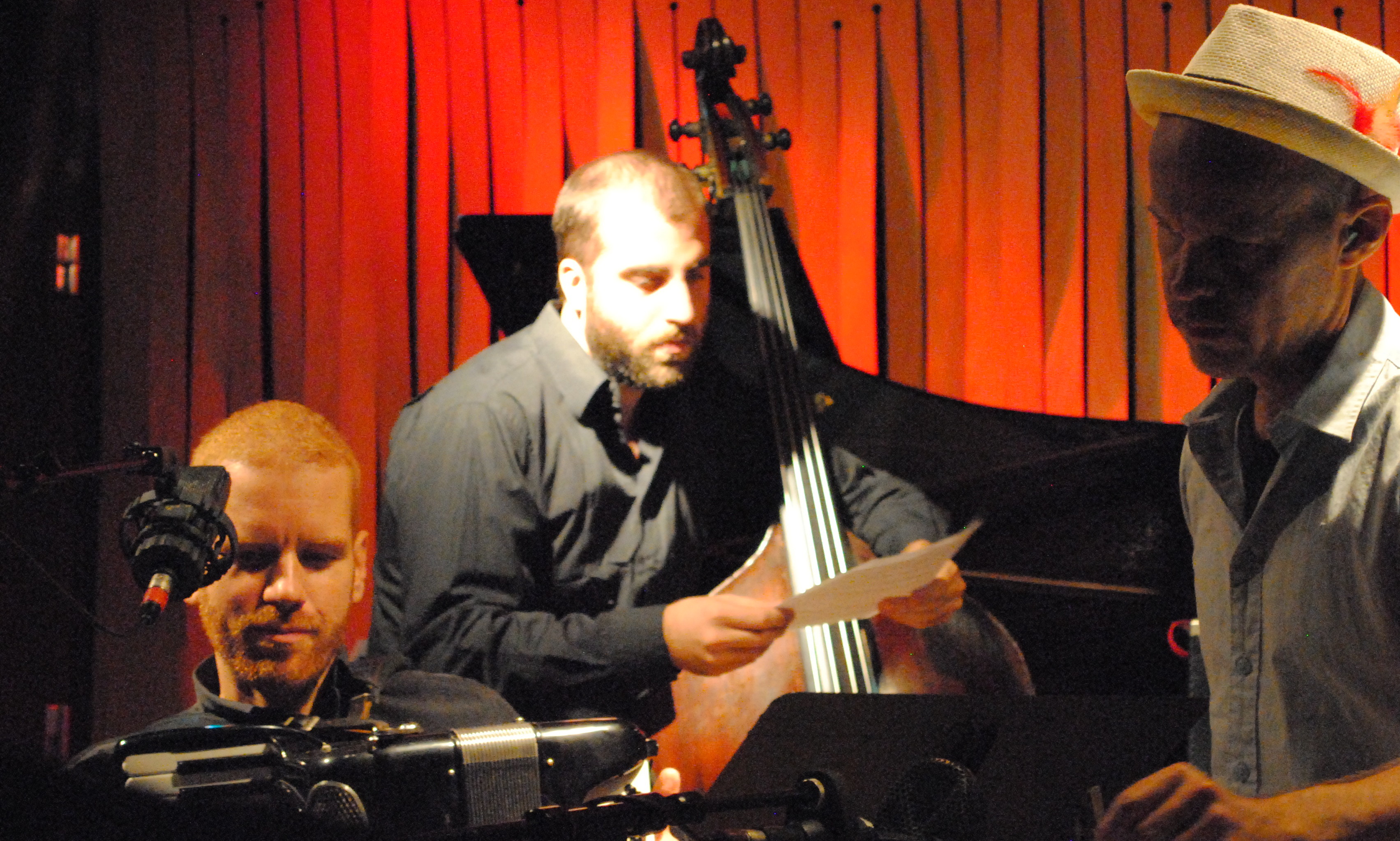 Red Wierenga, Chris Tordini and Chris Speed
A high-light of the album, which was disappointingly not played during the first set, is the haunting "September 12th- The Coping Song" written the day after the attacks on the Trade Center Towers when Mr. Hollenbeck was in residency in upstate NY. This chamber music-like piece utilizes the beautiful sustained tones of the accordion, the resonant sound of the clarinet and the lingering, hollow sound of the vibes to great effect. The ostinato that Mr. Hollenbeck creates is at once somber and up-lifting,developing a sense of promise and expectation out of a cloud of disbelief and shock.
Mr. Hollenbeck's vision of September is one of hope and creativity. He has a unique mind that can envision sounds from various real life situations and compose them into accurate statements of the human condition. At times the beauty of his music offers us a glimpse into the magnificent
possibilities.
Support HuffPost
The Stakes Have Never Been Higher
Related
Popular in the Community