Recently, Dr. Lauren Jarmusz (PT, DPT) and I interviewed Dr. Krishnaj Gourab (MD). Krishnaj is the co-founder of ReHAP; a startup that provides clinical decision support for rehabilitation therapy service (physical and occupational therapy). Dr. Gourab and his co-founder, John Adamovich, MHA were awarded the Louis B. Thalheimer Fund for Translational Research and Maryland Innovation Initiative (MII) Grant for developing ReHAP. Dr. Gourab is an assistant professor of physical medicine and rehabilitation at the Johns Hopkins University School of Medicine. He also serves as the chair of the department of physical medicine and rehabilitation at the Johns Hopkins Bayview Medical Center. Dr. Gourab earned his medical degree at Grant Medical College, University of Mumbai in India. He completed a residency in orthopaedic surgery at Lokmanya Tilak Medical College and Hospital and a residency in physical medicine and rehabilitation at William Beaumont Hospital in Royal Oak, Michigan. He also completed the Analytics Leadership in Patient Safety fellowship and the Hexcite fellowship at Johns Hopkins Medicine. Here's our interview:
Marquis Cabrera: What is ReHAP? Where did you get the idea from?
Dr. Krishnaj Gourab, MD: ReHAP is a clinical decision support software to help manage rehabilitation therapy department's resources serving a hospital, rehabilitation facility, or home health care agency. ReHAP's algorithms consume functional and operational data, continuously improve via machine learning and are customizable to the end user.
We have a very committed group of therapists who work in multiple areas of the hospital and try to do the best for their patients. However, before ReHAP, there was no way for therapists to know, in real-time, about a patient who is "more in need for therapy services," four floors up in the hospital, than the patient he is scheduled to see next. For example, for a therapist working on the neuro floor, it is not possible to know that the therapists in the medicine floor need help (he has just received 3 orders 1 PM to see new patients, 2 patients are now ready to be discharged by evening and are waiting for a therapy eval to see if they need to go home or to a sub-acute rehab place). This used to lead to missed therapy visits for patients in the hospital who really needed therapy services.
The idea for ReHAP (a web-based tool accessible across the hospital, which identifies and predicts patients most in need for therapy services across the hospital) was born out of this need.
Dr. Lauren Jarmusz, DPT: Can you give me a use case of how it works from a patient's perspective?
Dr. Krishnaj Gourab, MD: Here's three:
(1) I am a patient in the medicine floor, I have not received therapy for three days. The PT who was treating me is now assigned to a different floor, or it is his day off. Unless my treating physician calls the therapy department again, or I let somebody know that I need therapy today, I will miss therapy again. This will impair my functional improvement. However, ReHAP's algorithm identifies me as a patient who is likely to miss therapy today, as no therapist has assigned himself to me. Since the therapy coordinators regularly look at ReHAPs' dashboards, they can immediately assign a physical therapist for my treatment, so that I do not miss therapy today.
(2) I just had a surgery and I am admitted to the surgical floor. I have made significant functional gains, but based on my current level of function, the OT and PT still think I will have to go to a sub-acute rehabilitation center after discharge from the hospital. ReHAP's algorithms identify that if I receive intense therapy over the next two day, I may be able to go home. The therapy coordinators act on this prediction, ensure that I get the high intensity of physical therapy every day for the next two days. I make significant gains in my mobility and ADLs (activity of daily living), and go home.
(3) ReHAP has identified that I am a patient who will need acute inpatient rehabilitation at discharge. Since therapy coordinators, PM&R physicians, and care coordinators know about me, they ensure that when it is time for me to get discharged from the hospital, all paperwork to get a bed at a rehab facility of my choice has been done and my care transition is seamless.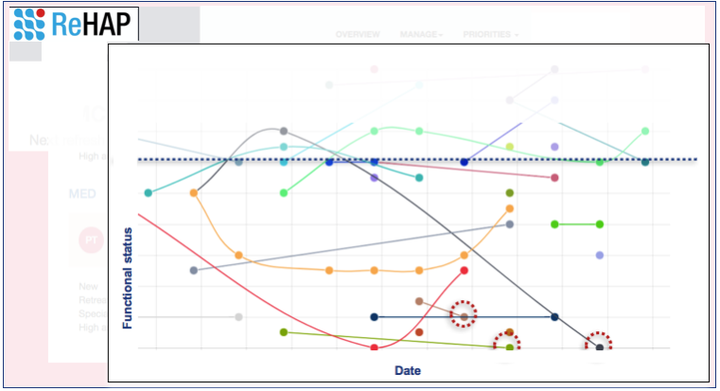 Marquis Cabrera: What are 1-2 reasons why hospitals are eager to adopt ReHAP?
Dr. Krishnaj Gourab: Every major hospital that we have done customer interviews with has the same problems around the aging American population. Many patients in the hospital need therapy services (physical or occupational therapy) to get back on their feet when they're recovering from surgery, injury, or after significant medical issues. And, we know from experience, patients who are in the elderly age group need these services more than other patients. For example, a 25 year old gentleman, who goes to hospital with a knee pain, wouldn't need these services as much; whereas, an elderly woman who is in the hospital recovering from pneumonia and sepsis will likely need therapy services to get her back on her feet. Here are two business cases for ReHAP.
1. Hospitals have a demand-supply gap for therapy services. When we talked with customers across the country, those hospitals said they have increasing demand for therapy services but a limited number of therapist. One way to break this demand-supply gap is to increase the number of therapist, which initially costs a lot of money, or not to give the required therapy services to these patients. If you don't give therapy services, then obviously, you would have poor clinical outcomes; patients stay in hospital longer, readmission rates are higher, and they need more post-acute therapy services. This is not good patient care. As a result, we proposed a third approach, an alternative solution in which we use real-time functional data to identify and predict which patients really need therapy services across the hospital. For example, out of the 230 patients on a therapy caseload, which of the 50 patients, are a high priority for therapy today. Therefore, it allows hospitals to manage their patient caseloads with the same number of (physical and occupational) therapist by targeting patients who need care and de-prioritizing patients that don't need the care. The way ReHAP helps is that it uses its algorithm to identify these patients. Therefore, hospitals can manage caseload using less resources and can have a net savings in operational costs.
2. Hospital systems want to keep patient engaged within the system: If a patient is discharged today from the hospital and they come back to the hospital or health system's outpatient clinic for physical therapy, it is good for patient engagement and retention. And it is good patient care, too, because there's a great coordination of care, if they stay within the same system. In this scenario: ReHAP identifies patients, even when they're in the hospital (i.e, this patient may need acute rehab or outpatient rehab after discharge), and gives a heads up to coordinators to facilitate post-acute care if the patient wants to follow up within the same healthcare system. They can deliver better service by easing transitions of care, while respecting patient and family's choices.
Now those are the business cases, but the clinical case is obvious and compelling. As a clinician, I can use ReHAP to see which patients will benefit the maximum from my expertise and, therefore, can give my services to those need it versus those that don't need it. This is patient centered-care and appropriate utilization of resources.
Dr. Lauren Jarmusz, DPT: Is there a metric you're tracking that shows how you're improving the quality of care or making the lives of therapists better?
Dr. Krishnaj Gourab, MD: Yes, this is the screenshot from my presentation our team did at the AMIA (American Medical Informatics Association) - iHealth conference in 2016.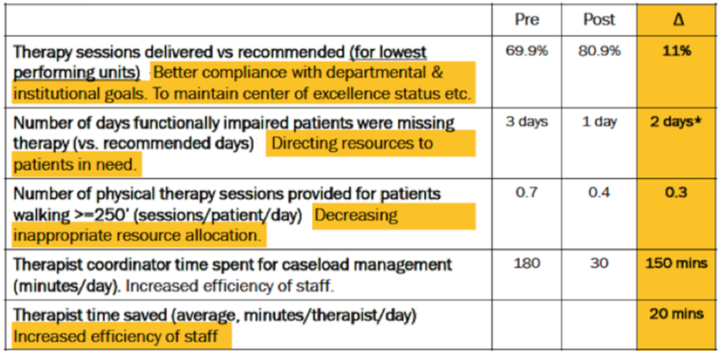 Marquis Cabrera: Can you tell me what inputs, data elements are ingested by the algorithm? Ultimately, what is the rule set, meaning how does it pick the patients that should be prioritized by therapists?
Dr. Krishnaj Gourab: There are rulesets. For example, at our pilot site, one of the ruleset is, which is determined by individual departments, every patient should be seen at least once every three days. If the patient has not been seen within that last two days, then the patient is flagged on day two. Another rule set could be, for example, in the ortho unit, every patient should be seen on day-zero of post-op. You can customize the ruleset based on the department and institution.
But the cool part is: ReHAP also tracks the patient's function [while in inpatient settings]. Currently, it is looking into the EMR every 30 minutes and pulling out the functional data that has been captured by therapists. Just to illustrate with some numbers: Let's say a Patient A started at a functional score of 10, and is now at 17 after receiving only two therapy sessions. If I give 3rd therapy session, they're more likely to cross threshold of 18 and go home. Versus Patient B who has 5 therapy sessions and has only moved from 12 to a 14 in their functional score. If I give one more therapy session, they're likely to go to 15, but probably not to 18. As a result, I should probably see patient 1, so that my treatment has the maximum effect. On the flip, side, I should also give adequate therapy to patient 2, so that he does not deteriorate. By looking at these rule sets again and again, and using machine learning, our algorithm gets smarter, which allows us to identify and predict therapy needs, but the clinician, ultimately, can make their own judgements.
Dr. Lauren Jarmusz, DPT: Please, expand. How does ReHAP enable clinical decision-making? Also, is it accurate to say that most of your your use cases are inpatient?
Dr. Krishnaj Gourab: ReHAP is a software; it will never make the clinical decision. It tells therapists here's the patients that need your services, but the therapists must use their own judgement as clinicians. Clinicians can override ReHAP. For example, ReHAP is telling the therapists they must see Patient A, but Patient A is having extreme nausea today, so they wouldn't see the patient on that day.
It is accurate to say that most of our use cases are inpatient, but we are building the ability for post discharges monitoring of patients in the community to track mobility and activity progression, as well, which is our next phase. For example, we are talking with some device makers, in which we have devices that we would provide to high risk patients. And, the patient doesn't have to do anything, it automatically sends the data via API back to ReHAP. For example: if a patient usually takes 3000 steps a day, but she didn't take any today. A therapist could be notified to get in touch with the patient.
Marquis Cabrera: How has John Hopkins been helpful to you incubating the concept?
Dr. Krishnaj Gourab, MD: I had initially written these algorithms in MATLAB, running it on my desktop and emailing the therapy coordinators the output. The Technology Innovation Center at Johns Hopkins Medicine has a program called the Hexcite (Excited about Healthcare) fellowship, which is almost like a mini i-CORP program. They pair clinicians with a business lead and engineer/software resources and help them develop their ideas into commercial products which can be deployed in the clinical space. For example, I was paired John Adamovich, MHA, from the Bloomberg School of Public Health. We were required to do customer interviews. As a result, we did cold-calling. We talked with our peers. For example: If I was to sell this product to you, would you buy it? If not, what features do you need? So, I went through this fellowship and TIC continued to provide software development support till we secured our first funding through the Thalheimer fund for clinical research and then we received funding through the Maryland's Technology Development Corporation (TEDCO). Now we have healthcare system outside JHM looking to adopt ReHAP (currently in contract negotiations). Because we are able to say ReHAP has been clinically deployed, we have been able to raise money from funding agencies.
Marquis Cabrera: What are some of the key insights you were able to gain from customer interviews that helped to really get ReHAP going, or enabled you to pivot early? Refine your business model, or get to where you are today?
Dr. Krishnaj Gourab: We were positioning ourselves saying, we're targeting patients who truly need therapy, and not targeting patients who don't need therapy, we're generating a net savings. But when we did customer interviews, customers were most excited about being able to predict which patients would need outpatient therapy, thus giving an opportunity to retain the patient within the health system. This was an eye opener for us!
ReHAP is working with some device manufacturers to bring in wearable data to monitor patients in the community after discharge. We think this will be the next stage of our commercial success. We don't have the hardware and APIs built yet to track someone when in the community. When we're able to see patients function in the community. We can prescribe activity and track the patients adherence.
Dr. Lauren Jarmusz, DPT: The physical medicine space has been under innovated due to strict policy regulations. Is there anything inhibiting your work? Or anything from a policy perspective that is a barrier to entry that if removed would allow you to gain more traction or innovate the physical medicine space?
Dr. Krishnaj Gourab: Do you know what was the cost of treating massive acute myocardial infarction — heart attacks — in 1819? It is 0 dollars because all patients used to die. Today, the cost of treating these patients is probably thousands of dollars, but no one questions whether we should spend the money on this because the patient either lives or dies based on whether the correct treatment was provided. Now, in rehab, the outcomes are not that "alarming". If a patient doesn't receive adequate therapy, he or she stays in a nursing home, or doesn't move well, there is a gradual decline of this patient's function and ability. But that is something that is not immediately apparent to patients, families and policymakers. Many of the regulations don't see the value of measurement of function and improvement of function. If tomorrow, there was a regulation that the patients are improving in function, and if you show me that, then you get reimbursement; if you don't show that, you don't get reimbursement, which is similar to meaningful use criteria, it would go a huge way in promoting measurement of function and appropriate rehabilitation interventions. There's evidence in literature that shows function is related to many outcomes; how well your patient moves, can stand up, walk, etc, which is also very important to the patient. Our goal should be get patient back to normal functional status by giving him medical interventions as well as rehab interventions. Somehow the rehab interventions get shortsighted because the harm happens over a longer period and is not immediate.
Marquis Cabrera: If you have a dream state for the future of physical medicine, including movement and function, what would it be?
Dr. Krishnaj Gourab: My dream state would be rather than a healthcare system in which patient comes in once every month or three months, the physician's office will have systems with analytic dashboards. For example: All of the patients enrolled in wellness will have their movements tracked using wearables; then the system would tell doctors to see the 10 patients who have shown a significant deterioration in function; then they can pick up the phone and talk to those patients. Let's say Mr. Jones is feeling really fatigued when the doctor calls, and the doctor looks at the wearables data and says this person has increased in weight and has congestive heart failure. As a result, they could prescribe a diuretic before things get serious and the patient didn't have to come in. That would be my dream state, but there is a lot of science that has to happen before we reach that state. But, again, we are closer than ever before.
Support HuffPost
The Stakes Have Never Been Higher
Related
Popular in the Community