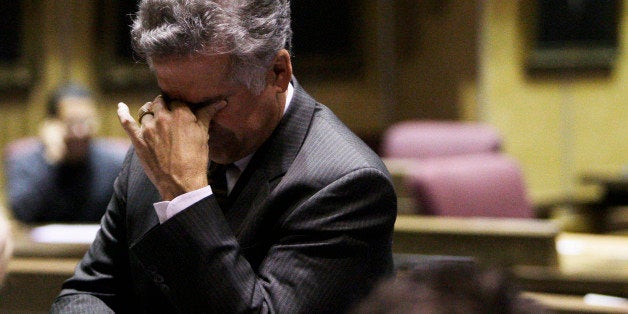 One of the leaders behind legislation banning a Mexican-American Studies curriculum from the state's classrooms won't be in charge of the Arizona school system anymore.
In a campaign marred by the discovery that he had been hiding behind pseudonyms to make offensive comments online, Arizona Superintendent of Public Instruction John Huppenthal, lost his reelection bid Tuesday night in Arizona's GOP primary, the Arizona Republic reports.
Within his party, Huppenthal had faced backlash over his prior support of common core standards. The winner of the primary election, Diane Douglas, strongly opposed the standards, painting them as federal overreach and likening them to the education version of "Obamacare" on her campaign website.
Huppenthal's reelection campaign hit a major roadblock this year when it was revealed in June that he had been leaving comments on political blogs under the psydonyms "Falcon9" and "Thucydides" containing remarks that many viewed as offensive.
We all need to stomp out balkanization. No spanish radio stations, no spanish billboards, no spanish tv stations, no spanish newspapers. This is America, speak English.
He also called people who use food stamps "lazy pigs."
Phoenix independent Luis Cardenas Camacho told the Arizona Republic that the comments had influenced his decision to vote against Huppenthal.
"He needs to focus on education for children, and we have a high population of different ethnicities in our school system," Cardenas Camacho told the Arizona Republic. "For him to be that biased toward somebody, it's just not appropriate.
Huppenthal leaves a Jan Brewer-esque legacy for Latino students who make up a majority of many of the state's school districts.
As a state senator, Huppenthal spearheaded legislation to ban courses targeted toward specific ethnicities, that promote "ethnic solidarity," or that advocate the "overthrow of the government," which passed in 2010. The bill was aimed at a controversial Mexican-American Studies curriculum developed in Tucson public schools that conservatives accused of causing resentment toward whites.
Teachers denied those charges and pointed to research showing the courses had bolstered student achievement and classroom engagement. The courses encouraged students to think critically about controversial issues like race and immigration, and used books routinely assigned at the university level, like Paulo Freire's Pedagogy of the Oppressed or Richard Delgado's Critical Race Theory.
Elected to head the Arizona public school system in 2010, Huppenthal commissioned an independent audit of the courses upon taking office. Though the audit praised the curriculum's focus on critical thinking and recommended expanding the courses, Huppenthal ordered Tucson Unified School District to suspend them or face the loss of 10 percent of the district's funding -- some $14 million annually.
The district then banned seven books from classrooms that had been used as part of the curriculum, arguing that they had been named in a lawsuit challenging HB 2281. The school board voted to lift the restrictions on the books last year.
In 2012, Huppenthal said in an interview that he was considering eliminating Mexican-American Studies from the state's higher education system as well. "I think that's where this toxic thing starts from, the universities," Huppenthal said at the time.