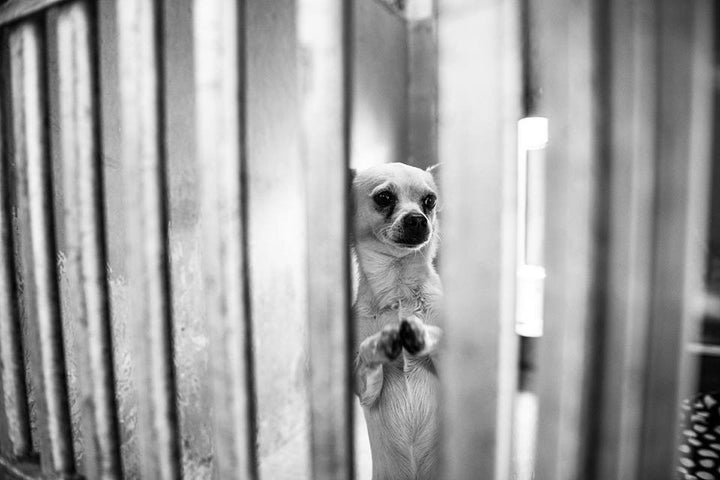 All dogs in shelters want to find a home, but this little guy in California is desperate for one.
On Jan. 9, Rose Gallardo was parked in a McDonald's parking lot in Los Angeles, eating a quick lunch between errands when she noticed an animal control officer trying to capture a stray Chihuahua. He, and several concerned civilians, had been trying to catch the dog since early that morning. When Gallardo rolled onto the scene, the officer was trying to lure the pup with food but the tactic wasn't working.
"The dog was too smart and kept running through the parking lot," Gallardo told The Huffington Post. She felt compelled to help, but wanted to let the officer do his job.
Yet, as she continued to eat, she noticed the pooch's cat and mouse game was getting dangerous. The tiny dog would occasionally lie down for breaks and whenever he did, a passing car would almost hit him.
Gallardo decided she needed to help. She drove up to the dog, opened her door, stepped out and offered him her hand. As she approached him, he calmly laid on his stomach. She was able to bend down and scoop the dog into her arms, leaving the entire lot in shock.
"The officer was amazed by how submissive the dog was towards me," Gallardo said.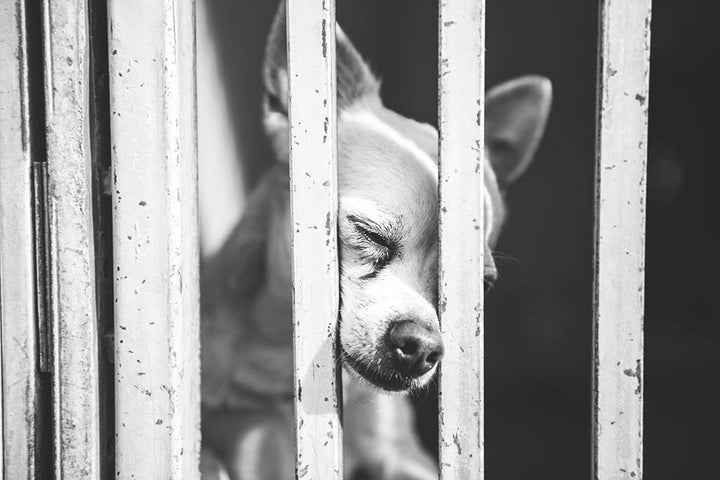 She handed the dog over to the officer and he was taken to Baldwin Park Animal Shelter. But Gallardo -- who describes the Chihuahua as "the sweetest precious baby" -- wanted to make sure the feisty fur ball would find a loving home sooner than later. So, she shared her story on Facebook, alerting her friend John Hwang. Hwang lives by Baldwin Park Animal Shelter and goes there frequently to take pictures of needy dogs and then posts the pictures online in hopes of finding them homes.
"I just do it for the love of dogs," Hwang, who has four rescue pooches himself, told HuffPost. "I figure that I could use my photography to bring more awareness."
Gallardo's post struck Hwang and he decided to visit the shelter to photograph the Chihuahua.
Hwang spent about an hour with the dog before he decided to take pictures.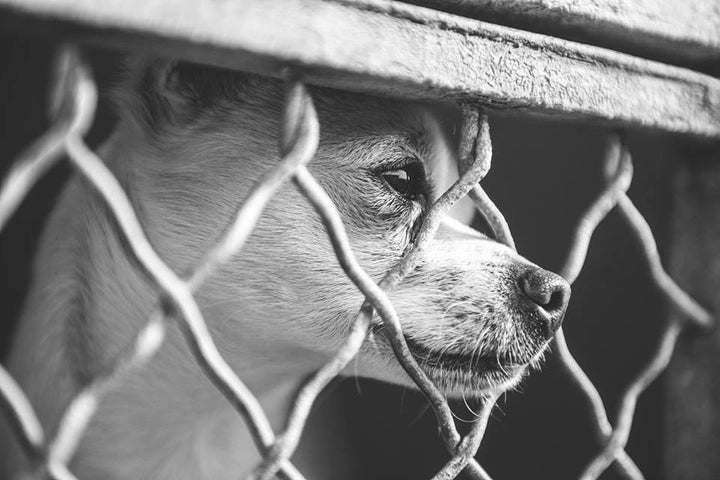 "He was actually quite friendly," the photographer said. "But he also looked very restless being in that kennel. He kept pacing back and forth, almost like he was trying to find a way to get out."
Hwang snapped a few shots when the dog decided to do something that really surprised Hwang.
"He got up on his hind legs, put his front paws together and shook them up and down, as if begging me to help him."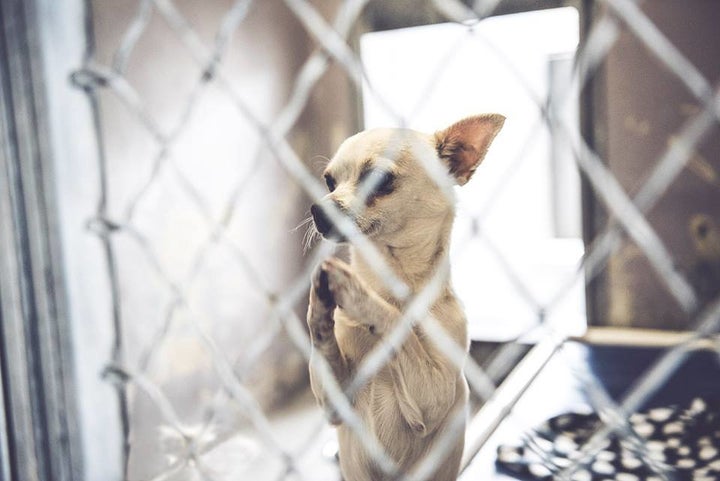 At first, Hwang thought this action was just a fluke. But the dog continued to do it.
"He would pace back and forth in the kennel then come up to me on the fence and do it again," he said. "It really touched me."
The little guy is still begging for his freedom and deserves something more than a fast food parking lot.
Keep in mind there are plenty of other dogs that need to be adopted as well. Find a local shelter through the ASPCA.
PHOTO GALLERY
Photographer Takes Pictures Of Dogs Trying To Catch Treat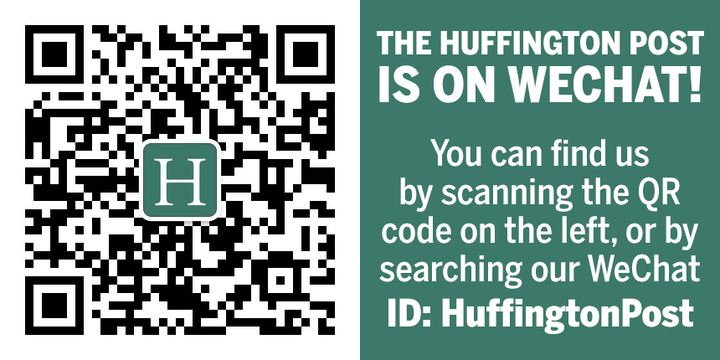 Calling all HuffPost superfans!
Sign up for membership to become a founding member and help shape HuffPost's next chapter