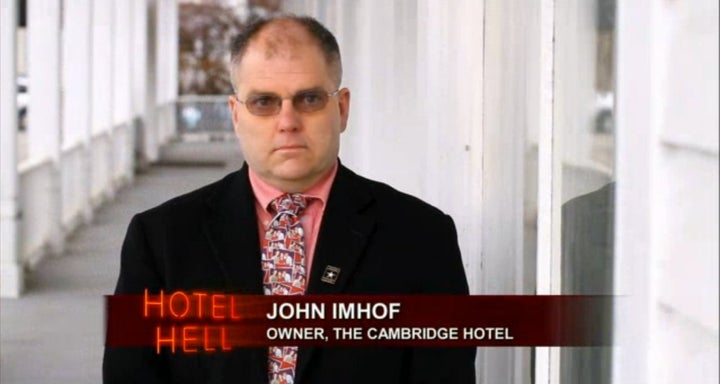 WASHINGTON -- The man charged with supervising the operation of military commissions at Guantanamo Bay was previously featured on a Fox reality show where celebrity chef Gordon Ramsay criticized his poor management of a now-foreclosed hotel.
At Guantanamo, John Imhof is the officer in charge of the Office of Military Commissions, the Pentagon entity that runs the military tribunal there. In this role, Imhof helps oversee a wide range of operations -- including lodging and travel for prosecution and defense lawyers -- and works as a liaison between the Office of Military Commissions and Joint Task Force Guantanamo, which runs the base's prison facilities.
Before Imhof went to Guantanamo, he and his wife were featured on an Aug. 20, 2012 episode of "Hotel Hell," a Fox reality show about struggling and mismanaged lodgings. Imhof bought the Cambridge Hotel in upstate New York in 2007.
"I remember sitting in my hot tub, smoking a cigar, drinking bourbon and life was good," Imhof explained on the show. "So I wanted to take my wife some place nice for dinner, so I said why don't we buy the Cambridge Hotel and then we'd have a place to go."
The hotel lost hundreds of thousands of dollars a year after Imhof and his wife, Tina, purchased it. It was foreclosed on last spring, after the "Hotel Hell" episode had filmed but before it aired. On the show, Imhof revealed that he was $750,000 in debt because of the hotel; Ramsay claimed Imhof's micromanaging was to blame.
(Watch the full episode below.)
A former Army judge advocate general officer, Imhof says he decided to take the Guantanamo position last year, before the hotel failed. In an email to HuffPost, Imhof said he and Tina are really enjoying life at the Guantanamo Bay Naval Base. Tina, who is working at a school there, especially likes the warmer climate. Imhof said his job is everything he could have hoped for and called it a privilege to work with his staff and members of the military.
"I combine my prior experience as a Military Judge, Defense attorney and Prosecuting attorney with my experiences running a private law firm and a hotel to try and ensure that the process runs smoothly," Imhof wrote. "If the convening authority needs something on island I try to ensure it happens."
Imhof seemed in his element at Guantanamo last week, showing reporters the five white trailers inside the court facility's fences where Khalid Sheikh Muhammed and his four co-conspirators charged in connection with the Sept. 11 attacks are held on days they have to go to court. Imhof drew attention to the green painted arrows adorning each trailer that point toward Mecca, helping the detainees to pray.
Reporters also saw five restraint chairs that guards could use to force any non-cooperating defendants into the courtroom when the judge ordered them to show up, as well as two Body Orifice Security Scanners, or BOSS II chairs, that allow guards to detect metal without conducting a cavity search.
Imhof is limited in what he can say about "Hotel Hell" because he signed a non-disclosure agreement with Fox, but he said people should keep in mind that the show is meant as entertainment.
"Working with Gordon Ramsay and his crew was a unique experience. To watch all that goes in to making a one hour 'reality' show was extremely interesting," Imhof wrote in an email. "I try to take any experience, be it pleasant or unpleasant (there were certain parts of the show that were each) and learn from them."
Imhof added that he did not "regret any of the experiences" with "Hotel Hell," and said he would "strive to incorporate whatever I can into my portfolio of management skills."
Defense Department spokesman Todd Breasseale said Imhof is doing a great job at Guantanamo.
"The Office of Military Commissions has every faith and full confidence in John Imhof," Breasseale said in an email. "He's an accomplished Army JAG and a proven military leader."
Watch Imhof's episode of "Hotel Hell" below: