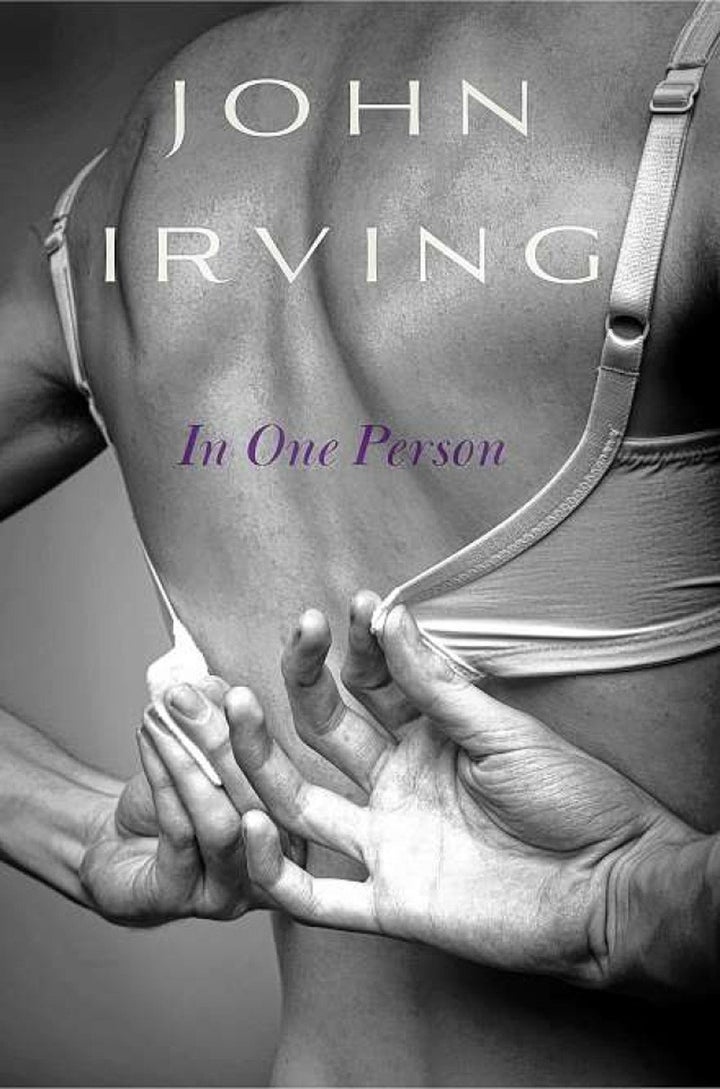 "In One Person" by John Irving
Simon & Schuster, $28.00
Publishes on May 8, 2012
What is it about?
At age 13, timid and naive Billy realizes that he develops crushes "on the wrong people:" his stepfather and his tall, masculine librarian, Miss Frost are among them. His infatuations and subsequent isolation don't subside as he gets older and eventually travels to Vienna and New York, where he dates a much older male poet while working to become a fiction writer. While the protagonist in this book faces his bisexuality with apprehension, the language is far from meek -- Irving's token sturdiness adds an interesting new perspective to the topic of gender.
Why are we talking about it?
With all of the recent talk about chick lit and the ways in which books are marketed based on the author's gender, we found it intriguing that this male literary author has released a novel with a less-than-serious cover: The photo is akin to a steamy romance paperback, and the text is in a shiny purple script. The epigraph reeled us in, too. Appropriately, it's from Shakespeare, who also used language to re-imagine gender roles: "Thus play I, in one person, many people/ And none contented."
Who wrote it?
John Irving is the author of such bestselling books as "A Prayer For Owen Meany," "The World According to Garp" and "The Cider House Rules," for which he won an Academy Award for Best Adapted Screenplay.
Who will read it?
Fans of John Irving (there is significant thematic overlap amongst his novels and this is no exception), those interested in gender, those interested in LGBT fiction, those interested in alienated characters.
What's it similar to?
"Middlesex" by Jeffery Eugenides, "The Mysteries of Pittsburgh" by Michael Chabon, "Twelfth Night" by Shakespeare (which the characters in the book perform)
What do the reviews say?
New York Daily News: "In One Person" falls short of full-bodied Irving at his best. Is it because Billy never has a meaningful sexual relationship that it seems that he never fully gives of himself, either to another or the page? Something is missing from this novel that is more pleasing than powerful.
The Guardian: "It has always seemed appropriate that John Irving is the only great contemporary novelist to have been inducted into the National Wrestling Hall of Fame. He goes about his writing much as you imagine he used to go about his former life as a college grappling champion and subsequent obsessive hobby as a coach. Subjects are faced down, language approached with muscular intent and no little adrenaline, and the whole eventually coerced into satisfying submission."
Impress your friends:
You may know that five U.S. States and the District of Columbia have legalized gay marriage. Seven countries have also done so, and Spain is the only one to recognize same-sex marriage and heterosexual marriage under the same law. According to a 2010 study by the National Survey of Sexual Health and Behavior, seven percent of men and eight percent of women in the U.S. identify as gay, lesbian or bisexual.
I'm going to begin by telling you about Miss Frost.
I remember, when we were rehearsing The Tempest, how Richard had said that Ariel's gender was "mutable"; he'd said the sex of angels was mutable, too.
"Director's choice?" Kittredge had asked Richard, about Ariel's mutability.
I supposed I was trying to look sexually mutable, to capture something of Ariel's unresolved sexuality. I knew I was small but good-looking. I could also be invisible when I wanted to be --like Ariel, I could be "an airy Spirit."
REAL LIFE. REAL NEWS. REAL VOICES.
Help us tell more of the stories that matter from voices that too often remain unheard.
BEFORE YOU GO