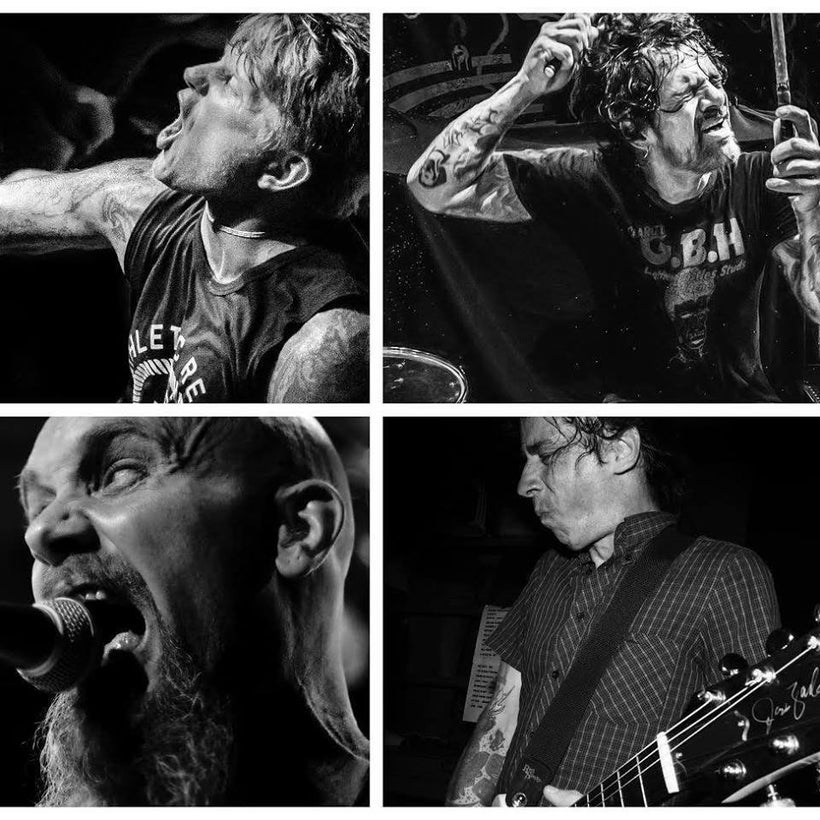 From "Up in Arms" by Bloodclot
John Joseph has overcome a series of obstacles in his life. Having struggled with abandonment, abuse, addiction, incarceration and homelessness, Joseph found ways over time to turn his tragedy into triumph: as the lead singer of the seminal hardcore band Cro-Mags, as an author of books such as The Evolution of a Cro-Magnon and Meat is for Pussies and as an Ironman competitor racing to raise money for charity.
"My life has always been about adversity - trying to turn negative situations into positive ones," Joseph told me. "And that's one of the qualities I've had growing up in foster homes and everything else - this resilient attitude towards life."
And while many people will preach the benefits of "moderation" and "balance," one of the keys to Joseph's success has been obsession - a complete and total immersion in one's life and passions, regardless of the obstacles. "Every time we hear the word, 'obsession,' there's a negative connotation attached to it. If you're driven, they're looking at you like you have some kind of psychological disorder," Joseph explained. "But highly successful people are obsessed. They become obsessed with the object of their desire - whatever that is. It's not about being mediocre. It's about having that obsession. It's about being laser-focused on something.
"Without obsession, you're not going anywhere."
And so it is not surprising that his latest project, the band Bloodclot, was born out of misfortune and achieved through dedicated obsession. Joseph sings lead vocals in Bloodclot and the band includes Todd Youth, formerly of Danzig, and Joey Castillo and Nick Oliveri, formerly of Queens of the Stone Age. The Origins of Bloodclot were forged when current Cro-Mags guitarist A.J. Novello was unable to play a show and Youth stepped in.
"A.J. couldn't make a Cro-Mags show at the last minute. Some emergency came up for him. It was in North Carolina or something. We were stuck," Joseph recalled. "And I said, 'Hey Todd, do you think you could fly out? No rehearsals. It was two days later. He's like, 'I know the whole set.'
"Came out and just nailed it."
Youth presented Joseph with some original music and they began collaborating. "So we were roommates one night and I was listening to the stuff and humming some melodies. And we really liked what was going on," Joseph said.
Joseph was so taken with Youth's music that years later, he carried around the notebook of lyrics he wrote with him to the Super Frog Ironman in California, Youth's home state, in the hopes that he might have a chance to work with Youth. And as a result of yet another mishap, Joseph and Youth came together again.
"I was going to do the Super Frog...two weeks before the race, I had an injury to my calf muscle. I decided to go out anyway and see what happened. I flew out to L.A. and then I was going to drive down to San Diego. I tried to test the calf and I didn't even make it three miles. I was like, 'That's it. It's a wrap,'" Joseph described. "Here I am, - I invested all this money, all this training and now I can't race. So, I could have sat there and said 'whoa is me' and spun into some negative attitude. Instead, I called Todd and said, 'Listen, I'm not going down to do this race now. I'm going to be in California for the next five days.' And he said, 'Let me call the studio and see if I can get some time'...So I stayed at Todd's house and we worked on the tracks, and I already had lyrics for the stuff. Oddly enough, I had brought them with me, in case there was time.
"So, now it was just full on."
Soon, Joseph and Youth were joined by Castillo and Oliveri and Bloodclot was formed. They signed to Metal Blade Records in 2016, and their album Up in Arms is soon to be released in July 2017. Joseph is quick to explain that Bloodclot took years to form and for the album to be released. And it was his obsession that helped him do it.
"You have to be obsessed with music. You have to live music. That's what we (Cro-Mags) did. That's what Metallica did. That's what all these bands did," he said. "It was definitely not an overnight thing. You have a desire or dream and you have to see it through. And you can never quit.
"Because quitting gets you nowhere."
One of the reasons why Joseph feels that some people struggle with achieving their goals and ultimately give up on their passion is that they do not start out being honest about what they truly want in their life.
"I think the reason people quit things is because their desire initially was not the correct one...I love what I do. I love playing music. So, there's no question of quitting," Joseph said. "Just go out and play your heart out every night. Go play shitty clubs all over the country. Do whatever it is that you have to do and get great at what you do."
To be sure, obsession is not enough. You need to back up your obsession with action. "You may have a passion for music, but you need to water that seed with constant practice, determination and the desire to get better at your craft. In my yoga teaching it says that we have a right to work, but not a right to the results of that work," Joseph described. "You can talk all the crap you want. And I've seen all these talkers and all these flappers and all these people saying this is going to be huge and putting their shit on social media. And then you don't hear a peep out of them six months later. So, the whole thing to me is, I don't care about talking and flapping.
Joseph encourages up-and-coming bands to follow his example, check their desire and get obsessed. Because anything less is faking the funk.
"Over the years, I've heard people say, 'There's this music called hardcore, you don't have to be talented.' That's total bullshit," Joseph said. "You may play a couple of bars, but I give you a couple of years and you're going to be gone. If you don't try to get better at your craft and improve, you're not going anywhere.
"Because the audience can smell the lie."
Michael A. Friedman, Ph.D., is a clinical psychologist with offices in Manhattan and South Orange, NJ, and is a member of EHE International's Medical Advisory Board. Contact Dr. Mike at michaelfriedmanphd.com. Follow him on Twitter @drmikefriedman.
Calling all HuffPost superfans!
Sign up for membership to become a founding member and help shape HuffPost's next chapter
This post was published on the now-closed HuffPost Contributor platform. Contributors control their own work and posted freely to our site. If you need to flag this entry as abusive,
send us an email
.