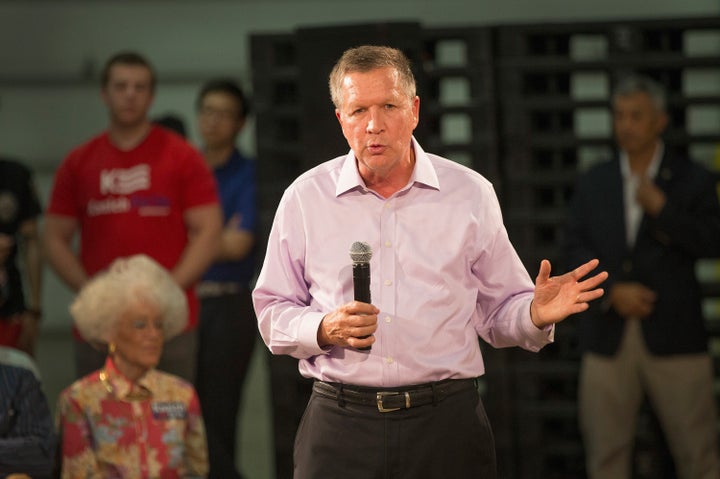 WASHINGTON -- A man stood up at a town hall for Ohio Gov. John Kasich (R) in New Hampshire on Wednesday and asked how the presidential candidate planned to curb the influence of money in politics in the wake of the Supreme Court's Citizens United decision. The answer he received was long on platitudes but short on actual substance.
"Every time we change the laws, we have laws that we think are worse than laws that we had," Kasich said at the event, which was hosted by the Derry branch of Veterans of Foreign Wars.
"I don't know what I believe the answer is, but I will tell you if I win I will think the system works pretty well. And if I don't win, I'm going to blame it on the system," he joked.
The Ohio governor then pivoted to a more comfortable footing by talking up his record of creating jobs, balancing the budget and the need to restore America's "leadership" by citing, as Republicans often do, Ronald Reagan. Aside from an unrelated statement of support about term limits, however, he didn't have much to say about the issue of campaign finance reform.
The closest he came to broaching the subject was when he declared that "sometimes I think these laws can work, but unfortunately I think they work mostly on the margin."
Kasich took a different tack during his first presidential rally in Nashua, New Hampshire, last month when he said that "a handful of billionaires should not decide who is president." But, even then, he was unsure of a solution to the problem. Interestingly, the remark echoed concerns about the influence of megadonors that have been raised by more populist candidates like Sen. Bernie Sanders (I-Vt.) and even real estate mogul Donald Trump.
Like almost every other Republican presidential candidate, Kasich has an unlimited-money super PAC that has pledged to support his presidential bid. Earlier this year, it announced raising more than $11 million from 166 reportable contributions.
Popular in the Community