CLEVELAND ― Donald Trump has not given up on the hope that he can persuade Ohio Gov. John Kasich to grace the stage of the Republican convention with his presence and, implicitly at least, his endorsement.
The governor said Tuesday night that boycotting the gathering in his home state was "a matter of conscience."
Publicly, the Trump campaign has been savage toward Kasich, creating a spectacle that has befuddled Republican political operatives. "Let's come to Ohio and shit all over the state's governor. Ohio's really not that important anyway," quipped one GOP operative, about a state that famously decides presidential elections.
Indeed, it's difficult to see a path to victory for Trump that does not run through Ohio. No Republican has ever been elected president without taking the state.
Privately, Trump World still thinks they can get the recalcitrant governor to make a surprise appearance.
"They're working feverishly hard to win him over. Donald's trying everything he can think of, and the kids, too," said one source close to Trump. "Their pitch is that he's the governor, this is his state, and Donald has been nominated and he's won and it looks stupid when you've got [Paul] Ryan and [Mike] Pence and [Chris] Christie, and he's gonna look like a spoiled child, which takes away [the argument that] he's standing by his principles."
Kasich, who made his own run in the GOP primary, told MSNBC's Chris Matthews on Tuesday that his reluctance to back Trump is "something that's a matter of conscience for me," describing the choice between the businessman and his Democratic opponent Hillary Clinton as "a vexing situation."
Kasich insisted that his opposition to Trump is not personal but that he is deeply concerned about what the real estate mogul represents. He said his own presidential bid tried to "bring us together" and "raise the bar," in an effort to present a contrast to Trump's divisiveness.
"The things that I said during the campaign matter deeply to me, and we are just two, you know, in a way of speaking, two different companies, different visions, different culture, different directions," he told Matthews. "I just felt this was the right thing to do. I'm not here to disrupt. I'm not here to criticize. I'm just here because I'm standing on the things that I believe are best for the country."
Kasich dismissed the argument that perhaps Trump does not actually believe the offensive rhetoric that he espouses, a claim many Republicans have made in their attempts to justify their support of the party's nominee.
"I have to go by what people say," Kasich told Matthews. "When I hear things, they mean something to me."
He reiterated his criticisms of Trump's "bad policies."
"I don't believe we can be anti-immigration. I don't think we want to deport 11.5 million people," he said. "I don't think we can say entitlements don't matter. Our country is not going broke. We shouldn't shut down all of this trade. Those are very bad policies. I don't think they help our country."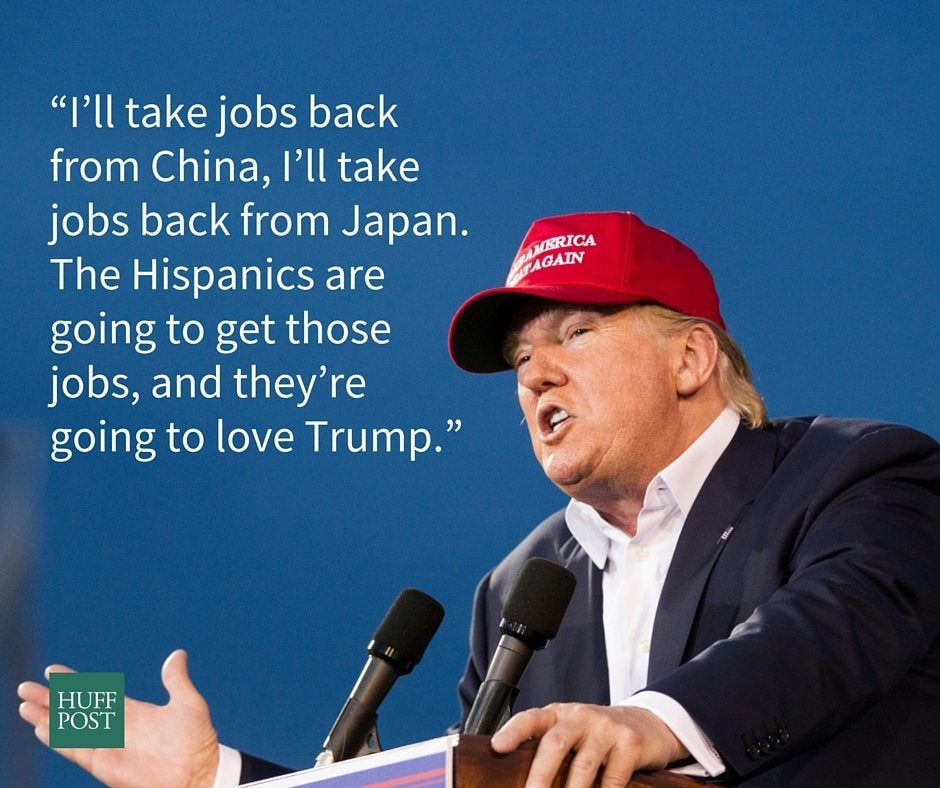 9 Other Absurd Things Donald Trump Has Said About Latinos
Popular in the Community