DES MOINES, Iowa -- Ohio Gov. John Kasich (R) said Wednesday that if the Supreme Court strikes down his state's ban on same-sex marriage, he'll "abide" by the decision.
"If the Supreme Court rules another way, they are the court and the law of the land, and we will abide by it," Kasich, a potential 2016 presidential contender, told reporters ahead of an appearance at a caucus candidate forum. The two-term governor has not yet announced he's in the race.
The Supreme Court is set to issue a decision any day in Obergefell v Hodges, which could strike down state bans on same-sex marriage. The lead plaintiff is Ohio resident Jim Obergefell, who wanted to be listed as the surviving spouse on his husband's death certificate. Obergefell married his partner of 20 years, John Arthur, aboard a medical jet in 2013, while Arthur was dying from ALS, or Lou Gehrig's disease. Arthur died that October, three months after the couple filed their lawsuit.
Kasich on Wednesday made clear that he continues to believe in what he called "traditional marriage."
"Too many people worry about polls, election results, focus groups and all this other nonsense," he said. "I've given you my answer. I stand by traditional marriage, but we will see what the court does."
Kasich's promise to respect the Supreme Court ruling differs from other GOP presidential hopefuls. In an interview with the Washington Examiner last month, Louisiana Gov. Bobby Jindal (R) said that if elected president, he would take executive action to protect individuals who don't believe in same-sex marriage.
Former Sen. Rick Santorum (R-Pa.), a longtime foe of gay rights, has said he would "fight back" as president if the Supreme Court issues a ruling with which he disagrees. Arkansas Gov. Mike Huckabee (R) has said states could simply ignore what the court decides.
Kasich made his debut in Iowa on Wednesday, his first public appearance in the state in 16 years -- putting an end to some speculation that he would skip the Hawkeye State and focus on the New Hampshire primary.
"When I was here 16-17 years ago, I might get three of you to come here to hear me," he told a packed crowd at an event hosted by the Greater Des Moines Partnership. "I'm kind of amazed how many of you are here. ... I'm not giving away canned hams today, just to let you know."
Before You Go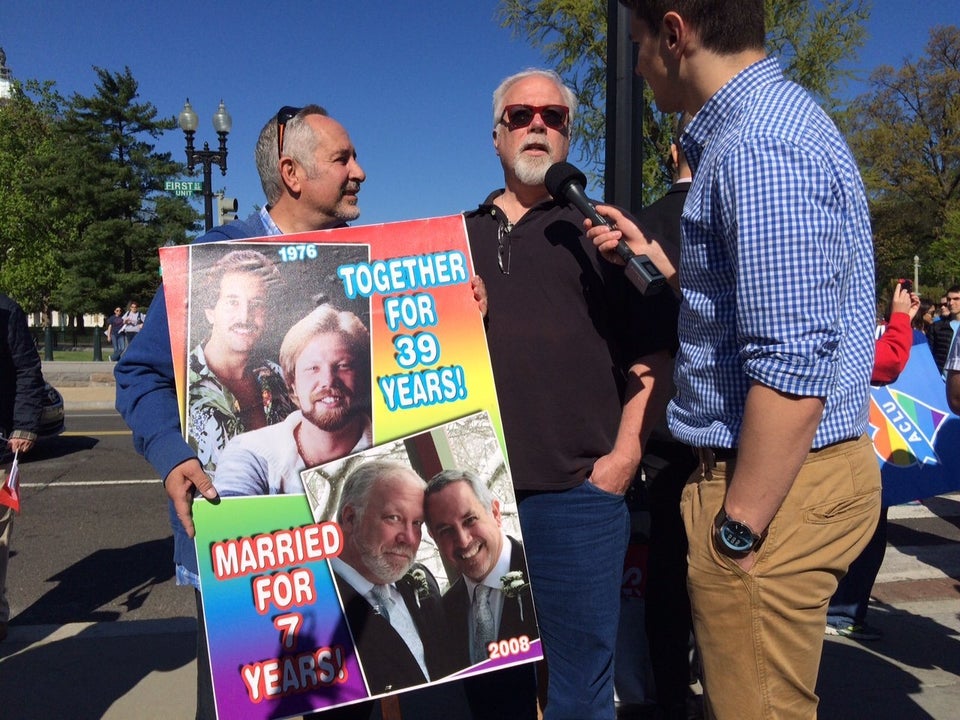 Gay Marriage Protests Outside SCOTUS
Popular in the Community