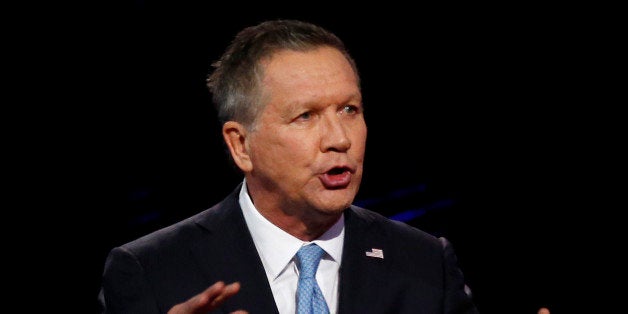 The Republican Party is in the midst of an (un)Civil war unlike any other in this author's lifetime. The resignation of John Boehner in October set off a nearly month long struggle to find a successor. During that time, quarrels over immigration, national security, and fiscal policy revealed multiple fissures in the party. That fight looks like child's play next to the goings-on in the battle for the Republican nomination.
The two front runners are both anti-establishment candidates. Donald Trump has mounted a surprisingly successful campaign in spite of never having served in public office, having supported Democratic administrations, roundly criticizing leading conservative figures in the party, and taking wildly controversial positions (and then pivoting on those positions). In spite of all this, he is clearly the person to beat. That Ted "nobody likes me in my own party" Cruz is the potential savior from Trump is truly extraordinary. For the past month, the focus has been on Trump, Cruz, and Marco Rubio. Yet, there is another candidate who continues to get little press, but many Democrats fear more than any of the others--John Kasich.
Kasich has faced a great deal of pressure to drop out of the race. He has been blamed for splitting up the vote between Cruz and Rubio, allowing Trump to win a number of contests. Kasich has not won a single state and sorely lags in the delegate count. Throughout this election cycle, he has received little media attention. Undoubtedly, Donald Trump has sucked up much of the oxygen among the Republican candidates. Those in the media might suggest that Kasich has not received much attention because he has not received much support in the electorate. Some of his critics have even referred to him as being delusional for believing he has a chance at the nomination.
While there is truth to these criticisms, the media has basically ignored the Governor at every turn. Perhaps most important in the minds of the Kasich camp, he received very little coverage with his strong showing in New Hampshire. Kasich got little love considering he had put a great deal of effort into New Hampshire as part of his strategy to get on the radar of the Republican electorate across the nation. Instead, the narrative coming out of the Granite state was about Donald Trump's comeback after Iowa and Jeb Bush's path forward after faltering so badly. Consequently, the New Hampshire bump never came for Kasich and he has continued to languish as the sensible "other guy" on the debate stage.
Consistently, pundits note that Kasich appears to be the only grown-up in the Republican debates, yet he gets little media coverage due to the fascination with Trump, Cruz, and Rubio. However, as Rubio continues to fade, Kasich's long-game strategy becomes increasingly plausible.
IF the Governor is able to win his home state and Marco Rubio fails in Florida, Kasich would be the Republicans' best hope to defeat Donald Trump. Kasich has managed to get very little blood on his hands throughout this election season. He simply has not engaged when baited to say nasty things about his fellow Republicans. Kasich's discipline has been monumental given the Governor's past penchant to go off script (which has gotten him in trouble over the years).
Conversely, Trump, Rubio, and Cruz have called one another liars, con artists, and sleazy. Words matter and the "tape doesn't lie." Their own words will appear again and again in the Fall from either Hillary Clinton or Bernie Sanders. While Clinton and Sanders have their faults as candidates, they won't need to be the star of their campaigns. Instead, they will be able to serve up "Republican on Republican" campaign insults to the electorate instead. Thus far, John Kasich is the one Republican candidate who has been relatively untouched by the internal strife.
More important, Kasich comes from the critical state of Ohio. While he is not a conservative darling, he does have conservative credibility on a number of issues (e.g., he is pro-life, emphasizes debt reduction, is pro-privatization, and has expressed hawkish views regarding foreign policy). His more moderate stances on gay marriage and the expansion of Medicaid would make him much more palatable to moderate voters in crucial swing states (like Ohio). I suspect Kasich would be conservative enough for most Republican voters and would also be moderate enough to appeal to those who are lukewarm toward Hillary Clinton or Bernie Sanders.
In spite of his performance thus far, Kasich is not delusional to think that he is indeed the establishment alternative who would likely give Democrats the most to fear. Clinton's weaknesses throughout the Democratic primary reveal just how flawed she is as a candidate. And while Sanders has done exceedingly well in the Democratic primaries and caucuses, many Americans (particularly those in the center or center right) may not be prepared for what he is selling.
Although Governor Kasich has trailed Trump in most all of the polls in his home state, he has recently gained ground and the endorsement by Ohio State football coach, Urban Meyer, will greatly improve his chances on Tuesday. A win in the Buckeye state will give Kasich his first victory, vastly improve his delegate tally, and deny Trump valuable delegates he needs to march to Cleveland with the magic number of 1,237. Kasich would still have a very difficult path to the nomination, but would be in a much stronger position to stake his claim as the alternative to Trump--especially if Rubio loses Florida and drops out of the race. If that happens, Kasich will not only be the best hope Republicans have in stopping Trump, but he may be their best chance of winning the White House in the Fall.
Calling all HuffPost superfans!
Sign up for membership to become a founding member and help shape HuffPost's next chapter