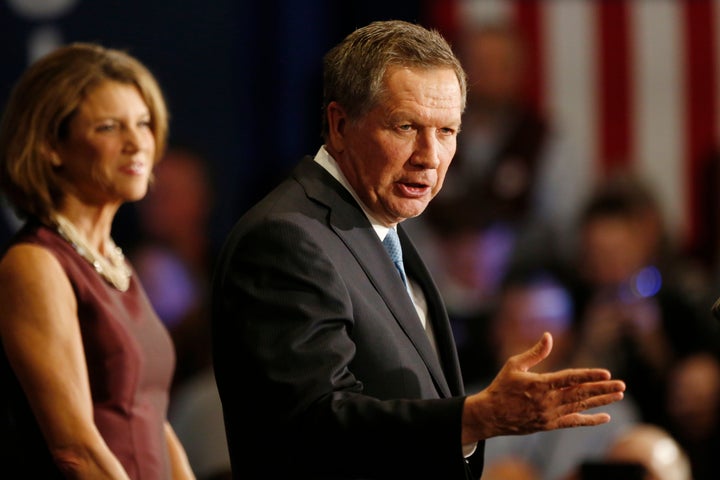 WASHINGTON -- Ohio Gov. John Kasich, who has positioned himself as one of the more moderate Republican presidential contenders, plans to sign a bill that strips government funding from Planned Parenthood clinics in his state, his spokesman told HuffPost on Wednesday.
The Ohio bill, which state legislators passed Wednesday, prohibits state and certain federal funds from going to facilities that perform and promote "nontherapeutic abortions." This exempts abortions performed in cases of rape, incest and life endangerment. Once the bill is signed, about $1.3 million in grants that Planned Parenthood receives from Ohio's Department of Health will be redirected away from the organization. These funds go to programs that help prevent infant mortality and domestic violence, as well as promote HIV testing and screenings for breast and cervical cancer.
Joe Andrews, a Kasich spokesman, told HuffPost that the governor plans to sign the bill, but hasn't received it yet.
"Those in Ohio know that Governor Kasich has been a strong advocate for women's health issues," Andrews said, responding to a question about a five-figure ad buy by Planned Parenthood Advocates of Ohio attacking Kasich. Andrews noted the governor has helped 260,000 women gain health care coverage, and has pledged a 3 to 1 state match for a fund for breast and cervical cancer.
"To paint a different picture of his record on prioritizing the health and well-being of women in our state is irresponsible and unfortunate," Andrews added.
The announcement comes just one day after Kasich secured an unlikely second-place win in Tuesday's New Hampshire Republican presidential primary. Kasich achieved the victory by appealing to the state's moderate GOP voters who might have been disinclined to support reality TV star Donald Trump. The next Republican primary will take place in South Carolina, where voters are more likely to align with Kasich's anti-abortion views.
Though supporters of the bill have said funds going to Planned Parenthood programs would be better spent by community health centers, the legislation may have implications for health care providers more broadly. Cleveland.com reported in January that "the Columbus Public Health department said it would be unable to contract with any hospital in the city because they either provide abortion services, contract with abortion clinics or refer patients to abortion services."
The bill is just the latest in a long string of actions targeting abortion access in Ohio since Kasich took office in 2010.
Just months after becoming governor, Kasich signed a bill banning abortions after 20 weeks of pregnancy unless the fetus is nonviable. In 2013, Kasich signed a budget that stripped roughly $1.4 million in family planning funds from Planned Parenthood, required abortion providers to perform ultrasounds on patients seeking abortions and allowed rape crisis centers to be stripped of their public funds if they referred victims to abortion providers, among other measures. The budget also blocked public hospitals from entering into transfer agreements for medical emergencies with abortion clinics, threatening clinics with closure if they couldn't get a private hospital to enter into those agreements. Because private hospitals often have religious affiliations, this arrangement often wasn't possible.
In all, nearly half of Ohio's abortion clinics have closed since Kasich took office.
"This reckless bill would block access to care for women, men and young people who need it the most," Stephanie Kight, president and CEO of Planned Parenthood Advocates of Ohio, said on Wednesday, after the Ohio General Assembly passed the bill.
"If Planned Parenthood goes away as a provider, there will be a void of services in our community," Kelli Arthur Hykes, the health policy director for the Columbus health department, said in a statement.
"We don't have the capacity to fill that void," she added.
Popular in the Community