WASHINGTON, July 21 (Reuters) - Ohio Governor John Kasich will make a relatively late entry to the 2016 race for the White House on Tuesday, when he becomes the 16th Republican to announce his candidacy.
Likely to be the last major Republican to join, Kasich starts from back in the field and will need to make a mark quickly to qualify for the party's first debate on August 6.
The former U.S. congressman is set to announce his run at Ohio State University in Columbus.
In a video released by an advocacy group ahead of the announcement, Kasich signaled he will put his record both in Washington and as governor of the Midwestern state at the heart of his message.
"How did we end up with the 20 people running for president?" he said, before listing his time as head of the House of Representatives' Budget Committee, on the House Armed Services Committee and governing Ohio.
"You know, of all these people running, there's not one that has experience in all those critical three areas," Kasich said in the video, although he stops short of announcing his candidacy.
Kasich ranks 14th out of 16 Republican candidates for the November 2016 election in a Reuters/Ipsos online poll, and he is in 12th place in the RealClearPolitics average of polls.
That puts him in danger of not qualifying for the first Republican debate. To qualify, candidates must be in the top 10 in national polls by August 4.
A selling point for two-term governor Kasich will be the economic recovery in Ohio on his watch. He says he guided the state's budget from an $8 billion deficit to a surplus without raising taxes, although Democrats says the U.S. economic recovery played a major part.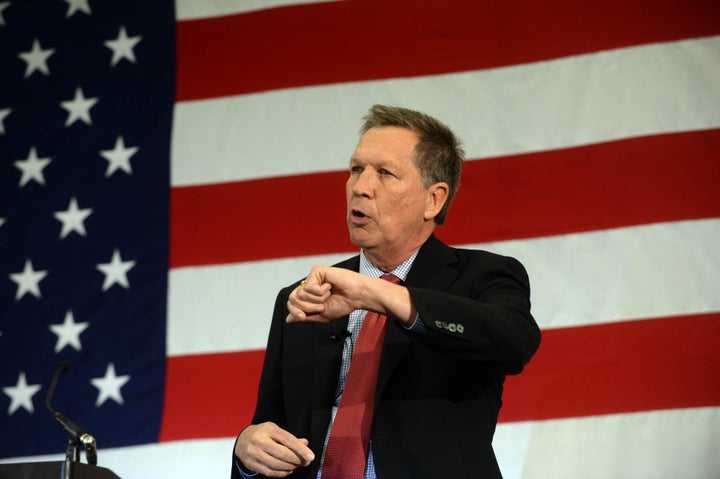 Conservatives have criticized Kasich for taking federal money for an expansion of Medicaid in Ohio under President Barack Obama's signature healthcare law.
Kasich flies on Tuesday to the early voting state of New Hampshire. The state will be key to his strategy, said John Green, a political scientist at the University of Akron. That is in part because it is easier to organize there than in Iowa, which chooses party nominees through a caucus system.
"In a caucus state, you really do have to have grassroots activists," Green said. "Kasich might have some trouble competing in Iowa against people like (Senator Ted) Cruz, and (Mike) Huckabee and others who have been there a long time." (Additional reporting by Alex Wilts; Editing by Cynthia Osterman)
Calling all HuffPost superfans!
Sign up for membership to become a founding member and help shape HuffPost's next chapter