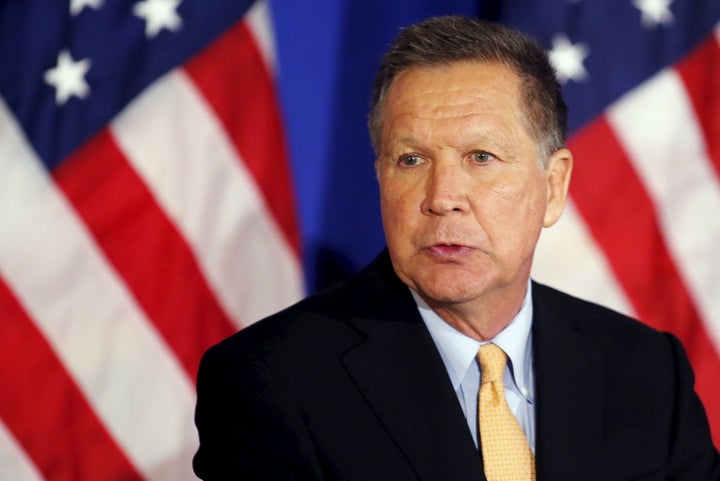 Ohio Gov. John Kasich (R) on Tuesday unleashed a pointed critique of his rivals for the Republican presidential nomination, ridiculing their proposals and calling them unworthy of the office of president.
Kasich, who has stubbornly refrained from criticizing Donald Trump and Ted Cruz in recent weeks, broached the subject in an address in New York City in which he urged Americans not to go down a "path to darkness." 
While he did not mention the two men directly by name, he took issue with some of their greatest hits: a ban on Muslims from entering the country, surveillance of Muslims in the U.S., dropping out of the NATO alliance, allowing nuclear weapons in Europe, and promising to repeal Obamacare "simply through the will of a strong man in the White House."
"I have stood on a stage and watched with amazement as candidates wallowed in the mud, viciously attacked one another, called each other liars and disparaged each other's character. Those who continuously push that type of behavior are not worthy of the office they are seeking," Kasich said at a campaign event in Manhattan.
The Ohio governor also laid into Trump for dividing Americans by religion and skin color. 
"The response for some is to retreat into the past — to yearn for 'the way things used to be,'" he said. "To these people, today's America is only seen as a broken place, and the people who did the breaking are 'the other': people with more money — or less money, people with different-sounding last names, or different religious beliefs, or different colored skin or lifestyles or — whatever." 
Kasich badly trails both Trump and Cruz in crucial delegates needed to secure the party's nomination in Cleveland later this summer. His chances in doing so before the convention are basically zero, leading some to question his decision to remain in the race. Last month, the governor shot down the prospect of serving as vice president. Trump, however, named him as a possible ticket-mate on Monday.    
Calling all HuffPost superfans!
Sign up for membership to become a founding member and help shape HuffPost's next chapter
BEFORE YOU GO
PHOTO GALLERY
Scenes Of Hate At Donald Trump Rallies