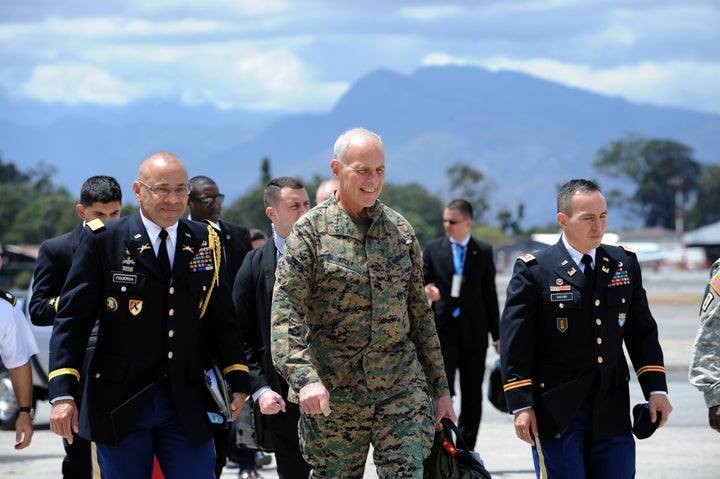 The selection of Kelly, a recently retired four-star general, to head the Department of Homeland Security, would add to the growing concern that Trump is increasingly filling his Cabinet and top advisory positions with generals ― particularly ones that clashed with President Barack Obama. (The Trump transition team did not immediately respond to a request for comment on the decision.)
Trump has already nominated retired Lt. Gen. Mike Flynn as his national security advisor and Gen. James Mattis to serve as Defense Secretary. Mattis has only been out of the military for three years, so he will require a waiver from Congress in order to head the Pentagon. In an attempt to guarantee civilian control of the military, current law requires the secretary of defense to have been out of active duty for at least seven years. The last Pentagon chief to require a waiver was George Marshall, who assumed the job in 1950, three years after leaving the military.
As Kelly and Mattis were floated for Cabinet secretaries, the two generals and former colleagues recommended one another during meetings with Trump, The Washington Post reported last month.
Kelly has experience in DHS-related issues. Until earlier this year, he led U.S. Southern Command, which oversees the Guantanamo Bay military prison in Cuba and operations in South and Central America. Kelly currently serves on the Homeland Security Advisory Council, which makes recommendations to the secretary.
He did not endorse Trump or Democratic presidential nominee Hillary Clinton, but he said he was open to serving in either administration. Kelly criticized them both in a July interview with Foreign Policy, saying they were "not serious yet about the issues" with regards to generalized statements on national security. The election winner "will be in desperate need — and I mean desperate need — of military and foreign policy advice, because the world out there is just getting crazier and crazier," he added.
Kelly reportedly caught Trump's attention based on a 2015 testimony to the Senate Armed Services Committee in which he said the government was "overlooking a significant security threat" on the southwest border from gangs and smugglers. They "could unwittingly, or even wittingly, facilitate the movement of terrorist operatives or weapons of mass destruction toward our borders, potentially undetected and almost completely unrestricted," he said. There was "not yet any indication that the criminal networks involved in human and drug trafficking are interested in supporting the efforts of terrorist groups," he added.
But Kelly has also expressed a more understanding approach than Trump's to dealing with an influx of immigrant arrivals at the southwest border from Central America.
"We have a right to protect our borders, whether they're seaward, coastlines, or land borders," Kelly told Military Times earlier this year. "We have a right to do that. Every country has a right to do that. Obviously, some form of control whether it's a wall or a fence. But if the countries where these migrants come from have reasonable levels of violence and reasonable levels of economic opportunity, then the people won't leave to come here."
Though Kelly said he never obstructed Obama's efforts to close the prison at Guantanamo Bay, he has been publicly dismissive of the president's claim that leaving it open provides terrorist groups with a recruiting tool.
"Bombing the living shit out of ISIS in Iraq and Afghanistan, Syria, that would maybe irritate them more than the fact we have Guantanamo open," he told Defense One just before retiring earlier this year. For terrorist groups and rights activists alike, "[w]hat tends to bother them is the fact that we're holding them there indefinitely without trial." That's not the point of the facility, Kelly said. "If we send them, say, to a facility in the U.S., we're still holding them without trial," he added.
Kelly has also pushed back against the idea that some prisoners ended up in Guantanamo Bay because they were in the wrong place at the wrong time. "We can quibble over what they were doing on the battlefield when we took them, but every one of them is a bad guy," he told NPR in March.
Trump passed over others floated as potential DHS secretaries, such as House Homeland Security Chairman Mike McCaul (R-Texas) and Kansas Secretary of State Kris Kobach. The latter could still have a top role to fulfill his proposals for a Muslim registry and ramped up deportations ― he is reportedly being considered for deputy secretary.
Before You Go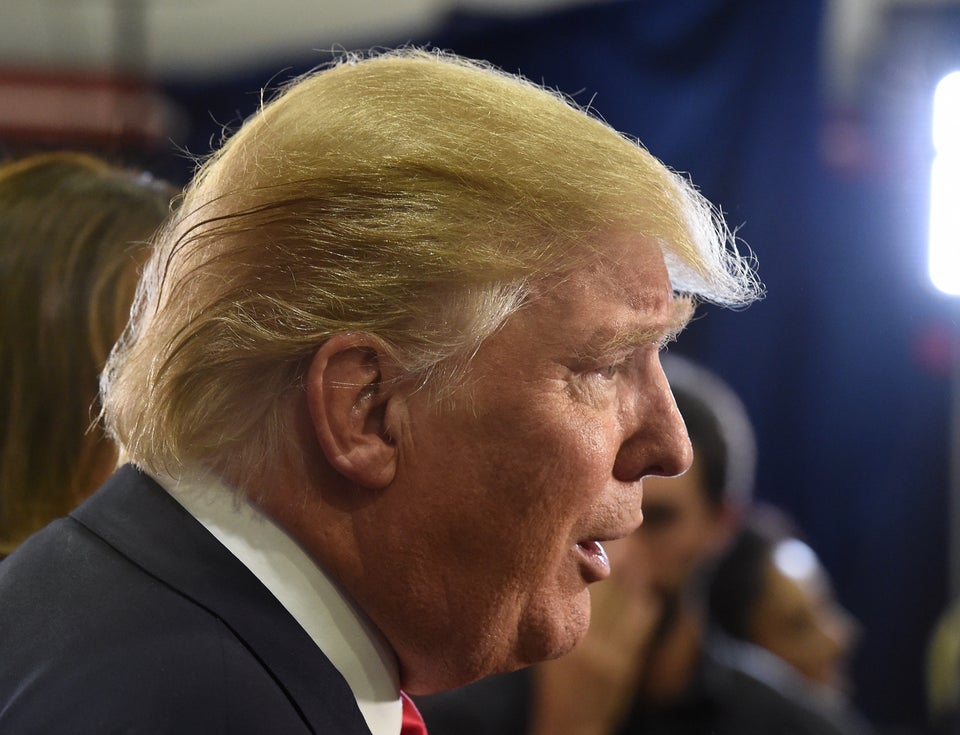 How Donald Trump Talks About Undocumented Immigrants
Popular in the Community