WASHINGTON ― When John Kelly took over as President Donald Trump's chief of staff last July, many in the Washington establishment breathed a sigh of relief. Maybe this man, a retired Marine Corps general who received praise from both sides of the political aisle as well as the media, would be able to restore some dignity to the White House.
He would "dial back the drama" and "turn the White House around." Kelly's perceived effectiveness was enhanced by the fact that he looked like many people's expectation of a leader: an older white man with a military bearing. One article noted his "square-jawed" features and said he would be "an imposing and strait-laced figure."
Rex Tillerson faced a fair amount of humiliation last week when he learned Trump had fired him by reading the news on Twitter. But Kelly decided to make Tillerson's week even shittier: He told reporters that he had informed Tillerson he would soon be fired at a time when the secretary of state, who was suffering through a stomach bug, was sitting on the toilet.
The Daily Beast reported that journalists who were in the off-the-record briefing with the White House chief of staff were "stunned" that this mature adult would share such a personal, embarrassing detail about a man who had just been ousted so unceremoniously.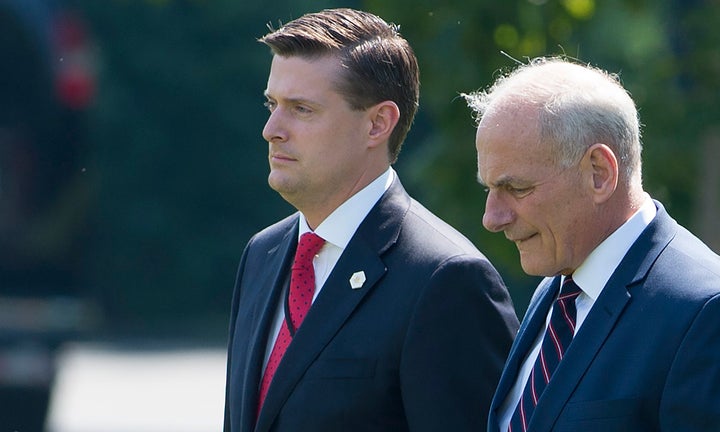 Kelly also created a significant scandal for Trump when he protected then-White House aide Rob Porter in the face of domestic violence accusations ― with photographic evidence ― made by his ex-wives. Kelly tried to spin his own involvement, claiming that he and other top White House officials didn't know about the physical abuse allegations and took immediate action when they found out. But other White House aides disputed his characterization, saying Kelly looked the other way on Porter, another official who was supposed to be one of the grown-ups in the room.
Trump reportedly blamed not Kelly, but White House communications director Hope Hicks, who was dating Porter at the time. The president believed Hicks put her personal feelings over his best interests.
"He was extraordinarily dismissive of her. He would refer to her as 'the high-schooler,' he would joke about how she was inexperienced, she was in over her head, she was immature," a former senior White House official said. "He doesn't like a woman that potentially has some position of power over him. He thinks women should be subservient to him. If you look at his relationship with Ivanka or Hope — women who aren't subservient to him — he has problems with those people."
This description fits perfectly with what Kelly himself has said about women ― that they should be "sacred," like they were in the good old days. In the past, of course, there were fewer women in positions of power in places like the government.
Last October, Kelly had another run-in with a powerful woman. When Rep. Frederica Wilson (D-Fla.) revealed the callous comments that Trump had made to the family of a fallen U.S. service member, Kelly publicly criticized her and told reporters about past comments from the congresswoman that made her seem selfish and self-glorifying. Video of Wilson's remarks revealed that Kelly had completely misrepresented them, yet like his boss, he refused to apologize and retract his claims.
Kelly has also asserted that the Civil War was caused by "the lack of ability to compromise." It's not clear what compromise on the central issue of the war ― slavery ― Kelly would like to have seen.
HuffPost reached out to a number of former White House chiefs of staff to ask about Kelly and his conduct. They all either didn't respond or didn't want to comment for this article.
Popular in the Community