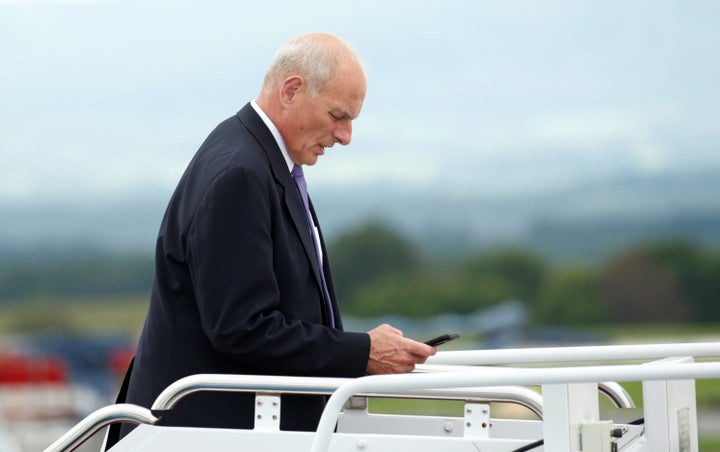 White House chief of staff John Kelly's personal phone was likely compromised, possibly for months, according to several government officials Politico interviewed.
The outlet first reported Thursday that Kelly brought his phone to White House tech support this summer after it stopped working properly. Staff reportedly discovered a suspected breach on the phone that has since raised concerns hackers may have been able to access the data on Kelly's phone for months. It's unclear if anything was accessed on the device.
The White House said Kelly's phone stopped working last year and that he has since stopped using it, although officials did not specify when use of the device ended.
"Last December, Gen. Kelly's personal phone stopped working and he discontinued its use," Deputy Press Secretary Lindsay Walters said in an email.
An official in the Trump administration told Politico Kelly didn't frequently use his personal phone, relying primarily on a government-issued one, and has since switched to a new personal device.
Several senior White House staff have come under fire in recent weeks for using private email servers, including the president's son-in-law and adviser Jared Kushner, former chief strategist Steve Bannon and former chief of staff Reince Priebus. Trump frequently attacked Democratic presidential rival Hillary Clinton during the campaign for her own use of a private email server, saying it presented national security issues.
"I get the thing, and they're all like, 'Well, Mr. President, for security reasons ... it doesn't take pictures, you can't text, the phone doesn't work ... you can't play your music on it,'" Obama told "The Tonight Show" host Jimmy Fallon last year when he was allowed to upgrade his then-old BlackBerry. "Basically, it's like, does your 3-year-old have one of those play phones?"
Shortly before he left office, the Obama White House was credited with dramatically upgrading the executive branch's technology, including the installation of new computers and faster internet.
Calling all HuffPost superfans!
Sign up for membership to become a founding member and help shape HuffPost's next chapter