White House Chief of Staff John Kelly knew about a protective order against staff secretary Rob Porter well before Porter resigned Wednesday over allegations that he had abused his two ex-wives, Politico reports.
The order prevented Porter from being given full security clearance, a senior administration official told Politico.
Two sources told CNN later on Wednesday that Kelly, as well as other senior White House staffers, had been aware of the allegations for months.
It's unknown if Kelly took any action at the time, but on Wednesday he reportedly urged Porter not to resign and wrote a glowing review of the alleged abuser.
Porter's resignation followed reports from The Daily Mail and The Intercept in which his two former spouses discussed the physical, mental and emotional abuse they said they suffered at his hands.
Colbie Holderness, Porter's first wife, alleged that he punched her in a 2005 incident.
"He threw me down on the bed and punched me in the face," Holderness told The Intercept. "I think he was shocked that he had lost control to that extent."
Porter's second ex-wife, Jennifer Willoughby, was granted the protective order against him in 2010 because she said he would "not leave their apartment." Willoughby alleged that Porter forcibly pulled her out of a shower and yelled at her that same year.
Still on Wednesday, Kelly said in a statement, "Rob Porter is a man of true integrity and honor and I can't say enough good things about him. He is a friend, a confidante, and a trusted professional. I am proud to serve alongside him."
White House Communications Director Hope Hicks, who has been romantically involved with Porter, helped draft Kelly's statement, according to CNN.
White House press secretary Sarah Huckabee Sanders also offered praise.
"Rob Porter has been effective in his role as Staff Secretary," Sanders said in her statement. "The President and Chief of Staff have full confidence in his abilities and his performance."
In a second statement released later on Wednesday, Kelly said that he was "shocked" by the domestic abuse reports but that he would "stand by" his praise of Porter.
"I was shocked by the new allegations released today against Rob Porter," Kelly said. "There is no place for domestic violence in our society. I stand by my previous comments of the Rob Porter that I have come to know since becoming Chief of Staff, and believe every individual deserves the right to defend their reputation."
Last October, Kelly suggested it was a problem that women were no longer being treated as "sacred" beings.
"When I was a kid growing up, a lot of things were sacred in our country," Kelly said during a news conference. "Women were sacred and looked upon with great honor. That's obviously not the case anymore, as we see from recent cases."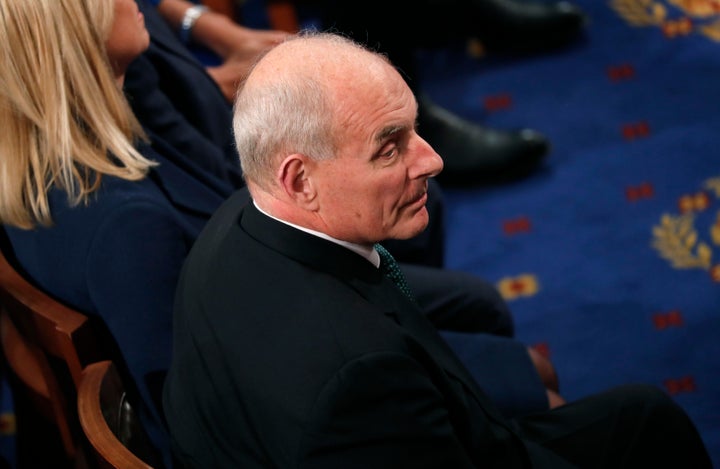 This article has been updated to include CNN's report that Hope Hicks helped draft Kelly's statement about Porter.
Support HuffPost
The Stakes Have Never Been Higher
Popular in the Community