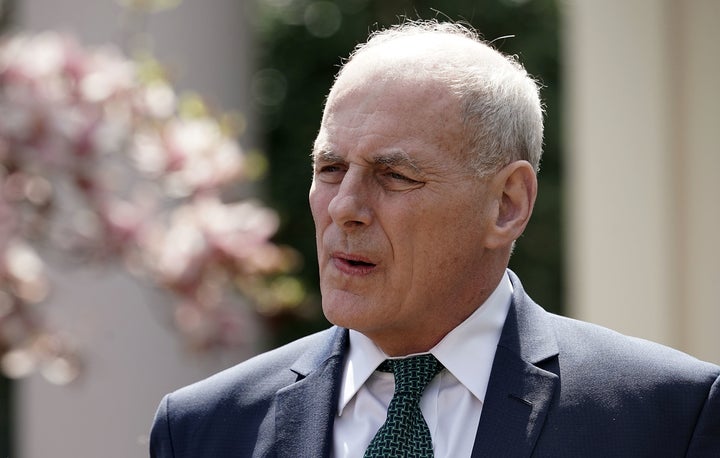 WASHINGTON ― The White House is pushing back on the idea that President Donald Trump's chief of staff doesn't treat women well. 
But anonymous White House officials responded that actually, Kelly is great to women. To prove their point, they told NBC News that Kelly doesn't let men swear when "a lady is present":
The White House spokespeople said they haven't seen Kelly have a negative effect on the morale of women staffers. If anything, they said during meetings Kelly is the "bigger gentleman" who steps in when aides use foul language to note "a lady is present" and similarly says he shouldn't use foul language in front of a lady if he's used an expletive. The spokespeople, who would not speak for the record, said it's possible Kelly may have said women are more emotional than men, with one of them agreeing that "generally speaking, women are more emotional than men."
Kelly put out a statement Monday saying the NBC News article was wrong, although he didn't specifically talk about his treatment of women. The piece also said that Kelly has called Trump an "idiot" behind his back.
"I spend more time with the President than anyone else and we have an incredibly candid and strong relationship," Kelly said in his statement. "He always knows where I stand and he and I both know this story is total BS. I am committed to the President, his agenda, and our country. This is another pathetic attempt to smear people close to President Trump and distract from the administration's many successes."
The no-swearing-in-front-of-ladies rule fits with what Kelly has said publicly. In October, he told reporters in a briefing that he missed the good ol' days when women were "sacred." 
"When I was a kid growing up, a lot of things were sacred in our country," he said. "Women were sacred and looked upon with great honor. That's obviously not the case anymore, as we see from recent cases."
As a retired general, Kelly was supposed to bring order and discipline to the chaotic White House. But he found himself in the middle of a scandal a few months ago when he protected a then-White House aide, Rob Porter, against domestic violence accusations made by Porter's ex-wives ― accusations that came with photographic evidence.
The chief of staff tried to spin his own involvement, claiming that he took immediate action when he found out about the allegations. But other White House aides disputed his characterization, saying that Kelly looked the other way on Porter.
Kelly, according to NBC News, didn't understand why Porter's former wives "wouldn't just move on based on the information he said he had about his marriages" and wondered aloud "how much more Porter would have to endure before his honor could be restored."
REAL LIFE. REAL NEWS. REAL VOICES.
Help us tell more of the stories that matter from voices that too often remain unheard.