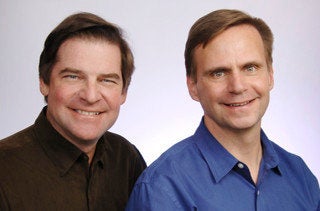 UPDATE -- In response to the article below, a Clear Channel representative called attention to the fact that John & Ken have apologized repeatedly to Jorge-Mario Cabrera for the hateful calls he received. Here is part of their first apology, issued on October 18. Click here to read the full statement.
The rhetoric surrounding this issue has become too heated, and has gone too far. The language used by some callers to Mr. Cabrera is unacceptable and wrong, and John and Ken regret that. Furthermore, both KFI and John and Ken apologize to Mr. Cabrera for the ugly calls he received. John and Ken aired their apology on Monday October 17th, a copy of which is available at http://www.kfiam640.com/pages/DontCensorJohnandKen.html.
The radio show became the target of an advertising boycott on October 6 after the show's hosts John Kybolt and Ken Chiampou gave out the business cellphone number of DREAM act advocate Jorge-Mario Cabrera in September. The hosts encouraged their listeners to call him and voice their opposition to the bill, which would give public and private assistance to undocumented college students (the bill has since passed).
Cabrera, who ended up receiving hundreds of hateful calls, described his ordeal to the Los Angeles Times: "It's never been as cutting, as humiliating as these calls were... These calls were intent to diminish me as a person."
The latest company to pull out of their advertising commitment is car company behemoth GM, who issued this statement on Wednesday morning via Twitter: "This was a radio ad buy from a group of dealers, and we quickly asked the ad group to cancel it, which they are doing now."
In fact, GM's official twitter account has been sending similar messages out to followers for hours now in response to a Twitter campaign championed by Cuentame, a Latino advocacy group working in concert with NHMC on the advertising boycott.
Cuentame founder Axel Caballero praised GM for their action and credited the power of social media for its power to put pressure on major companies. He also told The Huffington Post that Cuentame would continue "to push back against the racial and violent rhetoric that is peddled by folks like John and Ken, who are only interested in pushing their hate agenda."
John and Ken were outspoken critics of California DREAM act and have called the boycott a "censorship issue." Via Fishbowl LA, here they are addressing the advertising boycott and their continued opposition to benefits for illegal immigrants in mid-October:
GM joins the ranks of Verizon, AT&T Wireless, Vons and Ralphs as companies who have pulled advertising buys from the controversial radio show, according to the LA Weekly.
CORRECTION: John and Ken gave out a business cellphone number that was available on press releases, not Jorge-Mario Cabrera's personal cellphone.
Popular in the Community