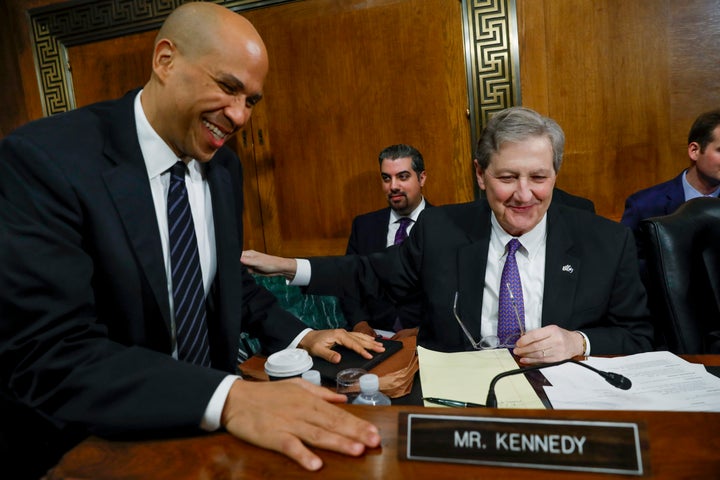 WASHINGTON ― Sen. John Kennedy (R-La.) announced Monday he will not be entering Louisiana's gubernatorial race, a surprise decision that comes as a blow to national Republicans who were hoping to recruit a top-tier candidate to challenge Democratic Gov. John Bel Edwards in 2019.
"I love being in the United States Senate. I will not be a candidate for Governor in 2019," Kennedy said in a statement released by his office.
Kennedy had deliberated in recent months whether to throw his hat into the ring, setting a deadline for himself to reach a final decision by early December. In October, he released a poll he paid for that showed him leading Edwards in a head-to-head race by a significant margin ― a move that raised expectations about a gubernatorial run.
But he fretted over whether to leave Washington, where he's made a name for himself as one of Capitol Hill's most quotable people. Since being elected to the Senate a year ago, Kennedy, previously the longtime state treasurer of Louisiana, has built a media profile with his blunt wit and folksy expressions.
"Our country was founded by geniuses, but it's being run by idiots," Kennedy said earlier this year amid a government shutdown fight, in an instance of his press-friendly drollery.
Asked over the summer about the possibility of running for governor next year, the senator told HuffPost that he enjoyed his current job. He quipped, however, that acknowledging so may point to a "character defect" given the current political climate.
Louisiana Republicans are left with few good options now that Kennedy has decided to stay in the Senate. Wealthy Baton Rouge businessman Eddie Rispone is the only committed GOP challenger in the race so far. Rep. Ralph Abraham (R-La.) is also said to be considering entering the race.
Kennedy took a jab at Edwards in his statement on Monday, saying he hopes whoever runs for the office "understands that LA state government does not have to be a big, slow, dumb, wasteful, sometimes corrupt, spend-money-like-it-was-ditchwater, anti-taxpayer, top-down institution."
Edwards shot back at Kennedy in a statement on Monday.
"For Sen. Kennedy, this was never about the people of Louisiana. This was about focusing the spotlight on himself," Edwards said. "Now that this is behind us, my hope is that he will make it a priority to work together with me and the entire congressional delegation to get things done for the hard working families of this state... They deserve to have elected officials who will work together to put Louisiana first."
REAL LIFE. REAL NEWS. REAL VOICES.
Help us tell more of the stories that matter from voices that too often remain unheard.