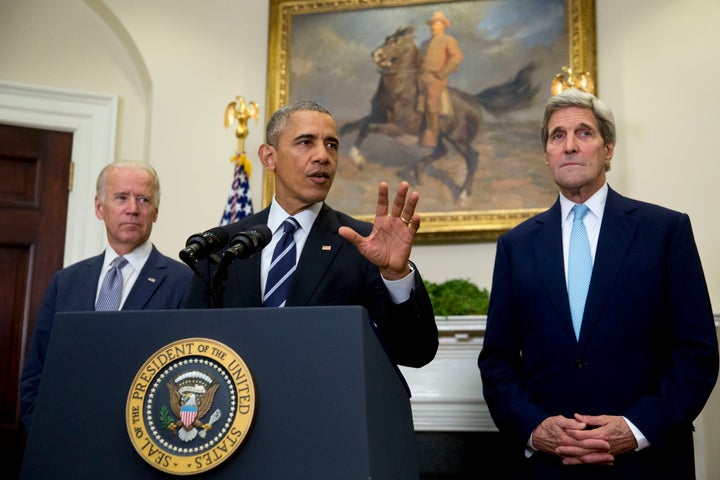 WASHINGTON -- Secretary of State John Kerry is directing a task force of government officials and experts to start including climate change and its threat on security in all foreign policy planning, he announced Tuesday. 
While addressing service members and students at the Old Dominion University in Norfolk, Virginia, Kerry said he wants U.S. embassies to consider climate-related events that could lead to conflicts -- such as drought, famine and extreme weather -- when working with host countries to prevent stresses on people's lives.
"The strategic plans our embassies use should account for expected climate impacts, so our diplomats can work with host countries to focus on prevention -- to proactively address climate-driven stresses on people's livelihoods, health and security before they evolve into deep grievances that help fuel conflicts," Kerry said. 
The administration is aggressively pushing its action on climate ahead of talks in Paris later this month, when nearly 200 nations will work to finalize an ambitious agreement to curb greenhouse gas emissions. Kerry's speech comes just days after he advised President Barack Obama to reject the Keystone XL pipeline, which would have carried crude oil from oil sands in Alberta, Canada, to Gulf refineries. 
Pointing to the decision on Keystone and the need for continued action, Kerry explained that "this is no time for business as usual." His blunt speech laid bare the impacts climate change could have on military operations and national security. 
While Kerry did not outright blame global warming for the existence of the terrorist group Boko Haram in Nigeria, he said it had helped feed and create the "political and economic volatility that the militants exploited to seize villages, and kidnap hundreds of innocent schoolgirls."
Similarly, Kerry said climate change was not the "primary" reason for the civil war in Syria, but added that it's "not a coincidence" that the worst drought to ever hit the country did so right before the war erupted. That drought led 1.5 million people to migrate to Syria's cities, "intensifying political unrest."
"The drought that devastated communities across the country exacerbated the instability on the ground, and made a bad situation worse," he said. 
The prospect of hotter, drier climates in areas of unrest throughout the Middle East and some areas of Asia is why Kerry is forming the new task force.
But the secretary of state is worried about what's happening closer to home as well. He warned those at Old Dominion University and in the larger Hampton Roads community in Virginia of the affect rising sea levels could have on the U.S. Navy fleet -- 20 percent of which is home-ported in that area -- and 28 other military facilities in the area. 
"Norfolk Naval Station is the biggest naval installation -- not just in the United States, but in the world," Kerry said. "And the land it is built on is literally sinking."
The Virginia Institute of Marine Science has estimated that if current trends hold, the sea in Norfolk could rise by at least 5.5 feet by the end of the century. That's within the lifetime of a newborn baby, Kerry said. 
"Our collective failure to act faster and with greater boldness on climate change may be the single most profound betrayal by one generation of the next in history," Kerry said.  
Calling all HuffPost superfans!
Sign up for membership to become a founding member and help shape HuffPost's next chapter