WASHINGTON -- Secretary of State John Kerry defended his predecessor, Democratic presidential candidate Hillary Clinton, from criticisms over her email practices on Thursday, saying there's "no evidence that something was transmitted that was classified at the time."
"First of all, I'm not commenting on the merits of this, generally speaking, because there's an investigation taking place," Kerry told The Huffington Post in an interview at the State Department. "My responsibility is to get the emails out of here as rapidly as possible so people can make judgments about them."
"But one of the judgments that can be made to date is that there is no evidence that something was transmitted that was classified at the time," he said.
Kerry also took issue with comparisons between Clinton and whistleblowers whom the government goes after for leaking classified information.
"Whistleblowing on that is about classified information," Kerry said. "But if information came in to somebody's BlackBerry or on somebody's email that wasn't classified, and then was later classified in the system, that's a whole different ballgame."
That distinction is not necessarily so clear in all whistleblower cases.
In 2010, Thomas Drake, a former National Security Agency senior executive, was indicted for espionage after he leaked allegations to the media about the NSA's waste, fraud and abuse. Part of the government's case was that it found classified documents in Drake's email archive, although as The New Yorker's Jane Mayer recounted in 2011, they weren't really all that classified: One document was not classified, but officials argued that it should have been and that Drake should have known that. The other was officially declassified three months after Drake's indictment.
The Washington Post recently reported that Clinton "wrote and sent at least six e-mails using her private server that contained what government officials now say is classified information." State Department spokesman John Kirby argued that classification is "not always a black-and-white, binary judgment. Responsible people can draw different conclusions."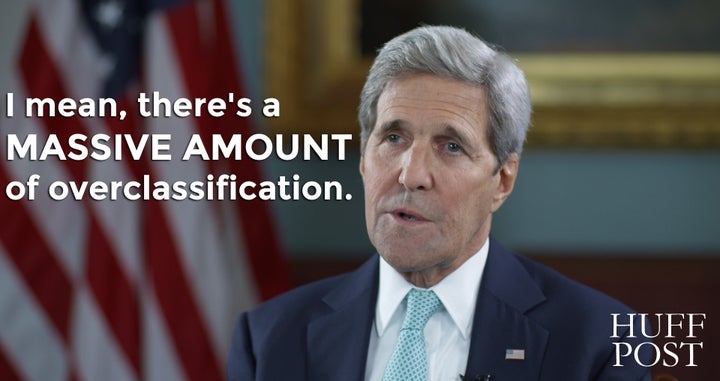 Part of the issue is that the government simply classifies too much information, as Kerry admitted Thursday. He said it happens largely because officials are so worried about getting in trouble for not classifying enough.
"I mean, there's a massive amount of overclassification," he said. "People just stamp it on quickly because it's a way to sort of be correct if anybody had a judgment that somehow they had been wrong about whether it should be classified or not. So the easy thing is classify it and put it away."
"I have initiated a review within this department, and I wrote personally to the inspector general and I invited the inspector general to review the process so that we have as much accountability and insight on our own system as we can have," Kerry added. "You know, this whole phenomenon of email, obviously, is something that's developed in the last years, and the system needs to catch up: How do you manage it properly? How do you handle so much volume?"
To read the full interview, click here.
Video production by Marielle Olentine, Jon Strauss and Samuel Wilkes.
Popular in the Community