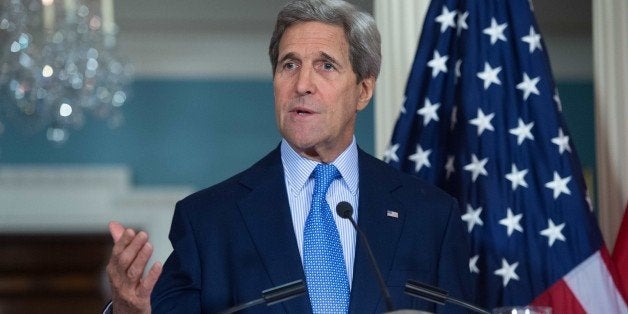 Secretary of State John Kerry on Sunday continued a wave of Obama administration pushback against critics of the Iran nuclear deal, arguing that Republicans lacked legitimacy as they attempted to sow seeds of doubt about the agreement.
Appearing on CBS' "Face The Nation," Kerry noted that Russia, hardly the greatest of American allies currently, had backed the United States' interpretation of the deal. He also noted that Republican critics had earlier warned that an interim agreement for negotiations with Iran was fallible, only to be proven wrong.
"I would remind you that people have the same dueling narratives, discrepancies, spin -- whatever you want to call it -- with respect to the interim agreement, Bob," said Kerry. "But in the end, an interim agreement came out exactly as we had described, and what's important is Iran has not only signed it but has lived up to it in every respect."
Kerry didn't take the bait to lash back at Sen. John McCain (R-Ariz.) after the Arizona Republican called him "delusional" for trusting Iran. Instead, he referred viewers to the comments made Sunday by President Barack Obama, who sharply criticized McCain and others for seeming to value the description of the deal being offered by Iranian Supreme Leader Ayatollah Ali Khamenei over the assurances of American officials.
"That's not how we're supposed to run foreign policy, regardless of who's president or secretary of state," Obama said. "When you start getting to the point where you are actively communicating that the United States government and our secretary of state is somehow spinning presentations in a negotiation with a foreign power, particularly one that you say is your enemy, that's a problem."
Calling all HuffPost superfans!
Sign up for membership to become a founding member and help shape HuffPost's next chapter
BEFORE YOU GO