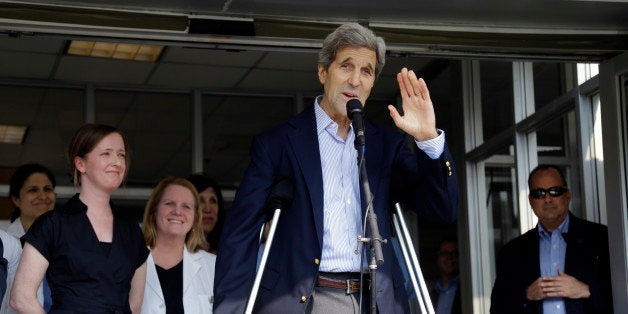 BOSTON, June 12 (Reuters) - U.S. Secretary of State John Kerry said he was fully engaged in the Iran nuclear negotiations and would join them at the end of June as he left the hospital after treatment for a broken leg.
Kerry, 71, broke his right femur on May 31 while cycling a portion of the Tour de France route in the Haute Savoie region of France, raising questions about how deeply he may be able to be involved in the talks before a self-imposed June 30 deadline.
Appearing in public for the first time since his injury, Kerry sought to dispel doubts about his involvement.
"I will be absolutely, fully and totally engaged in those talks. I am now. I haven't missed a tick," Kerry told reporters as he left Boston's Massachusetts General Hospital, resting on crutches and with dark circles under his eyes.
"I'll be traveling over there at the appropriate moment in the next days in order to press forward at this critical moment in the negotiations. So there's a lot of work on the table," he added.
Kerry said he plans to join the talks after the June 22-24 strategic and economic dialog with China in Washington.
"Afterwards, I will be leaving to go for the last slog on the Iran talks," Kerry said. Lower level talks have taken place in Vienna and it is not clear where the final round will occur.
One of the central questions after Kerry's fall was whether it would affect negotiations between Iran and six major powers seeking to strike an agreement to curb Iran's nuclear program in exchange for relief from economic sanctions.
"It's a tough slog. It's not easy," Kerry said.
The United States and some of its allies suspect Iran is using its civilian nuclear program as a cover to develop a nuclear weapons capability. Iran denies this, saying its program is for peaceful purposes such as making medical isotopes.
Kerry said he would spend the weekend at his Boston home and return to Washington next week.
He was flown to Boston aboard a military transport plane and underwent successful surgery on June 2 to repair the fracture. At the time, his surgeon, Dennis Burke, said Kerry's recovery was not expected to interfere with his official duties.
On Friday, Burke said Kerry's recovery from the surgery had no complications, and that he was moving around independently on crutches with a full recovery expected "in several months' time." (Reporting by Will Dunham and Eric Beech; Editing by Sandra Maler and Alan Crosby)
Before You Go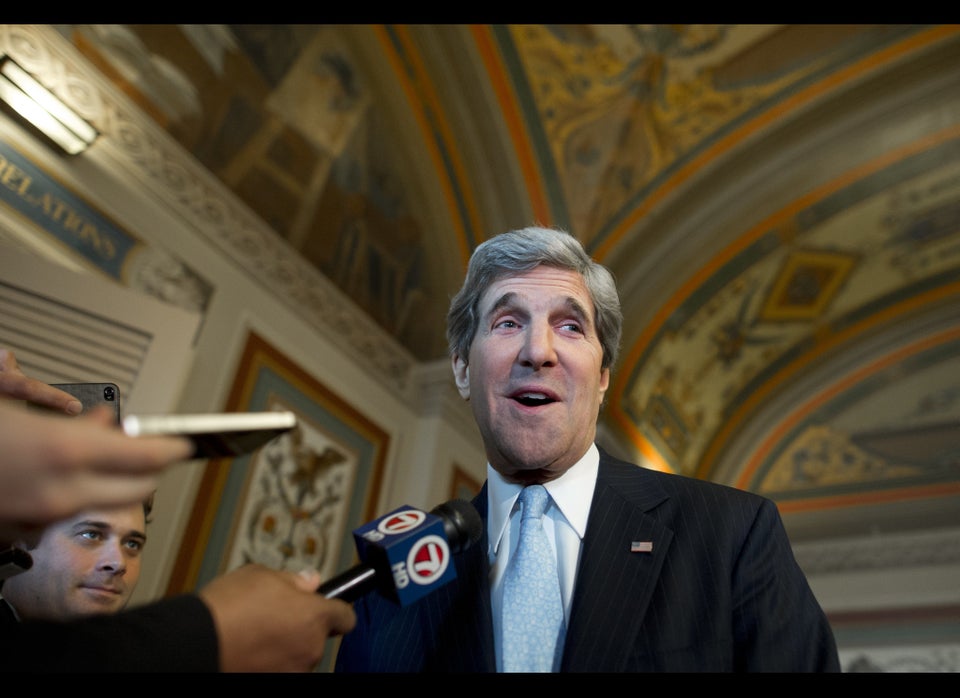 Secretaries Of State
Popular in the Community