On Wednesday John Kerry will cross the finish line of his first listening tour as Secretary of State. His last stop is Doha, Qatar, a small gulf state with a big problem.
In international politics Qatar is playing a leading role in regional peace and stability. From brokering peace talks for warring Sudanese factions, bailing out Egypt with loans and attempting to mediate the Syrian conflict, this is a nation with grand ambitions.
Within its borders there is a different story to be told.
In a country consisting of only 250,000 Qatari nationals, there are 1.2 million migrant workers, making up 94 percent of the workforce. They are treated as modern day slaves.
Over the next ten years, Qatar is embarking on $150 billion of infrastructure spending as it gets ready to host the soccer World Cup in 2022. Controversially awarded to Qatar in 2010, it has been persistently dogged by claims of bribery and corruption.
FIFA, the world governing body on football, has announced a special inquiry which is doing nothing to quell international unease about Qatar's bid. There are growing calls for FIFA to re-run the vote. Ten years out from the World Cup there is still time.
Qatar will need another million workers to complete new roads, metros, railways, bridges, hotels and stadiums. Whole cities will emerge from the sand.
The most dramatic growth is expected to occur between 2013 and 2014 when many of the World Cup construction projects are expected to start.
So I offer the Secretary of State an alternative briefing for his time in Doha:
8:05 Wheels Down, Doha International Airport
Qatar spent $11.1 billion on a new airport, a major hub for the expanding Qatar Airways network. There is no minimum wage and the average wage of construction workers is $192-275 a month.
Hundreds of electricians have been left stranded with no job and no place to live, after sub-contracting companies failed to pay them. They are now trapped and cannot leave the country as their employer hasn't signed their exit permit -- part of the strict rules of the visa sponsorship system known as Kefala.
9:30 Secretary Kerry meets with business community in financial district, Doha
'Every Sheik has a tower,' is the local staying by migrant workers, as skyscraper after skyscraper is raised. Only 30 percent of buildings are filled, the empty edifices are memorials to slave labour.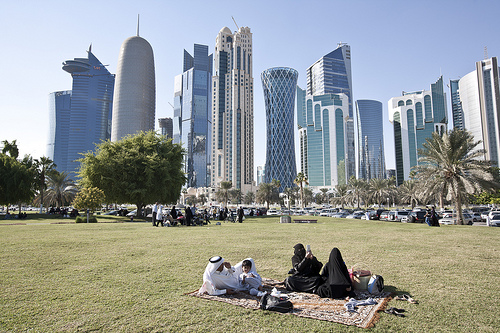 11:05 Working Lunch, Doha Industrial Area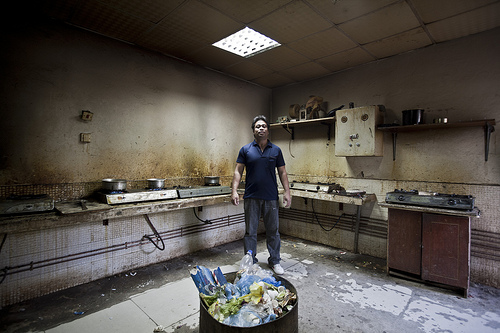 11:10 Migrant worker photoline (1.2 million people/5 clicks)
14:00 National Security Briefing at CID Office Industrial Area
With no way to return home these labourers are forced to toil in incredibly hot and dangerous conditions, with little or no pay. The ITUC has lodged a case with the International Labour Organisation presenting evidence of forced labour as the visa sponsorship system makes it difficult for workers to leave an abusive employer or leave the country without permission.
Benjamin Cruz is one worker who became trapped by the laws in Qatar, where there is no independent grievance process for workers and employers to settle their differences.
Benjamin's passport had been lodged with the Minister of the Interior, and he faced a fine to get it back of $1600, because his employer reported him as a runaway, despite denying him work. This became known as the curious case of Benjamin Cruz.
15:05 Secretary Kerry meets with Qatar 2022 Supreme Committee
The head of the local organising committee for the World Cup 2022, Secretary General Al-Thawadi has just returned from a trade mission to California, Oregon and Washington with the US Ambassador to Qatar Susan L Ziadeh.
He may tell you that his conscience will be the test for rights in Qatar. Safety, security, dignity and health - these principals are what he has told me will be on his conscience. There are international rules and standards for workers to rely on, not the conscience of one man.
16:00 Secretary Kerry meets with staff and families at U.S. Embassy Doha
Meet with the housekeepers and gardeners who keep the embassy so well looked after. These are the lucky ones. Others aren't. Julia (not her real name) has worked as a housemaid Qatar for five years. She ran away from her employer after his driver tried to get into her room and attempted to rape her. "When I see a Qatari man I'm always afraid," says Julia.
17:00 Wheels Up to Andrews Air Force Base
Secretary Kerry said to a gathering of staff and families at the US Embassy in Paris last week, "there are obviously no dearth of crises to start to focus on."
There is one right here in Qatar that he shouldn't miss.
Popular in the Community