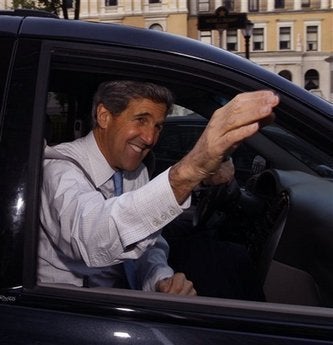 The Washington Independent reported before the election that John Kerry is a leading candidate for Barack Obama's Secretary of State:
Sen. John Kerry (D-Mass.), the Democratic nominee for president in 2004, has emerged as a leading candidate for secretary of state -- should Sen. Barack Obama win the presidency Nov. 4.

Obama campaign advisers declined to comment on the record for this story. Nor would many Democratic foreign-policy experts who might join an Obama administration. But off the record, Obama aides made clear that Kerry's name is on a very short list of contenders to become the country's top diplomat. Another person talked up by the great mentioner is Sen. Chuck Hagel (R-Neb.), a Vietnam War veteran whose foreign-policy views align surprisingly well with Obama's.
Asked about the position, Kerry has refused to say much.
"I have no job I'm looking for in the Cabinet at this point in time," Kerry told WCVB-TV just moments after he delivered his victory speech. "If the president talks to me, I'll listen to him and talk to him, but there's very little I would leave the U.S. Senate for."

Asked specifically about secretary of state, a position mentioned because of Kerry's interest in foreign affairs, the senator replied, "Well, I'd talk to the president if he called me and asked me about it. But I never heard anything. It's speculation. We don't have a president yet. Let's get down the road and see where we are."
Popular in the Community