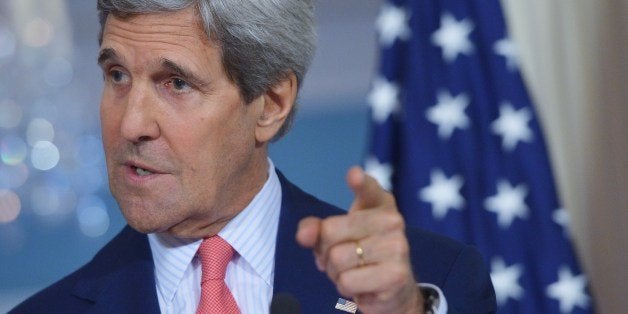 WASHINGTON, May 6 (Reuters) - U.S. Secretary State John Kerry rejected efforts by pro-Russian forces to hold a referendum in eastern Ukraine as "contrived and bogus" but he suggested that fresh sanctions against Russia now could be counterproductive.
Kerry again cautioned Moscow that the U.S. would impose more powerful sanctions designed to hurt Russia's economy if it tries to disrupt Ukraine's presidential election set for May 25.
He suggested, however, that moving too soon on tougher sanctions before diplomatic efforts have been fully explored could backfire.
"There's no question about our ability, when we want to, to be able to put sanctions in place that are even more biting than what we have today," Kerry said in a joint news conference with EU foreign policy chief Catherine Ashton.
"But you have to ask yourself if the price has been fully paid ahead of time, whether or not that invites something further that you don't want to have happen. So there is a delicate mix here."
The United States and European Union have imposed limited sanctions on lists of individual Russians and small firms, but have held back from measures designed to target specific sectors of Russia's economy.
Most of the diplomacy has so far centered around the election date. State Department officials have said Washington and European partners are currently designing the next phase of sanctions against Moscow and could be triggered if Russian forces cross into Ukraine.
Kerry denounced efforts by separatists to hold a referendum on secession, similar to the one that preceded Russia's annexation of Crimea.
"We also are very concerned about efforts of pro-Russian separatists in Donetsk and Luhansk to organize, frankly, (a) contrived and bogus independence referendum on May 11," he said at the news conference.
"We flatly reject this illegal effort to further divide Ukraine," he said, "This is really the Crimea playbook all over again, and no civilized nation is going to recognize the results of such a bogus effort."
Kerry said he and his European counterparts will meet in Europe next week to discuss next steps.
Ukraine government forces have pressed on with an offensive in the east of the country, where separatist rebels have so far held firm at their main outpost in the town of Slaviansk and have shot down three Ukrainian helicopters.
Moscow has tens of thousands of troops massed on Ukraine's eastern frontier. Western countries say Russian agents are directing the uprising and Moscow is stoking the violence with a campaign of propaganda, broadcast into Ukraine on Russian state channels, that depicts the government in Kiev as "fascists". (Reporting by Lesley Wroughton and Arshad Mohammed. Editing by Sandra Maler and Ken Wills)
REAL LIFE. REAL NEWS. REAL VOICES.
Help us tell more of the stories that matter from voices that too often remain unheard.
BEFORE YOU GO
PHOTO GALLERY
Separatists Tighten Control On East Ukraine