The road giveth, and the road taketh away.
John Kiewicz, who passed away on January 6 at the age of 44 while riding his motorcycle in Malibu, knew this all too well.
A writer and photo editor for numerous car magazines, a publicist for Acura, an auto enthusiast who could take apart and repair a car like a seasoned mechanic, and a performance test driver who owned world records for, among other feats, driving a Hennessey Venom GT from zero to 300 km/h in 13.63 seconds, beating the previous record by an astonishing four seconds, Kiewicz lived for and ultimately died on the road when his motorcycle crashed on Malibu Canyon Road.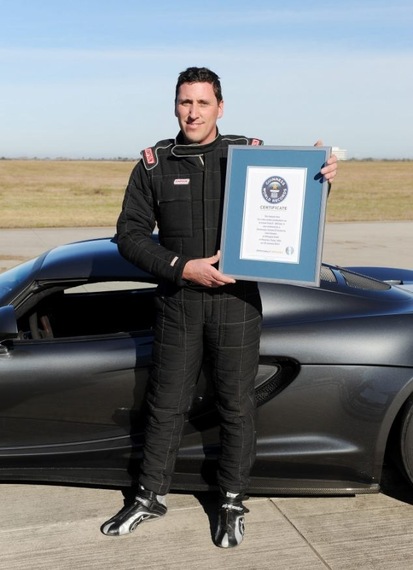 Unlike a lot of car guys, Kiewicz had a fine literary style. He wrote some classic articles about his adventures on the road.
A Los Angeles-area native with a degree in journalism from the University of Nevada at Reno, Kiewicz wrote a 2006 feature for Motor Trend Magazine about driving 2,500 miles across the country in a 1957 Chevrolet Bel Air.
The opening of the piece has an elegiac tone and reads as a tribute to all car guys like Kiewicz himself, who knew that life and auto driving are not without risks:
"A soldier threw a cover over his beloved 1969 Camaro Z/28 before heading off to Vietnam. Unfortunately, he'd never return, and the car would sit undiscovered for decades. Another serviceman, who did make it home a generation earlier, brought an old French car with him -- a Bugatti, was it? -- and left it in the garage. In 1964, a Shelby Cobra blew up in a drag race. The owner parked it in his shed and never got around to rebuilding the engine."
John Kiewicz may not have come home from his last road trip, but he was not undiscovered. He left his mark as an automobile Renaissance man, as comfortable with the pen and keypad as he was with gears and axles.
He was a good friend of my brother, Bill, who gave a eulogy at his memorial at the Motor Trend/Hot Rod tech facility in El Segundo. They bonded over cars and met originally online at the Shelby Forum because they were both collectors of vintage autos.
Kiewicz, known as Kiwi to his friends, never stopped loving cars. At the time of his passing, he owned an original, blue '66 Chevy Nova with a blue interior, whose image appeared on the cover of Car Craft Magazine, his first employer after college. He also owned a '65 Mustang fastback, a rare '69 Sting Ray and a '71 Cheyenne pickup. Over the years, he wrote about and drove numerous, classic cars, including a Shelby 427 Cobra and a Ferrari Daytona, both from the movie, The Gumball Rally, a favorite film of car nuts.
He collected original posters of that film, including many in different languages. He gave one to my brother, who also now has the steering wheel to the '55 Chevy owned by Kiewicz's father, Ed.
Some will say that John Kiewicz, who spent his last moments riding his motorcycle on a tortuous canyon road, died loving what he did. To others, his death on the road resonates with irony.
Even though Kiewicz's passing should serve as a cautionary tale, car collectors and gearheads will continue to embark on the road.
As Kiewicz wrote at the conclusion of his Motor Trend classic on traveling the country in a 1957 Chevrolet Bel-Air, "We'd lived big adventure. We'd beaten bad luck...You'd think I'd have learned. But I recently heard of a guy who's got a 1963 Corvette tucked away at his ranch. It's supposed to be an original. Wonder if I can get it cheap? Anybody up for reliving 'Dead Man's Curve' in a Sting Ray?"
John Kiewicz is survived by his wife, Michelle, and their ten-month old boy. He also leaves behind two children from a previous marriage, a brother, a stepbrother and his parents.
To quote his friend and fellow car journalist, John Pearley Huffman, "Rest in peace at 200 mph, John."
Popular in the Community