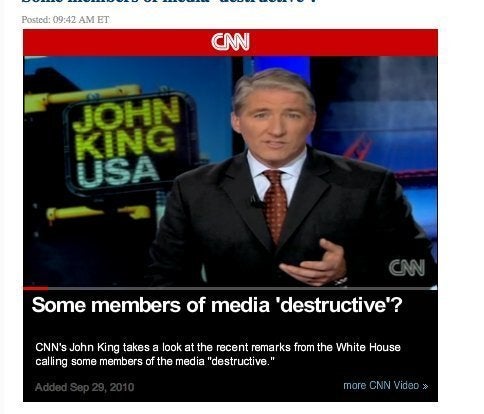 CNN'S John King criticized Fox News, MSNBC and the White House for drumming up what he saw as a hyper-polarized media landscape.
"Sometimes you feel sad to be left out of a big debate," King said. "This is not one of those sometimes."
He then played a series of contentious clips from both Fox News and MSNBC.
"According to the president, this is destructive," King said, playing clips of Glenn Beck and Sean Hannity hammering Obama.
"And, again, according to the White House, this is an invaluable service," he continued, before playing the now-infamous clip of Ed Schultz calling New Jersey Gov. Chris Christie a "cold-hearted fat slob." (Schultz has since been reprimanded by his bosses at MSNBC for the comment.)
"Got it?" King concluded after the clips were done. Later, he played a clip of an Obama commencement speech, where the president told graduates to seek out opinions that were different from their own.
"In that commencement speech, he's right," King said.

REAL LIFE. REAL NEWS. REAL VOICES.
Help us tell more of the stories that matter from voices that too often remain unheard.