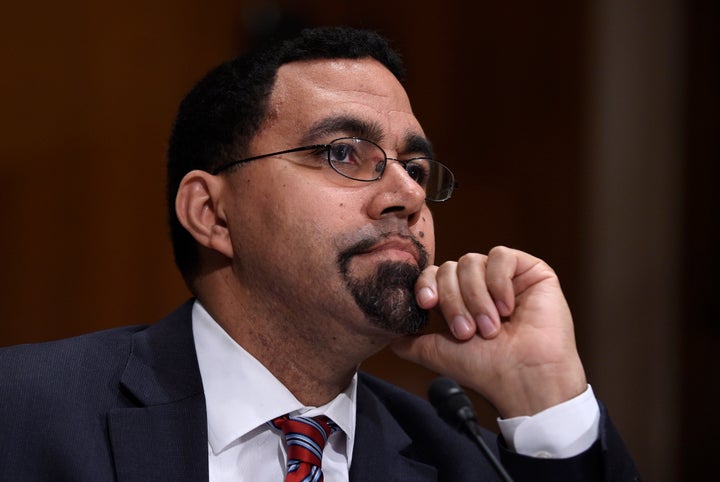 The issue of school segregation has gotten relatively little federal attention the past few decades, despite a series of court decisions dismantling the promise of the landmark Brown v. Board of Education ruling and schools that in some cases have regressed into separate and unequal environments.
Education Secretary John King Jr. on Tuesday reiterated his intention to change that.
Since becoming the acting U.S. secretary of education in January -- the acting title was removed in March -- King has positioned himself as an advocate for racial and socioeconomic school desegregation. King, at a Washington event hosted by The Century Foundation, a progressive think tank, said the issue of school segregation is "a critical question for our country," and called on advocates to "seize the moment."
"We have not made as much progress as this front as we could have and should have," King said. "The question is how do we shift direction, how do we seize the moment?"
King, who lost both of his parents at a young age, told the audience that going to schools with integration plans helped keep him on the right track. High-minority schools tend to be staffed with less-experienced teachers and sometimes receive less funding than their mostly white counterparts.
"If not for those teachers at P.S. 276, I wouldn't be alive today," King said of the public school he attended in New York City.
"I think the prospects are decent for there to be a budget and this will be at the top of my priority list of things I'm hoping to see," said King.
Diverse schools benefit students who come from both affluent and low-income families, King said. Recent reports from The Century Foundation bolster these claims.
"There's no question that the urgency around socioeconomic integration in our schools is drawn not only from our desire for better academic outcomes, but also from the understanding that ours is diverse world and we must ensure our students are prepared to succeed in a diverse 21 century society," said King. "You can't find the CEO of major company or president of a university who won't tell you one of their top priorities isn't increasing diversity."
Rebecca Klein covers the challenges faced in school discipline, school segregation and the achievement gap in K-12 education. In particular, she is drilling down into the programs and innovations that are trying to solve these problems. Tips? Email Rebecca.Klein@huffingtonpost.com.
Popular in the Community