Kiriakou arrived in prison on Feb. 28, 2013, for a 30-month sentence. He emailed the name of a covert CIA officer to a freelance reporter in August 2008, although he maintains he thought the officer was retired. Kiriakou also spoke out against waterboarding and torture in a 2007 ABC News interview and went on to write a book.
His sentencing came before the current uproar over the Department of Justice's subpoenas of Associated Press phone records and Fox News reporter James Rosen over the alleged leaking of classified information by government officials.
"In truth, this is my punishment for blowing the whistle on the CIA's illegal torture program and for telling the public that torture was official US government policy," he wrote in the letter. But in the rest of the 5 1/2 page letter, he describes the day-to-day life of a Federal Correctional Institution in Loretto, Pa., where he serves in the actual prison, rather than in a "work camp" where he thought he would serve the sentence.
I've also had some luck in this regard. My reputation preceded me, and a rumor got started that I was a CIA hit man. The Aryans whispered that I was a "Muslim hunter," but the Muslims, on the strength of my Arabic language skills and a well-timed statement of support from Louis Farrakhan have lauded me as a champion of Muslim human rights. Meanwhile the Italians have taken a liking to me because I'm patriotic, as they are, and I have a visceral dislike of the FBI, which they do as well. I have good relations with the blacks because I've helped several of them write commutation appeals or letters to judges and I don't charge anything for it. And the Hispanics respect me because my cellmates, who represent a myriad of Latin drug gangs, have told them to. So far, so good.
Kiriakou also described an when he was called to the lieutenant's office, thinking he was in trouble:
When I got to the lieutenant's office, I was ushered into the office of SIS, the Special Investigative Service. This is the prison version of every police department's Internal Affairs Division detective bureau. I saw on a desk a copy of my book, The Reluctant Spy, as well as DVD copies of all the documentaries I've been in. The CO showed me a picture of an Arab. "Do you know this guy," he asked me. I responded that I had met him a day earlier, but our conversation was limited to "nice to meet you." Well, the CO said, this was the uncle of the Times Square bomber, and after we had met, he called a number in Pakistan, reporting the meeting, and was told to kill me. I told the CO that I could kill the guy with my thumb. He's about 5'4" and 125 pounds compared to my 6'1" and 250 pounds. The CO said they were looking to ship him out, so I should stay away from him. But the more I thought about it, the more this made no sense. Why would the uncle of the Times Square bomber be in a low-security prison? He should be in a maximum. So I asked my Muslim friends to check him out. It turns out that he's an Iraqi Kurd from Buffalo, NY. He was the imam of a mosque there, which also happened to be the mosque where the "Lackawana [sic] 7" worshipped [sic]. (The Lackawana 7 were charged with conspiracy to commit terrorism.) The FBI pressured him to testify against his parishioners. He refused and got five years for obstruction of justice. The ACLU and several religious freedom groups have rallied to his defense. He had nothing to do with terrorism.
He also wrote about a run-in with a female corrections officer:
One female CO butchers my name every time she says it. So when she does mail call, I hear "Kirkaow, Kiriloo, Teriyaki" and a million other variations. One day after mail call I passed her in the hall. She stopped me and said, "Are you the motherfucker whose name I can't pronounce?" I responded "Ki-ri-AH-koo." She said, "How about if I just call you Fuckface?" I just walked away and a friend I was walking with said, "Classy." I said to him, "White trash is more like it." And hour later, four COs descended on both of our cells, trashing all of our worldly possessions in my first "shake-down." Lesson learned: COs can treat us like subhumans but we have to show them faux respect even when it's not earned.
Kiriakou has said that President Barack Obama's Justice Department has been worse than that of former President George W. Bush. "As bad as the Bush Justice Department was, we didn't see this kind of ... vindictive and selective prosecution of people that we see under Obama," he told The Huffington Post before his sentencing.
Before You Go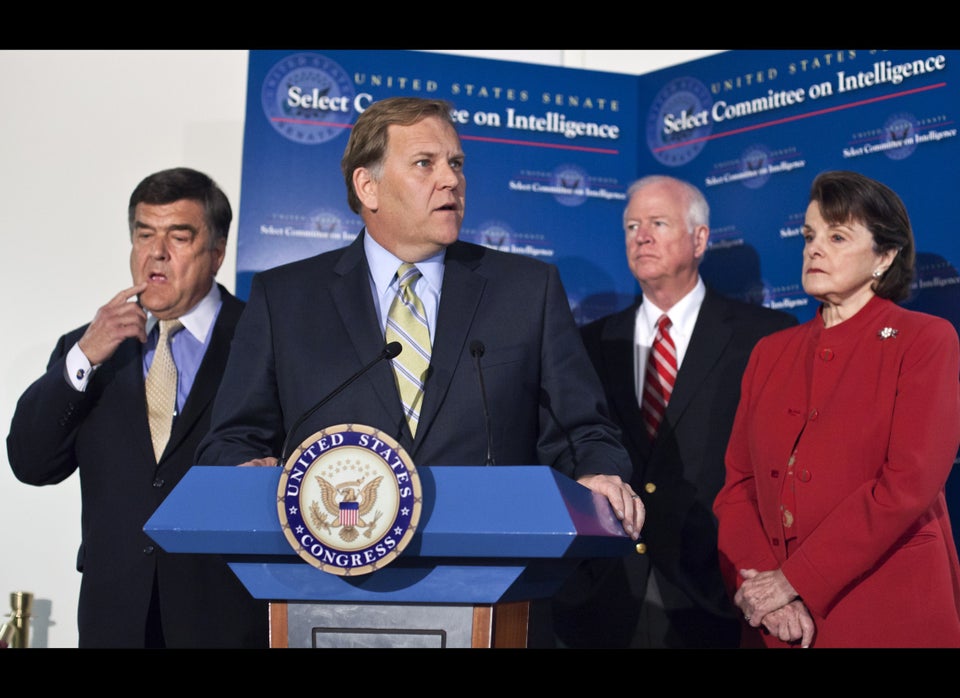 Obama And Leaks
Popular in the Community