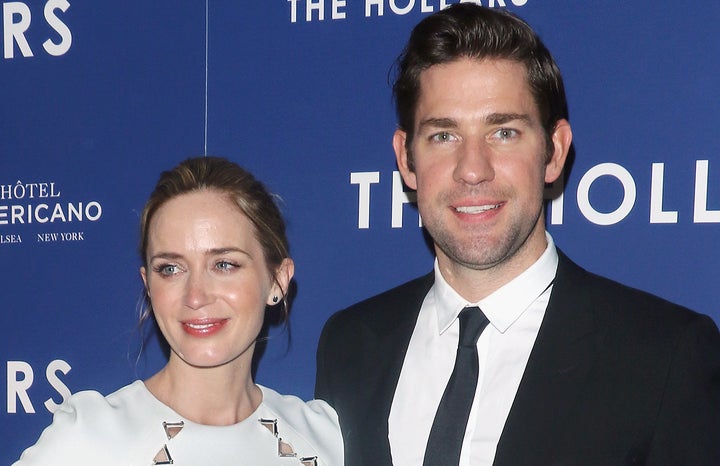 John Krasinski and Emily Blunt might not be Jim and Pam from "The Office," but we've come to accept that they're just as adorable, albeit in a different, less Scranton-y way.
During a recent interview with Huffington Post writer Leigh Blickley, the actor gushed about his wife, while promoting his new film, "The Hollars," which he directed and stars in.
"That is legitimately my greatest achievement, and I'm OK saying that," Krasinski said of being married to Emily Blunt.
In fact, Krasinksi later admitted that he is so taken with Blunt that the first time he heard her sing during rehearsals for "Into the Woods," he was overwhelmed with emotion. (Side note: If you haven't heard Blunt's rendition of "Moment in the Woods" from the movie musical, please reevaluate your priorities.)
"I came to visit and they were doing the pre-records on 'Into The Woods,' and I remember [director] Rob Marshall turning to me and he said, 'It's so great,' and I said, 'Yeah, I've never seen her sing,'" he told Entertainment Tonight. "Rob Marshall did the slowest double take of all time and then queued a 125-piece orchestra and she started singing and I just wept. I told you that I am a crier, it doesn't take much."
The couple recently welcomed their second child, Violet, in June and are already parents to 2-year-old Hazel, who was born in February 2014. According to Krasinski, becoming a father has permanently changed his outlook on life for the better, impacting not only his relationship with his own daughters, but also to the world.
"All the clichés of parenting are true and you feel all sort of new things," Krasinski told Entertainment Tonight at the premiere of "The Hollars." "It was really this new existential magnet that you feel draw to your family ... and you understand your parents more, you understand your brothers' relationships more, you understand even your family's name. That you are from somewhere."
But it seems like the new father has found no greater joy than in watching his a love develop between the new siblings.
"She's amazing," he added about his oldest daughter. "She really loves the baby and I think there is this idea of, 'Oh my God, she is adorable.' I mean when a 2-and-a-half-year-old hugs a newborn baby it's one of the cutest things you will ever see."
Watch a trailer for "The Hollars" below:
Popular in the Community