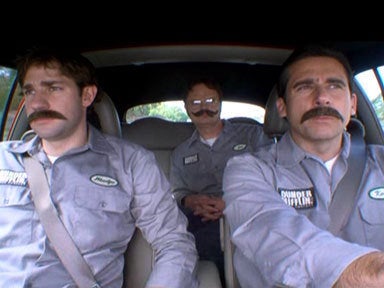 Jim Halpert just rolls his eyes at Michael Scott, but off screen, he's sad to see him go.
It's "completely bittersweet," Krasinski said. "It's an insanely special relationship we have with each other on the show, and Steve's leaving is the first time we've been snapped out of it and had to think about how much we all rely on each other," he continued. "No one can replace him. That goes for him as an actor, because no one has the sense of humor he does, but also there's no person who has his incredible positivity and professionalism, and just a really good heart. So we're losing a friend first and foremost."
"I am the biggest fan of Will's and always have been. Other than Steve [Carell], he's probably the biggest star we've had on the show, and I think he's the type of person who fits into that world," Krasinski said. "Yes, he's Will Ferrell, but he's so talented he can slide in as a normal person."
Comedy vet Paul Feig, who directed Carell's last episode, talked to TVLine about the atmosphere on set as they filmed that last day at Dunder Mifflin.
"It was very weird to be doing Steve Carell's last episode," Feig said. "We all knew it was when we were doing it, but you still kind of were in denial like, 'Well, he'll say at the end he's coming back' or 'It was just a joke or something.' We kind of scheduled the week so we did the most emotional, sort of final moments in the end of the week. It really tore us up. We were a mess many days."
For more from Krasinski, including talks of his marriage to star Emily Blunt and his upcoming projects, click over to Parade.com.
Calling all HuffPost superfans!
Sign up for membership to become a founding member and help shape HuffPost's next chapter